Wireless power is a technology whose time has come. The major phones from leading vendors now offer contactless charging, including Apple's iPhone X, iPhone 8, and iPhone 8 Plus mobile digital devices, and Samsung's Galaxy S 8 mobile digital device. Analyst IHS Markit says that 500 million devices with wireless power technology were shipped in 2017, an increase of over 40% when compared against 2016.
Although the technology's adoption is clearly increasing, it does have some inherent drawbacks that are still yet to be fully addressed and which, arguably, have delayed its uptake. In particular, it is slow compared to wired charging, due to limitations on the amount of power that can be transferred. There has also been some confusion in the market, with multiple competing standards that are still changing and evolving. But the unquestionable convenience of wireless charging would suggest its future is assured.
The fundamentals of wireless charging:
The basic principle of wireless charging is induction. An alternating current runs through a transmitter coil in the charging device to generate a magnetic field which, in turn, induces a voltage and current in a receiver coil, situated inside the smartphone or other device. There are two types of system in common use. Confusingly, the two approaches are often called 'inductive' and 'resonant' charging, although both rely on induction.
Firstly, tightly coupled, or inductive, charging has transmitter and receiver coils of similar sizes, which must be within a few millimeters of each other. The coils are typically only separated by the casing of the charger and receiver, for example with a smartphone resting on a charging pad, as defined by the Qi standard.
There is a high degree of coupling between the two coils and power transfer is relatively efficient. The two coils must be aligned, although some transmitters have multiple coils to overcome this requirement.
The second approach is loosely coupled or resonant charging, which has the key benefit that the two coils can be much further apart – for example, up to 45mm for devices following the AirFuel MR standard.
To achieve efficient coupling in this scenario, the transmitter and receiver use a high RF Q factor tuning between the two coils. As well as increased distance, this system has other advantages: it supports charging multiple devices from one transmitter coil and receiver coils can be smaller than the transmitter coil.
OTA updates for a future-proof solution:
Until recently there has been multiple competing standards for wireless power transfer, making it difficult to know which horse to back. The dominant standard is now the WPC's Qi standard, which has grown in popularity since it was first released in 2008. The WPC claims(2) it now has nearly 570 member companies and says that between them they have brought nearly 1,750 different Qi-Certified products to market. In January 2018(3) Powermat joined the WPC, who was at that point the most vocal supporter of the main alternative standard, PMA, promoted by the AirFuel standard. Apple's adoption of the Qi standard has also helped drive the technology's popularity.
It seems likely the Qi standard will become the standard of choice in the future. With contactless power still a developing technology that has yet to be adopted by many consumers, the Qi standard will no doubt evolve further from its current publicly available version (V 1.2.3). Apple, for example, has already implemented its own non-standard custom version of the Qi standard. OEMs cannot also simply ignore other standards, however, as they are still in use by many vendors.
The changing standards make it difficult for OEMs to confidently say they have developed a future-proof solution, but the ability to update their products after they have shipped could help them achieve this. It overcomes a real problem for many OEMs whose wireless charging receivers would otherwise need to be based on a solution where its operation is defined by hardware, or in firmware that cannot be changed in the field.
A better approach would be to store the firmware in Flash memory, which would enable it to be changed in the field using over the air (OTA) updates. The ability to deliver OTA updates increases the longevity of a product in the market by delivering greater flexibility. By choosing a solution with integrated Flash memory to support firmware upgrades, OEMs can adapt and meet changes to the standards, or proprietary protocols, after designing, manufacturing and shipping their product.
ON Semiconductor has taken this approach with the NCP6401, a highly-integrated single chip wireless charging receiver that is compatible with both the WPC Qi and PMA AirFuel standards. The operation of the NCP6401 is largely defined in firmware executed on an integrated microcontroller and stored in 128Kb of on-chip Flash memory. The device has been architected to support OTA updates, making it simple to deploy updates in the field when necessary.
Higher power equates to faster charging:
Charging time is something that consumers care strongly about, so it can be an important differentiator for manufacturers. Technologies such as Qualcomm's Quick Charge technology have pushed up the rate of charging considerably compared to standard USB, with Quick Charge 4+ theoretically able to deliver up to 27W. More power means faster charging, of course.
Up until now, wireless charging has tended to be substantially slower than this, with many systems limited to 5W, despite the Qi standard supporting up to 15W. The iPhone X and 8 were originally limited to 5W, for example, although this limitation has recently increased to 7.5W.
The need to impose a limitation is typically due to thermal issues. The NCP6401 overcomes this by operating at a lower current and a higher voltage, at around 1.25A and 12V, respectively, which is effective in minimizing operating temperatures. However, it is the Mobile OEM's decision to decide on the power transfer level.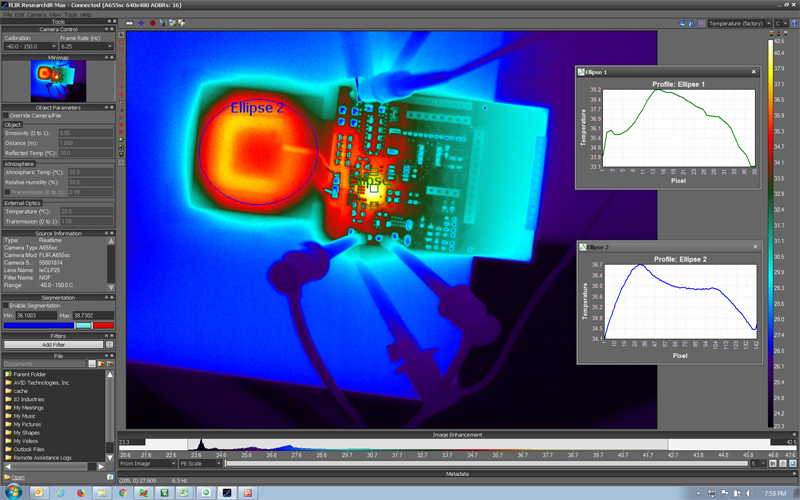 Click image to enlarge
Figure 2: NCP6401 thermal at room temperature, with 9W output power
As an example of how the NCP6401 handles power management, at 10W the measured average die temperature was 36°C and the coil temperature was 39°C. For fast charging and high power applications the NCP6401 is optimized to achieve 87% end to end efficiency at 15W depending on the TX and coil choices.
Developing a wireless power transfer solution:
The key to building a successful contactless power solution is having the right component at the heart of it. The NCP6401 is the most integrated wireless charging receiver in the market, and can fulfill this role in applications including smartphones, tablets and portable devices.
It includes an ARM Cortex M0+ microcontroller, 128Kb of Flash memory, along with a synchronous rectifier and an LDO with a pass-through function. The block diagram of the device is shown in Figure 3.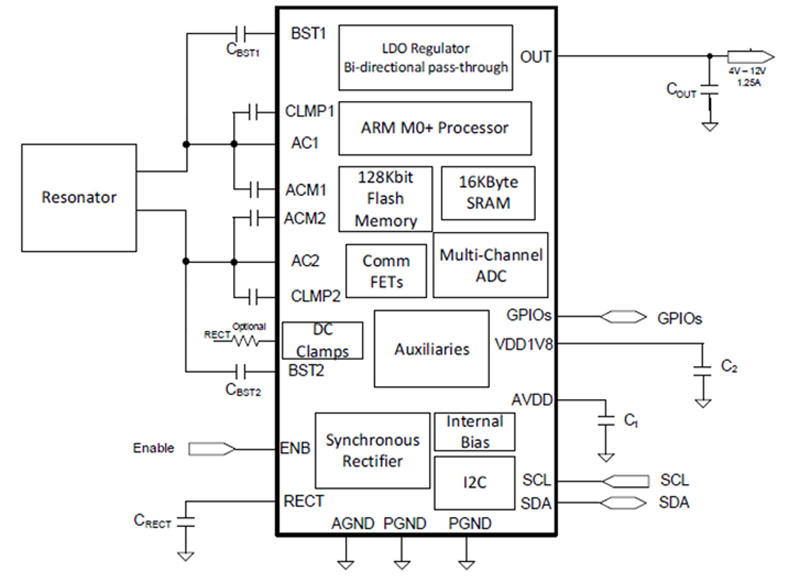 Click image to enlarge
Figure 3: NCP6401 block diagram and application schematic
Designing contactless power systems can be difficult and ON Semiconductor provides comprehensive engineering support to help. This includes an evaluation board for the NCP6401, as well as a complete wireless power reference design.
ON Semiconductor's field application engineers (FAEs) and system-level application engineers can also assist customers with system-level design, magnetic design and certification, including on-site support and an in-house pre-certification service.
Efficient and flexible charging:
Wireless power transfer is an important trend in rechargeable consumer devices, a fact that cannot be ignored by OEMs. It is likely to also find applications in the Internet of Things (IoT). With standards still changing, a key concern for designers is that they need to build solutions that are flexible enough to adapt. In practice, the best approach is to base their designs around wireless power receivers with firmware that can be updated after products have been shipped, using OTA updates. This will ensure market longevity, as products can stay relevant and up to date.
A second key concern for OEMs is achieving fast charging, which means supporting high power of up to 15W. Thermal considerations are important and the system must include components that are optimized and tested to achieve this level of power, without compromising efficiency.
Although wireless power transfer technology has been around for many years, wireless charging now seems about to really take off. Selecting the right components will ensure OEMs can build a solution that's efficient, future-proof and able to meet consumers' expectations for fast charging.
On Semiconductor