I met with Avago Technologies, a leading supplier of analog interface components for communications, industrial and consumer applications. The company provides an extensive range of analog, mixed signal and optoelectronics components and subsystems to its end customers. Backed by strong customer service support, the company's products serve four diverse end markets: wireless communications, wired infrastructure, industrial and automotive electronics, and consumer and computing peripherals.
Avago announced cyan-colored high-power LEDs optimized for traffic signals. The new ASMT-JC11 and ASMT-AC00 1-Watt LEDs offer high lumens output and high energy efficiency in robust, small footprint packages that boost design flexibility. This combination of features is ideal for traffic signals, and the devices also effectively address sign backlighting and architectural, commercial and decorative lighting applications. The new LEDs address space constraints in applications with one of the industry's smallest footprints of 5mm by 4mm by 1.85mm for the ASMT-JC11 device's 6-leaded small outline package (SOP). Both devices can withstand maximum current of up to 500mA to provide high flux output performance of 58 lumens at 350mA. The high flux output results in more efficient designs that use fewer LEDs to achieve an application's required lumens. "Our new cyan 1-Watt LEDs position Avago to address the fast-moving transition from traffic signals using incandescent bulbs to more efficient, durable signals based on high-power LEDs," said Francis Khor, director of marketing for the Optoelectronics Product Division at Avago. "The ASMT-JC11 and ASMT-AC00 LEDs offer leading light output performance in small packages with industrial-strength reliability." Both new LEDs feature an exposed thermal pad for efficient heat dissipation and low thermal resistance of 10°C per watt, delivering better reliability over their operating life. High maximum allowable junction temperatures of 150°C for the ASMT-JC11 device and 135°C for ASMT-AC00 device enable the LEDs to be driven in stringent operating conditions, providing flexibility and reliability to lighting designs. The devices offer a best-in-class Electrostatic Discharge (ESD) resistance of 16kV, making them insensitive to ESD. As a result, special ESD protection equipment is not required to handle the parts during installation, thereby reducing production costs. The LEDs have an electrically neutral heat sink pad that allows them to be configured in an array using a common metal substrate without fear of electrical shorting, thus simplifying thermal design. Additional ASMT-JC11/AC00 Product Features
Wide viewing angle of 165 degrees for ASMT-JC11 and 140 degrees for ASMT-AC00 for good color and light output uniformity
Heat- resistant silicone encapsulation for improved reliability over operating life
Compatible with reflow soldering processes for lower design costs
Moisture sensitivity: MSL 1 for ASMT-JC11 and MSL 2a for ASMT-AC00
ASMT-AC00 device available in 2-leaded package also with exposed pad design
Lead-free and RoHS-compliant
Availability
Samples and production quantities are available now through Avago's direct sales channel and worldwide distribution partners.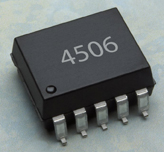 Avago announced a new optocoupler available in special packages designed for use in renewable energy applications. The new ACNV4506 optocoupler provides robust electrical signal isolation as an Intelligent Power Module (IPM) interface or Insulated Gate Bipolar Transistor (IGBT) gate drive in wind turbines, renewable energy harvesting sites and other industrial control applications. These applications are increasingly using a 1700V IGBT, which requires higher creepage and clearance - the distance between conductive parts in a design. Industry standards require minimum creepage and clearance distances to ensure user safety in the presence of hazardous voltages. The ACNV4506 optocoupler is available in a 500 mil 10-pin dual-inline package (DIP) as well as a gull wing lead option for standard surface mount processes, both with 13-mm creepage and clearance that meets the IEC60664-1 standard. The package improves isolation performance with minimum common-mode rejection (CMR) of 30 kV/?s for superior noise toleration, resulting in smoother control with less torque ripple in motor control applications. The device operates in harsh working environments in the -40 to +105° C extended industrial temperature range, and also targets AC and brushless DC motor drives and industrial inverters. "Avago offers the industry's broadest portfolio of IPM interface optocouplers with a variety of packages for different safety standard requirements and application needs," said Kheng-Jam Lee, marketing manager for plastic optocoupler products at Avago. "Our new ACNV4506 optocoupler not only adds to this IPM portfolio, but also to our gate drive and current sense devices targeting the surging renewable energy market." The ACNV4506 optocoupler offers strong electrical specifications for comprehensive safety approvals, with input-output withstand voltage of 7,500 Vrms for 1 minute for UL 1577-compliance and working voltage (Viorm) of 2,262V peak for IEC/EN/DIN EN 60747-5-5 approval. It is also CSA approved. The high insulating voltages of the device make it suitable for applications with 690V power main voltages. In addition to high insulation ratings, the device's packages provide distance through insulation (DTI) of 2 mm, meeting EN50178 regulatory standards. Short maximum propagation delays of 200 ns~400 ns for the device result in short dead time, as well as improved efficiency and precision of motion. Avago also offers the ACNV2601 10MBd digital optocoupler in the 500 mil DIP platform. Additional ACNV4506 Product Features Minimized pulse width distortion (PWD) of 200 ns for fast drive Maximum allowable overvoltage (Viotm) of 12,000V Wide 4.5V~30V Vcc supply voltage for simplified system power supply requirements Built-in load resistor for simplified IPM driving designs Tape and reel surface mounted package option Availability Samples and production quantities are available now through the Avago direct sales channel and via worldwide distribution partners. More information on Avago isolation amplifiers can be found at www.avagotech.com/optocouplers.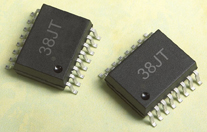 Avago announced a new automotive-grade optocoupler with extended temperature operation for use in hybrid and electric vehicles. Increasing consumer demand for hybrid and electrical vehicles with more powerful engines has car makers and their suppliers seeking more robust gate drive optocouplers to help drive higher-capacity engines, as well as battery charger and DC-DC converter systems. The new Avago ACPL-38JT 2.5-Amp optocoupler is qualified to AEC-Q100 Grade 1 stress test requirements, delivering safe electrical signal isolation from -40 to +125°C. The highly-integrated ACPL-38JT power control device incorporates a complete Insulated Gate Bipolar Transistor (IGBT) driver for signal switching, along with desaturation detection and fault status feedback systems for constant signal protection. The device is part of the Avago R2Coupler™ family of optocouplers with reinforced insulation for reliable signal isolation, which is critical in automotive and high-temperature industrial applications such as isolated IGBT/power Metal Oxide Semiconductor Field Effect Transistor (MOSFET) gate drives, industrial inverters, AC and brushless DC motor drives, and uninterruptable power supplies. "This newest offering in our R2Coupler family gives Avago the most complete automotive optocoupler portfolio, putting our products in excellent position to grow along with the market for hybrid and electric cars," said Cheng-Dee Lee, Business and Applications Development Director for Isolation Products at Avago. "More than 40 automotive companies, including car manufacturers and tier one suppliers, are using or evaluating our R2Coupler isolation products. Avago optocouplers are well known for their reliable signal and high-voltage isolation with excellent EMI immunity, with more than 35 years of proven field applications in the military, aerospace, mass-transit and industrial markets." During power-up, the ACPL-38JT optocoupler's under voltage lock-out (UVLO) protection feature protects the IGBT from receiving insufficient gate voltage by forcing lower output. The integrated IGBT gate driver is designed to increase the performance and reliability of a motor drive without the cost, size and complexity of a discrete design. Available in a 16-lead small outline (SO-16) surface mount package, the device is compliant to UL 1577, IEC/EN/DIN EN 60747-5-2 and CSA industrial safety standards. Additional ACPL-38JT Product Features
Drives IGBTs up to IC = 150A, VCE = 1200V
Input CMOS/TTL compatible
500 ns max. switching speed
Soft IGBT turn-off
15 kV/us minimum common mode rejection (CMR) at VCM = 1500V Availability Samples and production quantities are available now through the Avago direct sales channel and via worldwide distribution partners. More information on Avago isolation amplifiers can be found at www.avagotech.com/optocouplers.

Avago announced a new line of optical fiber transmitters and receivers optimized for harsh temperature environments. The HFBR-152xETZ/252xETZ optical fiber modules provide reliable data transmissions over cost-effective plastic or silica fiber in the -40 to +85° C extended industrial temperature range. Designers can use the devices to implement system control or drives in wind turbines and solar farms, traction inverters in trains, and for other industrial applications and medical systems. An extension of the Avago Versatile Link series, the new modules eliminate the electromagnetic interference, crosstalk, and electrical ground problems that are common with copper wire solutions, while also providing easier, more flexible installation. The HFBR-152xETZ transmitters are based on a high-power, 650-nm LED that is easy to drive and modulate. The transmitters operate at speeds from 1-125 MBd over distances up to 100 meters. The HFBR-252xETZ high-bandwidth receivers contain a PIN photodiode and internal transimpedance amplifier. The modules come in plastic housing that interlock for single-channel or duplex links in a horizontal mount configuration, providing flexibility to designers during PCB layout. "The addition of these new Versatile Link series modules with extended temperature range operation is based directly on requests from our customers in the rapidly growing renewable energy and transportation markets," said Mickael Marie, marketing manager for industrial fiber products at Avago. "With best-in-class electromagnetic compatibility performance and ease-of-use, Avago optical fiber modules have become the de-facto industry-standard for industrial applications." Additional HFBR-152xETZ/252xETZ Product Features

Compatible with 1-mm diameter plastic optical fiber and 200?m hard-clad silica fiber
RoHS-compliant
Transmitter and receiver application circuit schematics and recommended board layouts available Availability The HFBR-1527ETZ transmitter and HFBR-2526ETZ analog receiver are designed for transmissions from DC to 125MBd. The HFBR-1521ETZ transmitter and HFBR-2521ETZ digital receiver transmit from DC to 5MBd, and the HFBR-1522ETZ transmitter and HFBR-2522ETZ digital receiver transmit from DC to 1MBd. www.avagotech.com Follow Avago on Twitter at: twitter.com/Avagotech.