Battery management is a key design consideration for all products with batteries, but it's especially important for products with rechargeable batteries or high power demands. One such application is lithium-ion based power tools.
Lithium-ion batteries are the most popular type of battery for cordless power tools. They are small and lightweight, and they can run longer at their top power output. But to maximize the power output and operational life of these batteries, they must be monitored and managed. Lapis Technology, a part of the Rohm Group, makes integrated circuits specifically dedicated to this crucial task.
Users have come to expect cordless tools that "feel" functionally the same as their corded counterparts, and careful battery management and monitoring is crucial to meeting the expectations of hobbyists and professionals at a time when their demands have never been more stringent.
High Expectations of Cordless Batteries
As the technology in cordless power tools advances to keep up with market demands, customers continue to demand more. Customers are well past the enchantment of the early days of cordless tools, decades ago, when lower output was tolerated due to the simple convenience of not having a cord. Today, power tool users demand full power, full duty usage from their cordless tools. Many are no longer willing to accept a step down in performance if the tool doesn't have a cord. And each of these demanding requirements calls for better, smarter battery management to enable it.
Longer Battery Life
The first and most obvious demanding requirement is for longer battery life. From light duty home use to heavy duty contractor use, everybody is demanding a longer battery life from their power tools.
Flexible Systems
Cordless power tools are increasingly expected to be part of modular, flexible systems. Many different battery capacities or form factors are expected to be supported by the same tool, while the same batteries are expected to be usable across many different tools and charging systems.
Compact Tools
In addition to higher capacity and longer life batteries, users are demanding that the whole system of a power tool and its battery should be smaller and lighter than ever. And that is true even when the tool has increased functionality, power, and features.
Growing adoption of cordless power tools
Despite all of these increasing demands, or perhaps because of them, cordless power tools are being adopted by more users. From home users, to hobbyists, to contractors, power tool customers are using cordless tools and expecting the full performance of corded tools.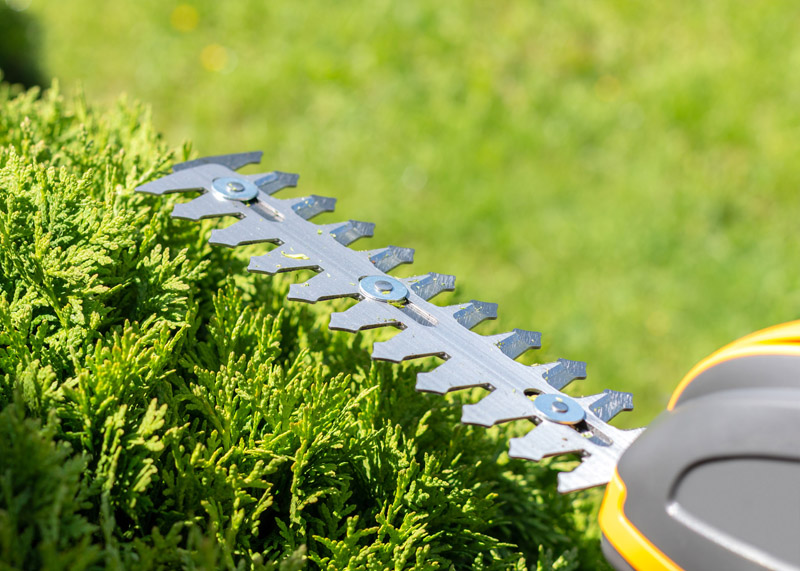 Click image to enlarge
Figure 2 – Users expect the full performance of corded tools
"Smarter" Battery Technologies
As power tools improve, battery technologies also improve. But it's not just new or different battery chemistry - additional intelligence technology is also being incorporated into power tool batteries. New power tool batteries exist that provide additional power boosts to tools, as demanded by the usage. Others have intelligent batteries that power tools with different voltages depending on the needs of the tool to which they are connected. And still other batteries are capable of varying the voltage they supply to the tool based on the demands of the tool in a given application.
To make these advancing battery technologies work, batteries need to be closely monitored and tightly managed. Batteries need to provide these functionality improvements to power tools, while maintaining the long life and rugged reliability expected of the tools. Good battery management is not only helpful; it's necessary.
Smart, Connected Tools
On top of all of the other increasingly demanding requirements and changing battery technologies, new functionality is being added to power tools. New cordless power tools have microcontrollers to monitor sensors and make measurements, run calculations and algorithms to predict future behavior, and control variables to improve tool performance.
They also have wireless communication functionality to stay connected as part of Industry 4.0 applications. Industry 4.0 refers to the fourth industrial revolution, which is being incorporated into the factories of the future where everything is connected via the industrial internet of things (IIoT). Cordless power tools are joining that infrastructure with integrated Bluetooth, WiFi, or other wireless communication modules. Battery systems need to intelligently power not just the mechanisms of tools, but also the digital infrastructure and communications circuitry that enable Industry 4.0 automation. This will help to:
Prevent Downtime (track when maintenance is due or requires repair)
Guide user to perform simple maintenance
Select right tool settings for the job (set tool torque and speed)
Create and export detailed reports for inspectors, GC, or PM
Monitor battery condition
Track tools at a job site (geofence)
The Solution: ROHM Battery Management ICs
The need for quality battery management of lithium-ion batteries in power tool applications is clear. ROHM offers the right integrated circuits for the job.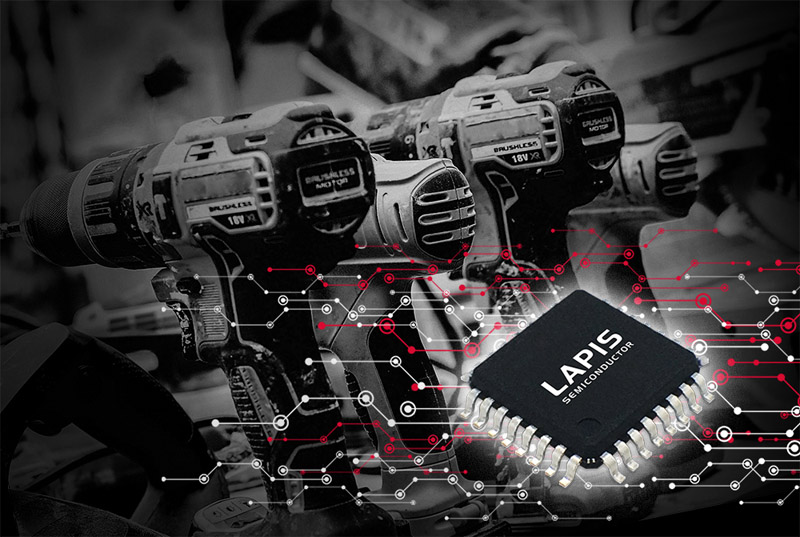 Click image to enlarge

Figure 3 – ICs from Lapis Technology, part of the ROHM Group, monitor and protect the battery pack without an external MCU
Stand-alone Battery Management ICs
The stand-alone type battery monitoring devices from Lapis Technology, part of the ROHM Group, monitors and protects the battery pack by itself without an external microcontroller. Many different functions for various applications are available, such as secondary protection, autonomous cells count detection (overvoltage, undervoltage, charge / discharge overcurrent, high / low temperature, short-circuit current, open-wire), and FET gate-driver circuit built-in.
Benefits of ROHM Solutions
ROHM battery management ICs offer numerous benefits and advantages for cordless power tools.
Click image to enlarge
Conclusion
Battery management is critical for today's cordless power tools. Lithium-ion battery packs need to be carefully monitored and maintained to maximize power, efficiency, and lifetime. Additionally, battery management helps to enable all of the additional features and functionality increasingly demanded of power tools, including Industry 4.0 connectivity. ROHM's lithium-ion battery management solutions are offered with a comprehensive and industry leading set of features and benefits for cordless power tools, and more.
For more information, visit https://www.lapis-tech.com/en/semicon/monitor/