Dell Children's Medical Center of Central Texas, part of the Seton Healthcare Family in Austin, began construction of a new addition to its 500,000 square-foot medical center in November 2011. The hospital had specific lighting and energy requirements for its new 85,000 square-foot, 72-bed patient tower and children's hospital. It wanted to install an LED lighting system that would perform advanced controls functions seamlessly and with ease (see Figure 1).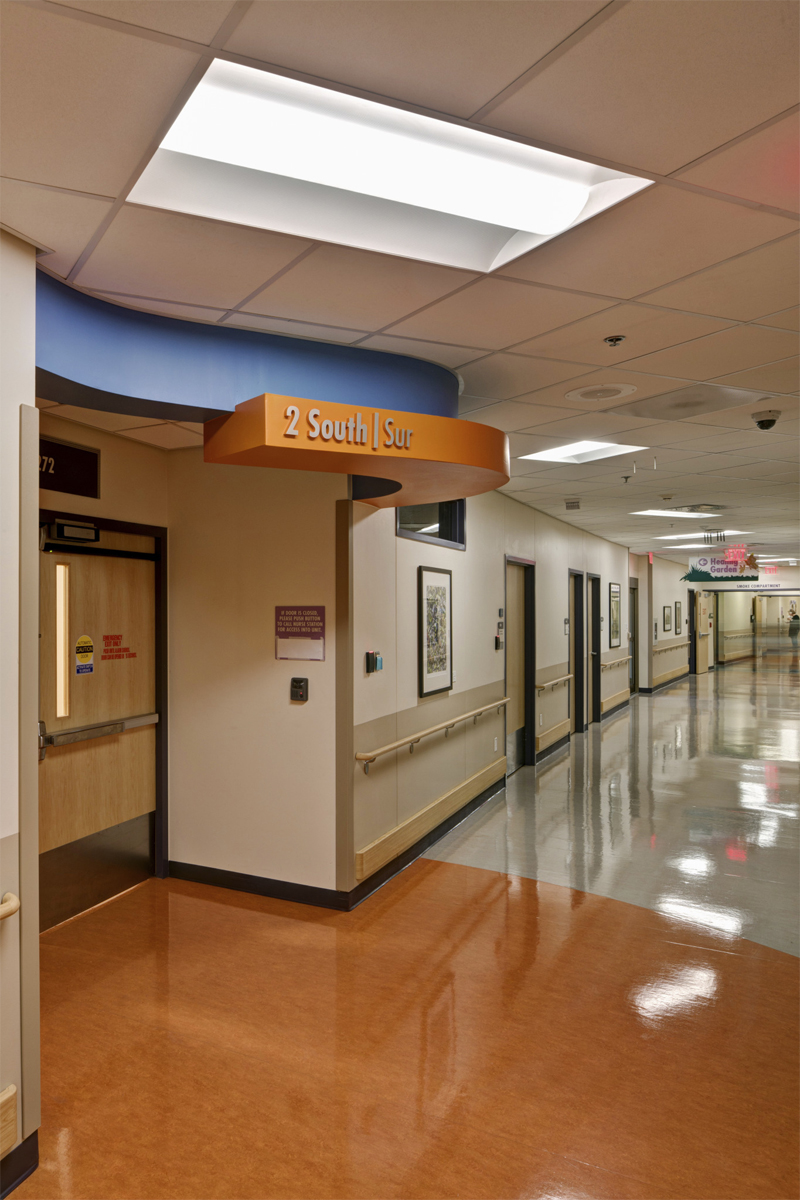 Click image to enlarge
Figure 1: Dell Children's Medical Center of Central Texas needed an advanced solid-state lighting solution
"Because LED technology has progressed so much, we wanted to integrate it as much as we could into the new building," said Phillip Risner, Senior Project Manager at Seton Healthcare Family.
The hospital's mission was to create a "green" hospital and continue to build on the sustainability accomplishments it had already achieved with the original hospital construction. Another goal for the hospital was to achieve LEED for Healthcare Platinum certification for the new patient tower.
"Healthcare buildings are so energy and water intensive, and under 24/7 operation, so becoming sustainable is a huge challenge," said Risner. "But, we were up to it. Since health is holistically related to environmental issues as well as personal issues, it meant a great deal for us - and to our patients - to try to achieve LEED for Healthcare Platinum certification for sustainability purposes."
The hospital had various requirements for its lighting controls strategy. Multiple dimming options were required to adjust the lighting for specific reasons such as reducing light in the hallways at night. Additionally, the team also wanted the ability to track the energy savings achieved from controlling the lighting.
The hospital enlisted the help of Polkinghorn Group Architects / CCRD Partners engineers, Prism Electric and Beck, to identify lighting and controls solutions for its new patient tower.
"The hospital set a goal to achieve LEED for Healthcare Platinum certification, so there was a push for the organization to be environmentally friendly and to be good stewards of sustainability," said Brian Horras, Project Manager at Beck. "Because this is a new facility, and the client wanted the latest and most effective new technology, they advocated for better lighting and LED. Another bonus is from a maintenance cost standpoint; you don't have to replace lighting as often with the LEDs."
Affordable LED Lighting and Controls
With the goal of installing more than 90 percent LED throughout the new tower, the hospital selected Lithonia Lighting VT Series LED fixtures and controls from Acuity Controls, which they calculated to be less expensive and more efficient than other options (See Figure 2). LED lighting and lighting control systems were installed throughout the entire building: patient rooms, corridors, nurses' stations and office spaces.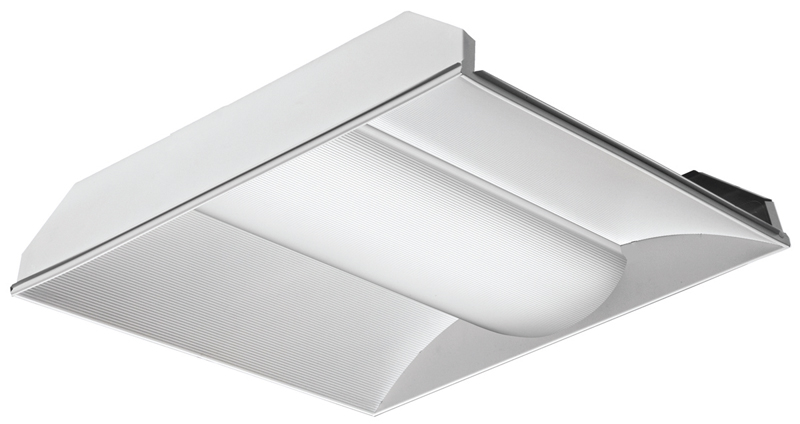 Click image to enlarge
Figure 2: Lithonia Lighting VT Series LED fixture and control from Acuity Control
"We actually chose a lighting control system based on the compatibility with the LED lighting fixtures we were looking at," said Horras. "We had it narrowed down to three manufacturers but the final decision was made by the performance specifications and the capability of the Acuity Brands lighting compared to other similar systems. These specific LED luminaires and controls compared to the original specified high performance fluorescent resulted in an initial cost reduction of $75,000."
In order to achieve additional energy savings and maintenance costs, the hospital installed 2,878 nLight devices. Motion sensors are now being used in 95 percent of the building, and in the 72 new patient rooms. The controls are also being used to track energy use in the facility.
Seeing the Green
VT Series LED luminaires deliver the majority of the lighting and energy savings for the new wing. These fixtures illuminate hallways and common areas. In order to match the look and light levels of the current hospital, these hallway fixtures are set to approximately 40 to 50 percent light output at all times.
A time clock does not have the ability to manage all 72 rooms equipped with sensors. But, the VT Series LED luminaires in the hallways and corridors provide a simple solution because they feature digital lighting controls integrated directly into the fixture during the manufacturing process. The luminaires also integrate directly with a hospital nurse call system to illuminate differently during a code-blue incident (cardiac arrest, breathing difficulty, etc.). If anyone touches a code blue button, lights in the entire corridor turn on.
In addition to the VT Series LED fixtures with nLight controls, Dell Children's Medical Center of Central Texas also installed the LED Step Light from Winona as a night-light in patient bathrooms, which features amber light. The benefit of amber light is patient sleep cycles are not disrupted, while the hospital offers enough illumination to help provide quality lighting to help patients from slipping and falling (see Figure 3).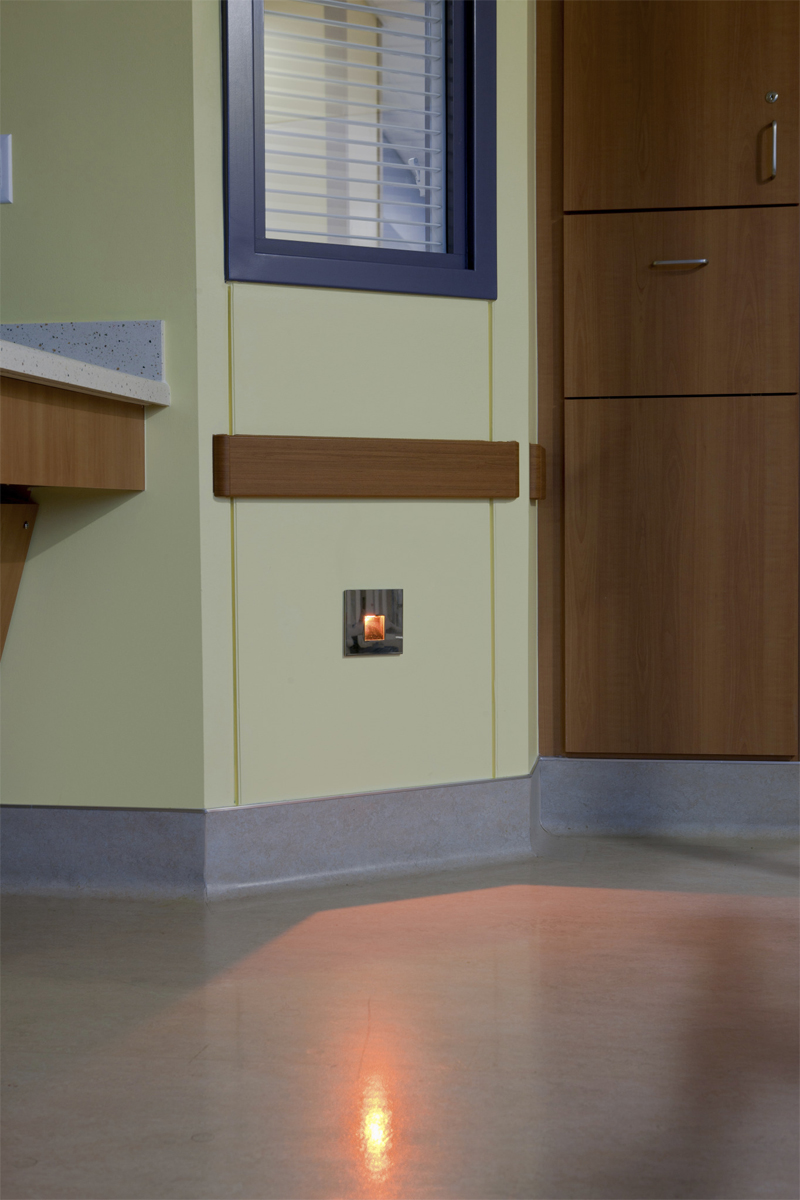 Click image to enlarge
Figure 3: LED Step Light from Winona is a night-light which features amber light
The nLight-enabled luminaires installed throughout the new patient tower are helping to increase patient safety and reduce maintenance and energy costs. Between May 2013 and February 2014, Dell Children's Medical Center of Central Texas reported a total savings of approximately 180,000 kilowatts per hour of energy from the use of nLight controls, including occupancy sensors, photocells, dimming and switching.
Dell Children's Medical Center of Central Texas became the first hospital in the world to achieve LEED for Healthcare Platinum certification. In order to do this, the hospital had to comply with strict guidelines, and earn at least 80 out of the 100 points possible.
"It's a high bar," explained Brendan Owens, Vice President of LEED Technical Development US Green Building Council. "LEED platinum, which means a project team has achieved at least 80 percent of the available points, requires a project team to take a highly integrated approach to building design, construction and operations. Because of the importance of lighting from an whole building energy perspective, USGBC emphasizes lighting efficiency as a key strategy to optimize operational energy use."
The hospital worked diligently to achieve LEED certification. "We have received great feedback because we have achieved LEED Platinum for healthcare guidelines," said Horras. "That is very difficult to achieve. This is one of the few projects to get LEED under the new guidelines, and one of two medical centers that have achieved ANY level of certification based on the new healthcare guidelines."
Even after achieving LEED Platinum status, Dell Children's Medical Center of Central Texas is still working to improve its energy reductions. The hospital continues to expect further energy savings from adjusting lighting and controls strategies moving forward.
Lithonia Lighting® VT Series LED luminaires combine aesthetics with intelligent, high performance LED light engines to create the ideal LED luminaire solution for healthcare environments. Long-life LEDs coupled with high-efficiency drivers provide superior quality illumination. Embedded nLight controls from Acuity Controls make each luminaire addressable, allowing it to digitally communicate with other nLight-enabled controls such as dimmers, switches, occupancy sensors and photocontrols.
Featured benefits include:
•nLight controls system provides design flexibility and ease of installation, while offering increased energy savings.
•Novel plug-and-play convenience as devices and luminaires automatically discover each other and self-commission.
•Novel grid interfacing allows fixture trim to hang level with architectural ceiling tiles.
•The luminaires are equipped with a unique lumen management system that actively manages the LED light source so that constant lumen output is maintained over system life.
•The expected life is more than 50,000 hours.