It is estimated that 3% of the global pool of electronic components is made obsolete each month, and on a long term defence project, typically 50-70% of the semiconductor products incorporated are made obsolete before the program is even commissioned. This is a very sobering thought for any designer settling down to spec a new system, especially so if they are working on a military or aerospace project that may take many years to delivery and then be expected to be in service for 10s of years thereafter. This isn't just a hypothetical scare story, it is being played out now. A case in point is the B-52 bomber, which e2v aerospace and defense Inc (previously QP Semiconductor) ships parts for on a weekly basis. This platform has been in service for over half a century and is likely to continue to be in operation for at least another 30 years. This means that a project that was initially supposed to have a 30-50 year life cycle will have exceeded 80 years by the time it is grounded. It is therefore vital that a new approach is taken to managing and mitigating against the effects of Semiconductor obsolescence, an approach which can help with the platforms and systems being developed today as well as those already in service. So what is being done to help? e2v recently entered an agreement with Freescale Semiconductor to extend the useful life of 68K-series microprocessors for the military, aerospace, commercial, and industrial markets. e2v will wafer bank die based on advised customer requirements to ensure the continued supply of the devices following the discontinuance of the products by Freescale.
Once Freescale ceases production of the 68020, 68882, and 68C000 processors, e2v's portfolio of high-reliability grade products will be extended with commercial-grade versions in both plastic and ceramic packages. Based on up front forecast requirements, the Freescale products will remain available from e2v for the next 10 years, or longer. In fact, Freescale has licensed the company to deliver high-reliability versions of its products for more than 25 years. The Freescale licence arrangement means that e2v will build and sell its own products, from the 68K family to high-performance Power Architecture devices, by sourcing commercial wafers and devices from Freescale and then repackaging, screening, characterizing, and testing at extended temperatures for military and aerospace requirements. In April, e2v aerospace and defense also released re-engineered versions of the QP Semi QP741 and QP747 operational amplifiers, manufactured on a bipolar process to serve as drop-in replacements for the National/Fairchild LM741 used in key military/aerospace applications. (Market forecasts indicate that inventories of these military grade devices will be depleted in the near term.) Essentially, the company is extending its product range for a wider set of applications, where system redesign is complex and expensive. But this type of activity is only part of the story The long service life of military systems has proved a large enough issue to prompt plans to supply parts in the far future for the F-35 Joint Strike Fighter. Such is the pace of technological change compared to the much longer process from drawing board to roll out, that many of the parts that have been integrally built into the F-35 will have already generated end-of-life notices, even before entering full service. The wider public would be surprised to know that many of the components in their Government's military platforms are no longer in regular production before they have seen one hour of active service. Component obsolescence is therefore a growing concern for the industries they serve, as semiconductor companies discontinue products despite the need to keep platforms running for decades after their projected lifetimes - while needing to avoid issues such as spiraling costs and counterfeit goods entering the supply chain from uncontrolled sources. It's also not just aerospace and defence industries that have an issue to address, it is also a factor in a range of professional industries such as nuclear plants, oil drilling, rail transportation and factory automation. In fact any where there is a need for maintenance of electronic equipment for very long periods and/or where systems re-design and re-certification costs are predominant versus the cost of acquisition of the components themselves. So, whilst there are clearly actions being taken by e2v and other companies to prolong the availability of specific semiconductors, to manage their obsolescence. But what options does this actually offer the design engineer? How can they use this information today to ensure that in 20 years time a specific semiconductor is still available, who does he tell, what can he or she do? Lifecycle Management The conclusion reached by e2v is that the design engineer of today can actually do relatively little with obsolescence management predominantly a reactive process which seeks to address the shortfalls as they arise. So whilst semiconductor obsolescence management is an established approach, the reality of support and expertise available from many suppliers in this market space is limited to fire fighting the obsolescence problem after it has occurred, with an inefficient and unreliable ad-hoc approach, risking allowing counterfeit product to enter service. It is basically a process behind its time. e2v therefore decided to implement a new approach to the design, manufacture and through life support of aerospace, defence and long lifecycle commercial systems; in other words, to prepare for and mitigate against, the effects of component obsolescence as part of a Lifecycle Management Programme. In doing this, e2v is combining the knowledge of their teams in California and Grenoble in their Hi-rel semiconductor solutions division. Through this, they offer security of through-life supply via a new Semiconductor Lifecycle Management Programme, a process which plans for obsolescence mitigation of key semiconductor components at the start of a product or system development, rather than waiting for obsolescence to become an issue; whilst also offering assistance to existing systems in need of an obsolescence solution as, critical to managing existing platforms, is the ability of a supplier to work with OEMs and systems users to review current LTB inventory and to work to manage lifetime supply and future cost for key components.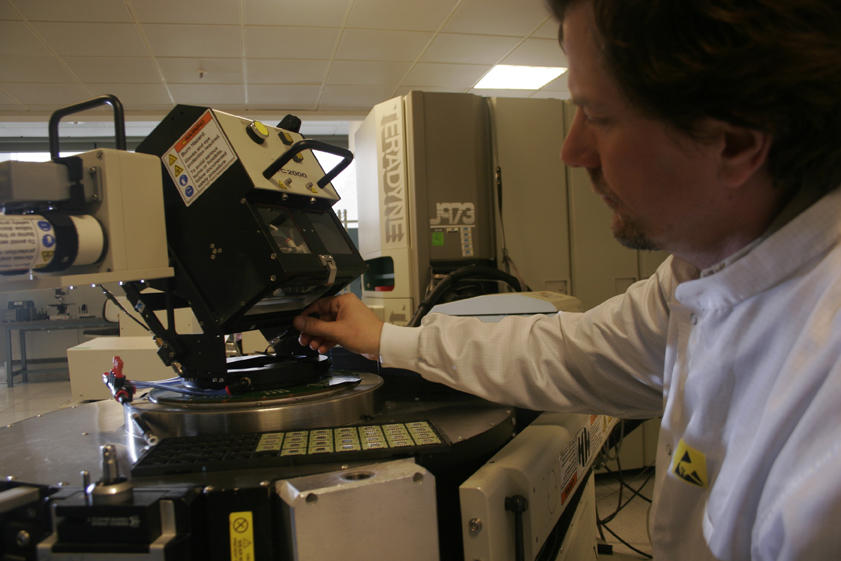 e2v's new semiconductor lifecycle management approach offers;
Redesign and reengineering facilities; wafer banking and lifetime continuity of supply;
European and North-American storage, packaging, test and redesign facilities;
Range of hi-rel semiconductor products, including hi-rel microprocessors, system interconnect and MRAM products, broadband data converters and the QP Semi IC product line;
Secured and flexible supply chain for hi rel products, protecting against counterfeit risks
DSCC qualified manufacturer listing.
This is the point at which the design engineer can begin to see the light in the process. Instead of designing to the best specification today and revisiting the obsolescence issues in 10 or 20 years time, the design team can work with e2v from day 1 to identify the critical semiconductors and to plan for their extended availability. It's a simple answer, but it needs a great deal of knowledge, system capacity and the equipment to store, assemble and test devices and if necessary to redesign. It is this that has been lacking from most suppliers in this market place because they haven't been asked to deliver this level of service. So, whilst obsolescence management for high reliability systems is a clear and present issue for design engineers, there is a future option to calm the nerves and secure the operational capacity for as long as you want in e2v's semiconductor lifecycle management program. www.e2v.com