For developers in a broad range of applications using the Intel Atom processor, particularly in portable designs such as found in the new wave of medical equipment, Dialog's companion chip is the ultimate companion to control all power up, power management and power down functions to optimise the end-equipment system power. Dialog Semiconductor plc, widely known as a leading provider of highly integrated innovative power management semiconductor solutions, has launched a single-chip system companion IC to optimise the power efficiency of embedded applications using the latest Intel® Atom™ processor E6xx series (formerly codenamed Tunnel Creek).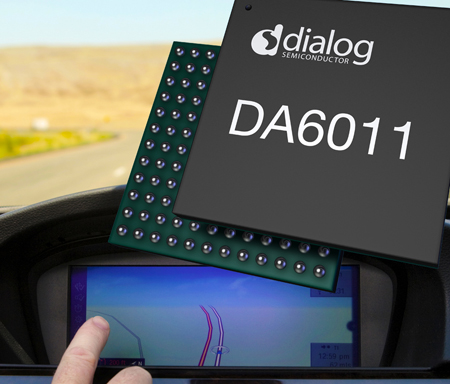 The DA6011 system companion chip integrates power management and clock driver functions and was designed in conjunction with Dialog's Processor Partner Programme. It was demonstrated at the Intel Developer Forum (IDF), San Francisco. The Intel Atom processor E6xx series was also officially unveiled at IDF. At IDF Dialog also jointly demonstrated its DA6011, which is already sampling, running on Congatec's business card sized embedded PC, the conga-QA6, which is based on the Intel Atom E6xx series processor. The Dialog IC manages the complete start-up, state-transitioning and power-down procedures on Intel Atom processor E6xx series-based platforms. It operates autonomously and reduces the overall system power consumption when going into stand-by or power down mode. The flexible state-machine implementation is designed to control the Intel Atom processor E6xx series platforms and I/O hubs from Intel (Intel® Platform Controller Hub EG20T), OKI Semiconductor (ML7223 / ML7213) and ST Microelectronics (ConneXt STA2X11). With its high level of integration the DA6011 significantly cuts development time for Intel Atom processor E6xx series-based designs. Furthermore, it improves battery life, simplifies design, improves system reliability, requires less than half the board space and cuts the bill-of-materials (BOM) compared with using a discrete power management system.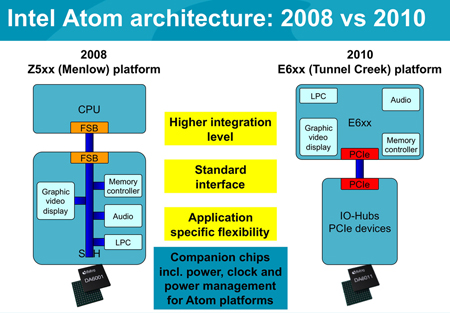 Improving on previous generations of the Intel Atom processor, the Intel Atom processor E6xx series integrates a memory controller and graphical video display with the CPU. The device is also the first in the Intel Atom family to adopt the open PCI Express interface, enabling third party companies to more easily create compliant devices that directly connect to the chip and delivering an unprecedented level of I/O flexibility for embedded computing devices.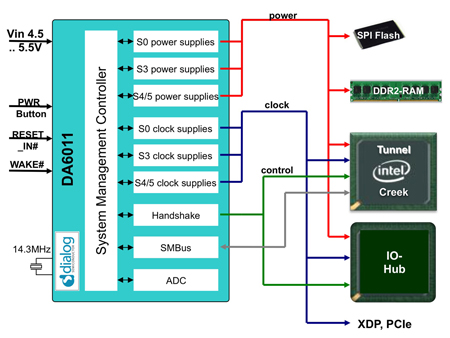 Juergen Friedel, vice president and general manager at Dialog said: "The new Intel Atom processor will stimulate a new wave of innovation through its performance, I/O flexibility and function integration. Our second generation DA6011 companion IC together with the Intel® Atom™ processor E6xx series is ideally suited to the demands of embedded applications, like automotive infotainment systems, industrial automation, embedded PCs and IP media phones, and also portable devices." "Our customers, particularly those in the automotive and portable markets, need to create high performance devices that run cooler for longer," said Jonathan Luse, marketing director of the Low Power Embedded Products Division at Intel. "Pairing the Intel® Atom™ processor E6xx series and the DA6011 means designers have more options when creating extremely power-efficient solutions to a variety of embedded market segments." Technical specifications The device integrates six DC-DC buck converters. This includes two IMVP-6 compatible buck converters dedicated to the Intel Atom processor E6xx series and three pass devices for a fully featured system with the lowest possible BOM. Further platform power demands are supplied by 11 high-performance, low dropout (LDO) voltage regulators, which use Dialog's patented Smart Mirror™ technology, removing the need for a low power mode and simplifying power control in the system. A dedicated push-pull source/sink terminates the address lines of the external RAM, further minimising external components.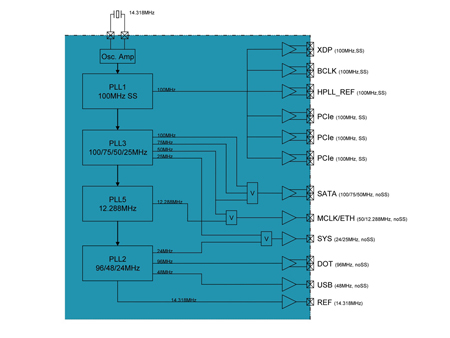 To manage the clock supplies four fractional division featured PLLs, two with spread spectrum capability, are included on the DA6011. The PLLs provide the clocks to the Intel Atom processor E6xx series as well as to the selected I/O hub, further shrinking the component count. The reference clock for the PLLs is generated via a 14.31818MHz crystal oscillator.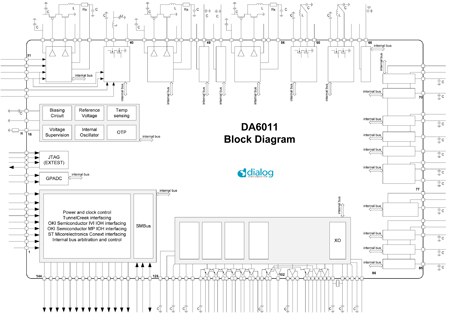 Two analog inputs can be multiplexed to a 10-bit ADC converter for signal measurements. An autonomous state machine manages the complete system start-up and shutdown procedures as well as the state transitions of the Intel Atom processor during all operational modes. Designed with AEC-Q100 specifications in mind, the device operates at -40-+85oC to meet industrial and automotive temperature ranges. Engineering samples of the 11x11mm 169 VFBGA are already available with volume production parts for automotive applications available in Q1 2011. DA6011 Intel Atom E6xx series companion IC adopted by congatec for business card sized Qseven embedded PC conga-QA6 Dialog Semiconductor's Intel® Atom™ processor E6xx series companion IC, the DA6011, is being used in congatec's Qseven embedded PC conga-QA6 for clocking and power management. Dialog's DA6011 is a single chip companion IC for the Intel Atom processor E6xx series, formerly codenamed Tunnel Creek, and integrates power management and clock driver functionality. The DA6011 was designed in conjunction with Dialog's Processor Partner Programme to maximise the efficiency of by precisely regulating power and providing the clock source to the core components of the system based on the Intel Atom E6xx series- the CPU, flash memory, RAM and I/O hubs. At just 7x7cm the Qseven is amongst the world's smallest embedded PCs and has a footprint smaller than a typical business card. It is a low cost, low power board that only requires a user interface and battery, enabling new classes of embedded computing products that have small form factor and long battery life. Jürgen Friedel, vice president and general manager of Dialog's automotive and industrial division said, "The Qseven enables incredibly small PCs to be created, but small PCs don't have large batteries so current cannot be wasted. We've partnered closely with both congatec and Intel to ensure the DA6011 precisely regulates power for those components at the heart of the Qseven and all Intel Atom processor E6xx series designs." Gerhard Edi, CEO of congatec said, "Every square millimetre of savings on the Qseven counts. A single chip power management solution was essential, allowing us to further shrink BOM, cost and power consumption to the lowest possible levels without compromise." With its focus and expertise in system power management, Dialog brings decades of experience to the rapid development of ICs for power and motor control, and audio and display processing. The company's processor companion chips are essential for enhancing both the performance of hand-held products and consumers' multimedia experience. Automotive applications include intelligent motor control for comfort and safety. Dialog operates a fabless business model and is headquartered near Stuttgart, Germany with operations in Austria, China, Germany, Japan, Korea, Taiwan, UK, and the USA. www.dialog-semiconductor.com