With Strategy Analytics estimating 36 million EVs on the road by 2026, wireless BMS offer promising ways to make vehicles more efficient and reliable – features that appeal to both original equipment manufacturers and consumers. For consumers, wireless BMS could potentially mean lower EV costs, along with better range and reliability — for their more environmentally friendly vehicle.
Because wireless BMS is a new technology, we have received a lot of smart questions from automotive system designers. In this article, I'm answering some of the most common questions.
What is wireless BMS?
Battery management systems are an essential component of EVs, with their efficiency, longevity and performance of paramount importance. To achieve these advantages, each cell in a battery pack monitors and reports data regarding its temperature, voltage and current through either an isolated Controller Area Network bus, differential daisy-chain communication or other proprietary solutions.
Providing connections to the cells and isolation for the wired solutions is difficult and costly. There is also a chance that the wires could break in the event of an accident, necessitating replacement of the whole battery pack. These issues have caused automakers and BMS solution providers to look for wireless communication solutions instead. A wireless solution, in which the battery modules convey battery cell information to the BMS microcontroller (MCU) directly, resolves the challenges associated with wired communications.
How is a wireless BMS different from a traditional wired BMS?

Wires add weight and bulk to cars, and they contribute to maintenance costs. A wireless solution replaces cabling and enables the battery modules to convey battery cell information to the BMS microcontroller wirelessly. Adoption of a wireless solution, however, requires performance comparable to that of wired system. One such critical performance metric is network availability; for wireless BMS, we call this wireless BMS availability.
Figure 1 shows a typical BMS, comprising of an MCU and its support circuits, isolations between the low- and high-voltage sides, battery cells, battery monitor modules, and a current sensor.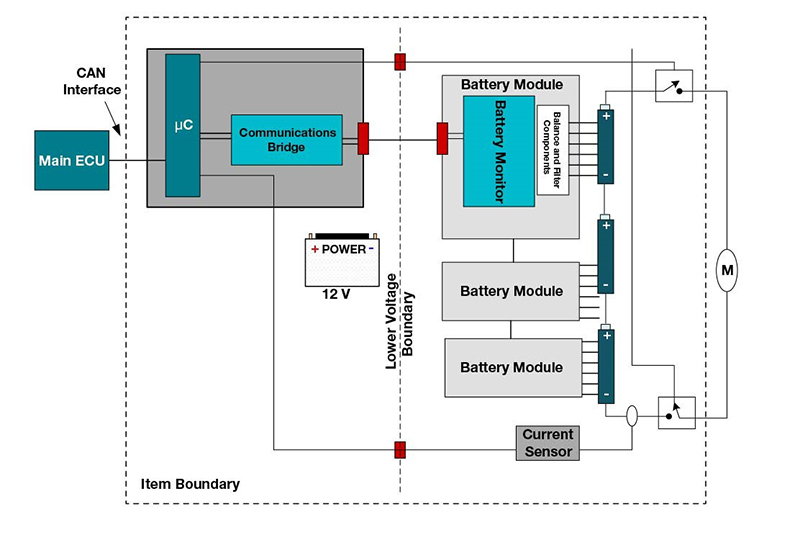 Click image to enlarge
Figure 1: A typical wired battery management system


Why is connectivity so important in wireless BMS?

The critical role for connectivity in wireless BMS is the availability of the wireless network. The network must be readily available so the driver can start their EV and manage the battery in real-time – this is where the reliability and performance of the wireless protocol comes into play. The idea is that the network connects all of the necessary components with the push of a button, every time, sending drivers on their way as seen in Figure 2. The battery system must also be secure and provide multiple security layers including AES-128, which is 128-bit cryptographic acceleration and message integrity checks. Look for low Packet Error Rates (PER), single hop and low latency.
Click image to enlarge
Figure 2: Example of a wireless battery management system


How can a wireless BMS design avoid signal interference?

Modern EVs have unique design challenges and are subject to multiple sources of wireless interference. They're noisy and battery modules are surrounded by metal enclosures which can affect signal propagation. Taking all this into account, look for a wireless protocol that specifically addresses the automotive battery use case and achieves peak performance in a real, automotive battery environment.
Why is functional safety important in wireless BMS for EVs?

If a battery system fails, the safety of the vehicle and passengers could be compromised. Functional safety measures are applied so that when and if a certain system fails, it fails safely, ensuring that the vehicle is still operational while protecting people in the vehicle.t.
It is time consuming to design a system that meets ASIL D requirements of the ISO26262 standard, choosing parts with integrated monitoring and protection features can simplify design, especially when they are designed according to TÜV SÜD-certified functional safety hardware and software development processes
Does a wireless design improve the ASIL rating?

In general, a wireless design will not improve, nor will it decrease the overall ASIL rating versus that of a wired design. Functional safety design requires the carmakers to derive an overall safety concept, which considers all hazards and implements proper safety mechanisms. It is always the responsibility of the carmaker to define those specific safety goals and safety mechanisms. It is their responsibility to ensure the end product they are designing meets a specific ASIL rating. TI's wireless BMS concept has been assessed by TÜV SÜD and provides carmakers with various concepts to meet the highest level of functional safety, ASIL-D.
Is wireless BMS scalable?
With a deterministic protocol, automakers can create a battery module using a single wireless system-on-chip connected with multiple battery monitors for different configurations such as 16-, 32- and 64-cell systems. When different channel options are offered in the same package type, the device supports pin-to-pin compatibility and reuse of established software and hardware across different cell configurations.
What are some of the challenges with implementing a wireless BMS?

We expect there will be a learning curve as designers get familiar with a transition from wired to wireless systems. To help our customers ease the transition to a new, wireless design, we are providing customers with a robust wireless BMS offering includes the SimpleLink 2.4-GHz CC2662R-Q1 wireless MCU evaluation module, software and functional safety supporting materials such as a safety manual; failure mode and effects analysis (FMEA); diagnostic analysis (FMEDA); TÜV SÜD concept report.
The BMS helps maximize the performance, reliability and longevity of electric vehicles. Carefully managing the charge and other operating characteristics of the battery helps engineers get more power out of each cell when needed, while ensuring the cells don't prematurely run low on charge or suffer damage.
What's next?
As we look to the future, the automotive landscape will continue to evolve and technology will likely continue to significantly change and advance along with it. The impact of this evolution will mean increased global demand for innovation and performance excellence in EVs. Being able to anticipate customer needs, adapt to industry trends and swiftly adopt the right new technologies will be even more vital to the life and longevity of businesses than ever before.
TI's new wireless battery management system concept -- which includes a proprietary wireless connectivity protocol, a set of electronic chips and is the first to demonstrate support for system-level functional safety compliance -- eliminates the need for heavy, expensive and maintenance-prone wiring, creating new opportunities in EV design.
Today, wired BMS is the industry standard, but wireless BMS shows promising advancements to making EVs that are lighter, more reliable and drive farther per charge.