­Ample lighting is essential to productivity, product quality and employee health and safety. In industrial environments like factories and warehouses, lighting can be used for illumination, indication and even communication. Five essential types of industrial lighting are overhead lighting, assembly, inspection and workstation lighting, machine and equipment lighting, automated lighting control systems and indication and communication lighting.
1. Overhead Lighting
High bay lighting fixtures designed for 20- to 45-foot ceilings generally fall into three categories based on their form factor and application suitability.
UFO High Bay Lights are round, pendant fixtures with a saucer-like appearance. They are best suited for large, open areas, are easy to install given that they have only one contact point with the ceiling and provide a large beam angle for powerful, widespread illumination.
Linear High Bay Lights are long, rectangular lights designed to be mounted to the ceiling or hung from cables or chains. They are available in varying lengths and widths and are ideal for illuminating aisles and shelves.
Vapor-Tight High Bay Lights are sealed round or rectangular lights designed to endure harsh environment conditions including moisture, sprayed water, chemicals and dust. They are available in a variety of lengths, widths and ingress protection levels.
2. Assembly, Inspection and Workstation Lighting
Assembly, inspection and workstation areas require bright, uniform light that doesn't flicker or produce glare or shadows that could hinder product visibility. As such, these areas commonly employ both overhead lighting and task lighting.
Task Lighting is installed in individual workstations and should be quick and easy for employees to adjust by hand. It should also have intensity controls that allow users to adjust the brightness and/or color temperature of the light, a solid mounting base and mechanisms to keep it solidly in place.
Magnification Lighting is specialized task lighting typically used in assembly and inspection areas and mounted to the edge of a work surface or on an extendable arm.
Vision Lighting is another type of task lighting. Widely used in inspection areas to create suitable contrast, vision lighting features colored lights, infrared lights or spotlights to help employees identify omissions and errors.

Click image to enlarge
Figure 2: Allied supplies Banner Engineering's Vision Light Series solutions, including the high-intensity blue LED strip light (left), a rugged, white, IP69k spotlight (center) and a rugged, high-intensity infrared light (right) pictured here

LEDs are ideal for task, magnification and vision lighting solutions because they provide bright, uniform light, offer dimmability, as well as different colors and color temperatures, and have long lifetimes, which results in lower overall costs for both energy and maintenance.
3. Machine and Equipment Lighting
Bright, uniform machine and equipment lighting engineered to endure harsh environment conditions is crucial for monitoring, maintenance and troubleshooting tasks and for viewing and responding to alerts. Shatterproof and vapor-tight fixtures equipped with LEDs and IP67, IP68, or IP69k sealing are ideal for machine and equipment lighting applications.
4. Automated Lighting Control Systems
Automated lighting control systems feature programmable sensors that detect motion or activity and adjust lighting accordingly, turning lights on when the space is populated and dimming them or turning them off when it's not, which can result in significant energy savings. They also feature manual controls so users can override programmed behavior, and many include timers and corresponding apps that allow users to control the system with a smartphone or a tablet.
LEDs are ideal for automated lighting systems because they are very low maintenance, deliver high brightness with no warm-up time, as well as varying light intensities to satisfy multiple application needs, and have extremely long lifetimes.
5. Indication and Communication Lighting
Although illumination is generally the first thing that comes to mind when people think about lighting, industrial lighting isn't limited to illumination. Industrial facilities are also equipped with a variety of lights designed to provide visual indication and real-time communication, as well as solutions that combine these functions with general illumination.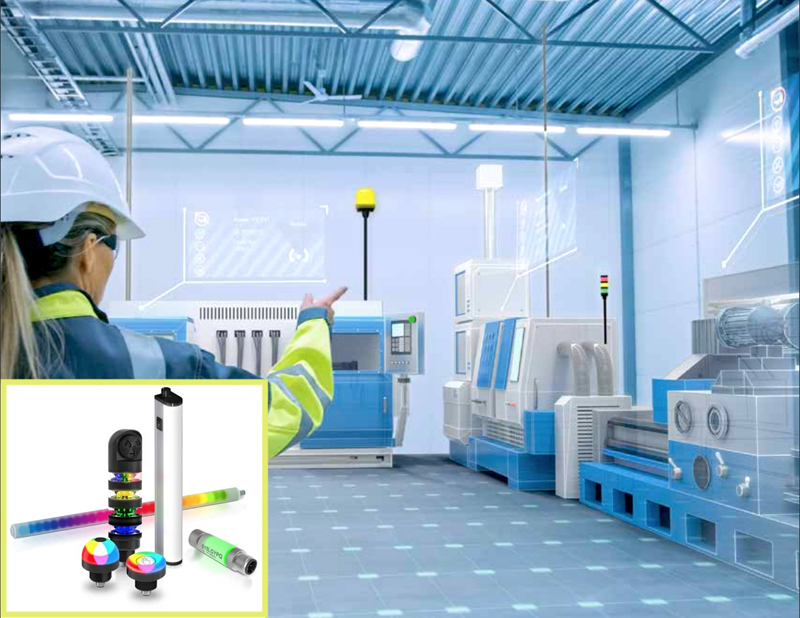 Click image to enlarge
Figure 3: Allied supplies Banner Engineering's suite of Visual Factory solutions, which provide important information in real-time to improve industrial processes including manufacturing, monitoring, safety, downtime and machine maintenance
Indication Lightingis used to visually convey the status of various industrial equipment processes. Different colors and patterns can be used to communicate whether equipment is warming up, operating or stopped, as well as to visually indicate assembly process stages, process efficiency, material levels or the amount of time remaining until the process is complete. Four of the most common indictor solutions includeLED indicators, strip lights, in-line status indicators and tower lights.
· LED Indicators are bright, low-maintenance and long-lasting, available ina wide variety of colors, as well as in panel-mount, flush-mount, general-purpose, multicolor, high-intensity and relampable options, and are typically ruggedized to reliably withstand the hazards of industrial environments.
· Strip Lights are configurable, multicolored task lights that provide illumination during normal operation and a wide variety of color and animation options to alert operators to various deviations from normal operation. When an alert occurs, the strip light turns to a designated color to indicate that something is awry — for example, that a machine is jammed or material needs to be refilled.
· In-Line Status Indicators are ideal for sensor applications and other four- and five-pin devices with an output that require highly visible indication. These miniature, in-line indicator solutions can mount directly to sensors, provide 360° illumination in two or more colors to convey statuses or alerts, feature overmolded designs for environmental resistance and be stacked together to create a tower light with each segment controlled by a separate input wire.
· Tower Lights are multicolored, multi-segment LED lights designed to replace conventional stack lights, which typically have complex wiring. They are available in preassembled or configurable variants that let users determine light color, animation and intensity, as well as in compact, outdoor, quick-disconnect and pre-wired variants with AC or DC power supplies, audible output options and various intensities.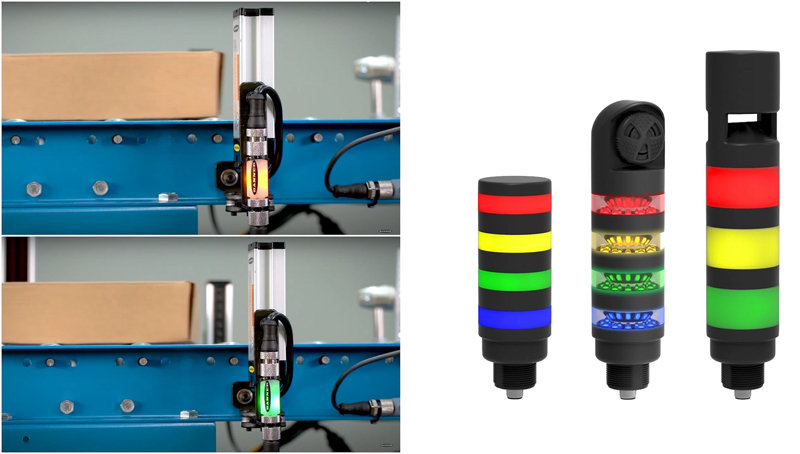 Click image to enlarge
Figure 4: Allied supplies Banner Engineering's S15L Series in-line sensor status indicators (left), which are widely used in automotive manufacturing, material handling and general assembly applications, and currently offers more than 1,000 in-stock tower lights from leading manufacturers including Banner Engineering (right), PATLITE, Eaton, and RS Pro by Allied
Communication Lighting is indication lighting that also offers input, memory and/or IIoT integration capabilities. Two common types are touch button indicators and pick-to-light solutions.
· Touch Button Indicators are available in multiple colors and sizes with various I/O capabilities and IP ratings and can replace several conventional buttons, which makes them ideal for lean manufacturing environments. They are also available with push button actuation, capacitive actuation and zero-force optical touch buttons, and they increase efficiency by responding to activation even in dirty, wet or greasy conditions.
· Pick-to-Light Solutions are non-contact lighting products designed to make picking, assembly, kitting and put-to-light operations more accurate and efficient by mitigating assembly and fulfillment errors, reducing associated costs and ensuring product quality. They feature photoelectric sensors that perceive and verify movements and sequences and alert operators to errors via colored lights and are available in several different lengths to accommodate various bin sizes and enable larger sensing areas.
Hybrid Indication, Communication, and Illumination Lighting combines the three key industrial lighting needs into single product solutions like multicolor LED strip lights that can provide programable, multicolored and high-visibility indication to convey status updates and alerts, sense, respond to and communicate with their environment and allow users to switch the output to white task lighting when applications call for bright, uniform illumination. They typically feature ruggedized industrial housings equipped with bright, long-lasting LEDs.
Click image to enlarge
Figure 5: Banner Engineering's high-reliability EZ-STATUS Solutions for the visual factory can indicate production efficiency, pinpoint specific equipment areas that need attention (top left) and provide general illumination for required actions or repairs (top right). They can also be paired with safety equipment to clearly indicate safety zones (bottom left) and improve industrial door and intersection safety (bottom right).