Original Equipment Manufacturers (OEMs) across a number of sectors are feeling increasing pressure to electrify and automate industrial applications in order to adhere to evolving environmental, economic and regulatory factors. One readily available automation option noteworthy to OEMs is the adoption of electric battery-powered systems because they offer greater efficiency and significant cost reductions.
Material handling, floor care and construction are but a few of the industries embracing automation by transitioning from fuel based combustion systems to electric systems. This transition helps OEMs adhere to changing regulatory factors, while also increasing the efficiency of equipment design and performance, which ultimately improves end users' experiences.
Within the past year, we've seen great achievement in electrification as demonstrated by Walmart's purchase of floor care equipment that integrates Brain Corp's automation technology and Genie's GS Scissor Lifts that are now available with a lithium ion battery option and advanced telematics. Some experts even forecast that by 2033, the material handling industry will achieve full conversion to electric systems.
Industrial applications are evolving. The result is that OEMs and end users are gaining improved control of their systems, as well as the ability to integrate technology advancements that will facilitate data collection, communication and equipment automation. In this realm, four trends are driving developments in the adoption of electric systems and increasing the reality of automation for OEMs.
Regulations
Global regulation continues to drive the transition toward fully electric alternatives and solutions. For example, Europe's non-road mobile machinery emissions regulation 2016/1628 – more commonly known as Stage V– has been phasing into effect since January 2008. By January 2021, these regulations will impact all new non-road engines entering the European market.
Europe, like most industrial countries are facing extreme pollutant emissions from diesel and gasoline-fueled engines. The engines installed in these off-road machines significantly contribute to air pollution through emission of carbon oxide, nitrogen oxide, hydrocarbons and particulate matter.
Beijing, which has some of the worst air pollution of any city in the world, currently has Stage V regulations in place and plans to implement Stage VI regulations by the end of 2019. Stage VI regulations would seek to reduce carbon dioxide and nitrogen oxide emissions by 50 percent below those set by Stage V.
Regulations, such as Stage V, will help alleviate the problem. Additionally, steps being taken in the U.S., Japan, China and Europe will help to minimize carbon dioxide and other emissions, as well as improve air quality and reduce noise pollution.
The increasingly stringent regulations in these areas will drive OEMs of industrial equipment to integrate electric or hybrid technology if not to improve the environment, to avoid fines and other consequences associated with breaking regulatory codes.
For example, in the construction and material handling industries, designing electric equipment will continue to offer significantly more attractive and cheaper options than making diesel engines comply with Stage V and other regulations. This is due to the complexities and costs associated with altering these systems to operate in approved levels (below 56kW).
Innovative equipment providers are unveiling electric alternatives, including Genie, which launched its Z-60-37FE Boom Lift in 2016. Since then the market has been shifting to accommodate the already electric technology with class one, two and three material handling equipment. JGL also released the world's largest hybrid boom lift, the H800AJ, with an 84-volt system, which can operate in an electric-only mode.
Improved Technology & Charging
In addition to regulations, the speed of new technology developments and the evolution of the electric vehicle market will continue to spur automation for off-road industrial applications. For example, because of breakthroughs in solid state technology, OEMs are able to move to safer lithium ion batteries. These advancements will allow faster charging times, longer life cycles and more thermally safe power solutions, which are critical components in the success of autonomous equipment.
Additionally, the assembly of battery powered systems support the ability to design and operate "intelligent" equipment and facilitates smooth integration with software focused tech advancements (e.g. IoT, AI and telematics). As a result, the rise of autonomous equipment, especially in the agriculture, construction, aviation, transportation and floor care sectors, have also caused OEMs to take a second look at their battery management systems (BMS) and partner with technology providers who specialize in charge design and customized algorithms.
Charging technology that is connected with the equipment's BMS can easily integrate to create a smarter application where performance data and charge levels are monitored and displayed via an equipment's control panel. Take for example, if a tractor is running low on power in the middle of a two-hour shift, the software can read this error and flag a notice to either begin charging (if an on-board charging system is in place) or communicate a notice ordering the tracker back to its charging base.
Similar alerts can take place through the use of AI, and if irregularities are tracked, a notice will occur warning the user of potential maintenance requirements before the equipment breaks down and impacts operations by creating downtime or delays.
Improved technology facilitating autonomous equipment is also changing labor, by offering workers increased safety (from not operating machinery) and evolving the roles and responsibilities they hold in the industry.
Cost Reductions
In hand with technology advancements, another trend driving automation of industrial applications is the cost reduction of lithium-ion batteries and other technologies that are instrumental in the design and integration of automated systems. A top driver of the reduction in costs is increased adoption.
As the use of lithium-ion batteries in electric equipment and hybrid vehicles increases, battery costs continue to come down. Further, withstricter regulations and heightened environmental factors on the horizon, we'll likely see an increased investment in the technological improvements required to facilitate more widespread adoption. These developments will continue to reduce the prices of batteries and other high-power components, making electric and hybrid technologies more suitable and affordable for OEMs of off-road industrial applications.
The increased availability of lithium-ion batteries will help OEMs electrify in a way that works best for their equipment and allow them to take advantage of the benefits associated with operating these systems. For example, lithium-ion batteries are four times lighter and three times smaller than tradition lead-acid batteries, they have higher power capability, can tolerate high shock and vibration environments, require little to no maintenance, enable longer run times and have higher cycle life. These benefits directly impact OEMs and end users by optimizing the efficiency of the equipment's performance, maximizing its lifetime and creating opportunities to integrate added capabilities and technologies within the equipment.
One capability or telematics integration OEMs are leveraging by integrating lithium-ion BMS is advanced telematics, such as controller area networks (CAN) to facilitate communication between the charger and other machine or vehicle components. CANbus functions are helping drive the evolution of golf carts, lift trunks, floor care machines, utility vehicles and more by providing OEMs and end users with a comprehensive overview of the vehicle's entire system. These systems also facilitate continued innovation and lay a strong foundation for "intelligent" equipment, as discussed above, which can improve fleet-wide communication, data management and autonomy.
Changes in User Preferences
As with any rapid commercial advancement, end users grow more comfortable with on-demand and digital facing applications, resulting in a new normal and changing expectations. User preferences are already shifting, placing added pressure on OEMs to find new ways to improve design and operating capabilities. Doing more with less, while also being more efficient, safe and cost-effective, is becoming the norm.
Going forward, users will increasingly require more capable and intuitive user-facing digital systems and more expansive automated and autonomous equipment that will reduce the use of labor (that can be applied elsewhere). For example, industrial applications with more advanced software and capabilities, can allow fleet managers to view status updates and system overviews on their mobile or tablet devices and give commands as needed. Management by a mobile device, laptop or tablet provides increased ease of use and flexible control over equipment.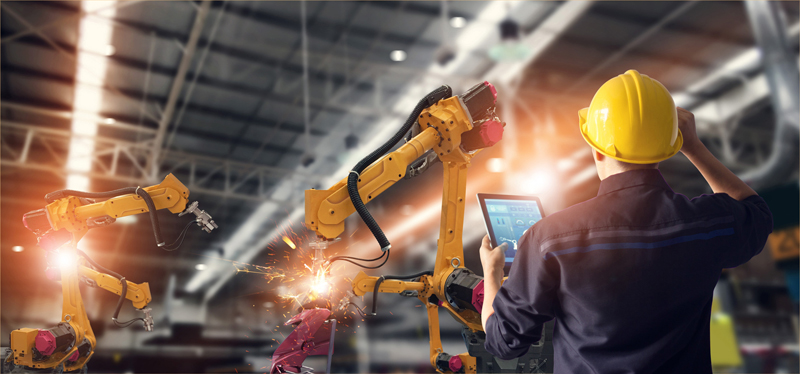 Click image to enlarge
Figure 2. Automated factory controlled via tablet interface
Lastly, similar to cost reductions, changes in user and industry preferences are improving battery design, capacity, function and management through increasing investments to develop these capabilities. For example, industry preferences and improved designs, will play a critical role in the widespread use of drones for far more than surveillance and delivery. These unmanned systems have moved into construction, forestry and farm management, for example, conducting inspections, planning, progress tracking and communication, safety and risk mitigation, and quality control and assurance.
As the demands for these applications evolve, we'll continue to see a need for improved battery and charging systems (e.g. BMS that allow drones to carry heavier payloads and LiDAR technology for a longer flight times, etc.).
Click image to enlarge
Figure 3. Electric-powered forklifts support factory-wide automation and improved connectivity for operators
The battery and charging technologies to help OEMs keep up with user preferences are quickly evolving and already making significant progress. Take for example companies like Walmart, Amazon and Google who are investing in robotics and drone delivery applications to improve shopping experiences for consumers around the world.
In order to achieve full electrification of industrial applications, there is still significant design and technology improvements needed. These four trends, regulations, improved technology and charging, cost reductions and changes in user preferences are moving the needle towards automation and will continue to drive the evolution of industrial applications, making electric/hybrid industrial systems a reality.

Delta-Q Technologies