Glassman Europe has announced a new range of programmable, DC regulated power supplies, the GX Series, its most powerful to date. The GX Series is a highly-specified family of 25kW to 200kW fast response, air insulated power supplies, boasting tight regulation combined with low ripple and noise. This comprehensive range has nineteen models in all, from 0 to 1kV through to 0 to 100kV, and individual units can be set up in a master/slave configuration to produce a maximum output capability of 200kW.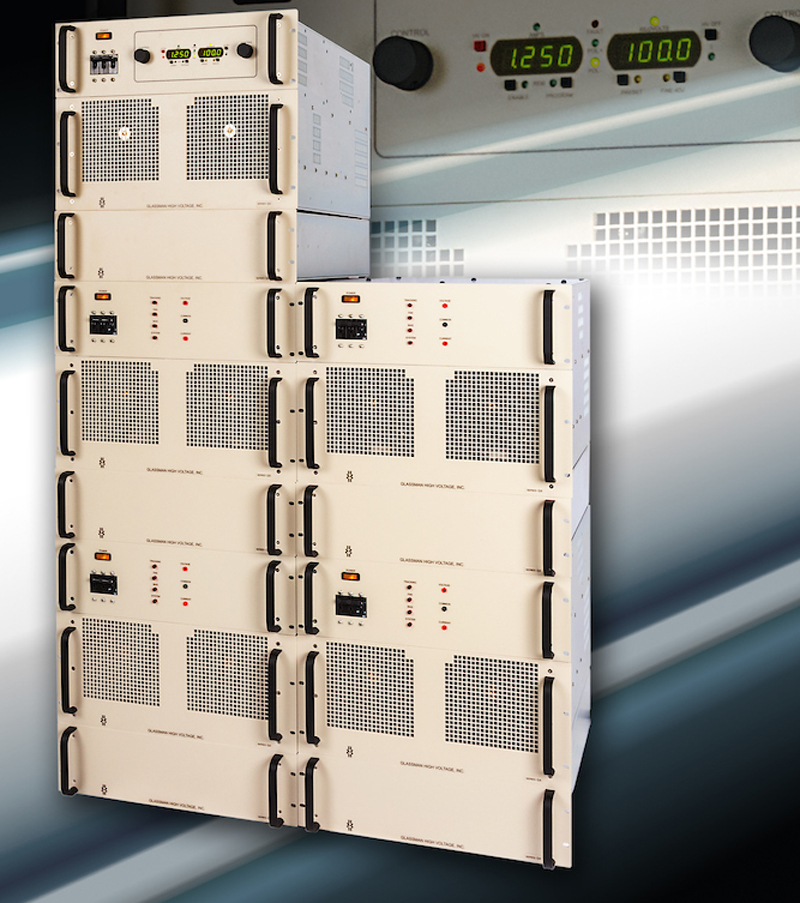 Clcik image to enlarge
480VAC 3 phase/380VAC/415VAC input; front panel digital control or analogue remote interface; CE Compliant
Input for the rack-mountable GX Series is 480 VAC 3-phase as standard, with 380VAC and 415VAC input available as an option. The units feature a microcontroller based front panel control and communication interface and there are also integral RS232/USB serial ports as standard, plus an optional Ethernet interface, which enables high-resolution voltage and current programming either on site via the front panel digital encoders or via the analogue remote interface. A time-saving Last Setting Memory feature stores power supply parameters at each AC turn off sequence, saving time. The constant voltage/constant current operation feature utilises automatic crossover between the two to protect against overloads, arcs and short circuits. Adjustment between constant current and current trip is easily selected via a rear panel switch. Output features continuous, stable adjustment from zero to rated voltage or current by panel mounted optical rotary encode or by external 0 to +10V signals. Efficiency is typically greater than 80% at full load and ripple typically less than 0.1% RMS of rated voltage at full load. To prevent arcing, GX Series power supplies feature both arc quenching and an automatic arc count. The HV output is inhibited after each load arc and internal circuitry continually senses and integrates arcs which occur over a given time period, so that should system or load arcing exceed factory-set parameters, the unit automatically cycles off, clears the fault and re-starts after a set time period.
In line with Glassman's outstanding reputation for reliability, the GX Series features the company's proprietary forced air cooling system, with redundant thermal overload protection incorporating temperature sensing and a fan speed monitor. Being air-insulated, rather than encapsulated or oil insulated, the GX Series is lighter in weight and easier to service than competitive power supplies. The GX Series models are available now, supplied with a three-year warranty for standard versions; with OEM and modified models warranted for one year.