Light Emitting Diodes (LEDs) are semiconductor devices which provide an efficient and reliable source of light and contain no moving parts, making them very reliable in environments with elevated vibration and shock, such as automobiles. Other desirable properties include high efficiency, long life and brightness. LEDs are ideally suited to a variety of automotive applications, including backlighting, instrument panels, liquid crystal displays and general lighting, such as head and tail lamps. With the latest technical advancements in high power LEDs, auto manufacturers are expected to phase in LED lighting across all their vehicles by 2020.
High power LEDs are an efficient and reliable source of light in multiple areas within an automobile, including headlights, running lights, rear vehicle brake lights and passenger compartment lighting. Until recently, however, LED drivers, which supply power to the LEDs and protect them from voltage or current fluctuation, were unable to support the high lumens required for headlights and running lights, as well as the higher ambient temperatures that exceeded +125 °C.
Today, advanced LED driver designs are being developed with electronics components that result in a higher luminescence, better energy efficiency, and lower cost. These products enable manufacturers to develop higher power LED headlight clusters that perform well at higher currents in a smaller footprint. Specific inductors support a more advanced LED driver design that handles higher voltages and a wider array of high power LEDs that can operate "bend light" and dimming functions to improve roadway safety.
Excelling in Versatile and Rugged Conditions
It is critical for manufacturers to work with suppliers who candeliverautomotive-grade, high power inductors that offer low electromagnetic interference (EMI) and higher operating temperature, which are essential requirements for obtaining efficient DC/DC conversion. These robust inductors are designed to withstand harsh environmental, electrical and mechanical conditions. Many of the more recent applications demand that the inductors perform at temperatures from -40 °C to +155 °C, representing the same inductance roll-off characteristics across the entire temperature range. Tight thermal coupling can ensure effective heat dissipation under high current conditions. Utilizing a variety of sizes and higher inductance values allows automotive designers to operate at higher voltages needed to drive multiple high-power LED arrays for headlights and daytime running lights.
With the rapid increase of automotive electronics content in vehicles, maintaining a low EMI is required. Inductors are recommended to be magnetically shielded, making them suitable for virtually all applications throughout the vehicle. This gives automotive engineers design flexibility. Additionally, these inductors should be AEC-Q200 Grade-1 qualified and appropriate to operate in temperatures of up to +165 °C, making them popular for engine compartment applications including electric motors, pumps, and engine control modules, as well as for lighting body and security systems.
Selecting a circuit topology
LEDs must be properly driven to ensure peak performance and maximum useful life. The key to successful lighting circuits is designing and implementing an effective driver with a suitable circuit topology. Two topologies are described here:
SEPIC Circuit
A Single-Ended Primary Inductor Converter (SEPIC) allows the output voltage to be greater than, less than, or equal to the input voltage in DC-DC conversion (Figure 1). Typical vehicular applications include daytime running lights (DRLs) and, more recently, full LED headlights, which supports all of the lighting options of low-beam, high-beam, fog and turning indicator lights using a single SEPIC driver circuit. This single circuit is able to output the optimal LED driver voltage and currents based on the actual number of light features turned on. Eaton's off-the-shelf AECQ Grade1 coupled inductors (DRAQ series) may power SEPIC drives up to 40W, which is sufficient for a standard LED headlamp. SEPIC drives make complete LED headlights affordable to the general public, not just luxury car drivers.

Click image to enlarge
Figure 1. SEPIC circuit
Boost and Buck Circuit
Boost and Buck circuits are used for the most sophisticated LED headlights (See Figure 2), providing sufficient power to drive multiple light features all the way up to 120W per lamp. This type of circuit topology includes a powerful boost converter which normally boosts the battery voltage to a maximum 60V. This elevated voltage is then bucked down to the required voltage level to power different LED strings of the headlight. The different light strings may be composed of a matrix of uniform LEDs (normally 32-1024 pixels) or strings of power LEDs and some standalone power LEDs. These complex headlight units can control the light intensity based on the road conditions, driving speed, steering wheel position and upcoming traffic sensed by the Advanced Driver Assistance System (ADAS). The complex LED drivers adjust the light intensity and focus automatically for ride enhancing safety on the road, whether day or night. Some laser LED diodes may illuminate all the way up to 600 meters, allowing high speed driving during the evening. These drivers require robust inductors with high power density and 10-20pcs per lamp to properly manage the various voltage and current requirements. When selecting components, it is important to choose those with high efficiency, high temperature capability, high heat dissipation capability and stable operation at all temperatures ranging from -40 °Cto +125 °Cambient. Eaton's HCM1A inductor product line is designed specifically to take this challenge with various number of inductances and size options.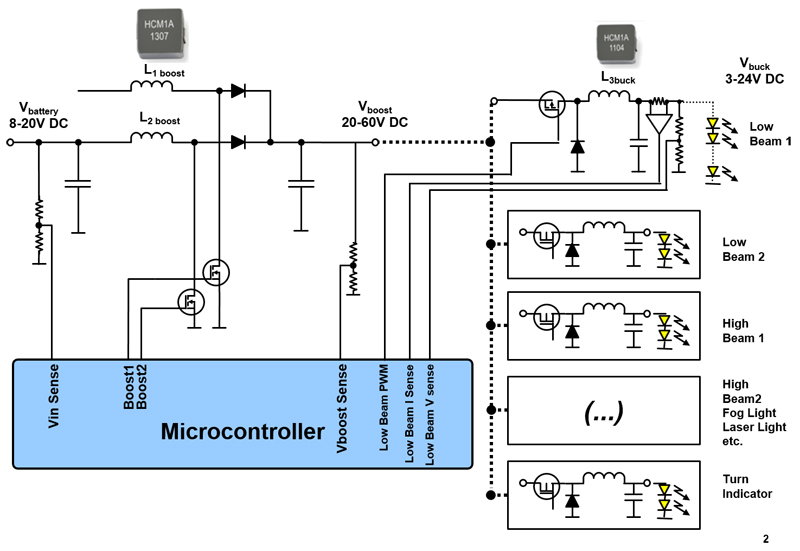 Click image to enlarge
Figure 2. Boost-Buck circuit
Summary
Advanced automotive-grade electronics are versatile, affordable, and provide the automotive engineer with more innovative solutions – adding flexibility to their designs, enabling new vehicle features, and enhanced driving experience.
Eaton Corporation