ON Semiconductor showcased its newest Light Emitting Diode (LED) lighting solutions at the Strategies in Light Europe conference recently in Frankfurt, Germany. "Energy efficiency in a cost effective design is critical to achieving high overall luminous efficacy in solid state lighting applications," said Laurent Jenck, director of ON Semiconductor's LED Lighting segment. "High Brightness LEDs (HBLED) are replacing incandescent lamps in a broad range of applications and the overall popularity of solid state lighting is continuing to grow across many different industry sectors. ON Semiconductor has recognized the many needs and applications for efficient LED lighting and effective LED Lighting protection and is rapidly developing solutions targeted to address customers' needs ranging from backlighting in handheld electronics and LCD panels, to general lighting, architectural lighting and automotive lighting." Miniature Buck LED Driver Controller for Efficient, Compact Lighting Designs ON Semiconductor's NCL30100 is a new step-down (buck) LED driver controller that provides an ideal solution for high-brightness LED driver applications where space is limited and high efficiency is important such as low voltage MR-16 LED bulbs. The new controller helps designers optimize their solution for a wide range of LED drive currents and is ideal for low voltage halogen-to-LED replacement, LED track and landscape lighting, and solar LED products.
The NCL30100's ability to operate at high switching frequency and the flexibility it gives to select the most appropriate power MOSFETs, combine to support the customer in achieving an optimal solution for their design. Based on a peak current, quasi fixed-off time control architecture optimized for continuous mode step-down operation that eliminates the need for an output filter capacitor, the NCL30100 saves both board space and cost. A switching frequency of up to 700 kHz enables designers to use smaller inductors and therefore achieve further valuable PCB real estate savings. The NCL30100 meets the energy saving demands of the latest designs by achieving up to 95 percent efficiency. For low voltage AC applications, the NCL30100 can be dimmed via a standard wall dimmer. Next Generation ESD Protection for High Power HBLEDs ON Semiconductor's new CM1771 is a 100 V back-to-back electrostatic discharge (ESD) protection device that prolongs operation of HBLED lamp modules. It is the industry's first ESD protection solution for HBLED applications to feature a 100 V breakdown voltage. The CM1771 is a member of the innovative LuxGuard® family of turnkey solutions for ESD protection in high voltage circuits and is ideal for general illumination, signage, automotive and commercial lighting applications. To ensure emerging opportunities for HBLED technology are realized, emitter manufacturers need to be sure their devices are not left vulnerable to damage from ESD strikes. Delivering protection at high breakdown voltages presents a new challenge in dissipating higher levels of power when an ESD strike occurs while maintaining acceptably low dynamic clamping voltages. The proprietary side mount arrangement featured in the CM1771 delivers robust, symmetrical ESD protection in a very small, cost-effective die that can be easily integrated into a wide selection of HBLED lamp modules. The CM1771 is offered as a 440 μm x 440 μm die. Pricing for these devices is $0.02 per unit in 100,000 unit quantities.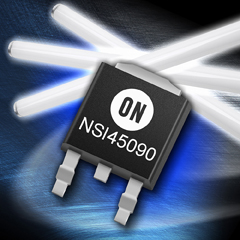 Adjustable CCRs for LED Lighting Applications ON Semiconductor has expanded its portfolio of adjustable Constant Current Regulators (CCRs). The new CCRs, which provide voltage surge suppression to protect general lighting and automotive LEDs, are simple and highly robust devices designed to provide cost-effective current regulation to LEDs. They are based on the company's proprietary, patent-pending Self-Biased Transistor (SBT) technology and regulate current over a wide voltage range. ON Semiconductor's new compact CCR devices eliminate the need for additional regulation within the system design. They offer engineers a highly effective LED protection solution that supports tight application budgets and development schedules. The NSI45090JDT4G and NSI45060JDT4G are offered in D-PAK packages and priced at $0.16 per unit in 10,000 unit quantities. The NSI45020JZT1G and NSI45035JZT1G are offered in SOT-223 packages and priced at $0.10 per unit in 10,000 unit quantities. These devices are all AEC?Q101 qualified. All of the CCRs are offered in compact, thermally robust, RoHS-compliant packages, made using a halogen-free molding compound and lead free lead finish and have an operating temperature range of ?55 °C to +150 °C.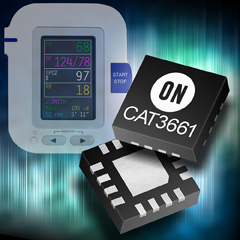 Low Power LED Driver Optimized for Coin Cell Powered Backlighting Applications The CAT3661 is a new one-channel Quad-Mode™ LED Driver providing up to 92 percent efficiency for extended battery life in a wide range of portable applications including handheld medical equipment. The CAT3661 can drive a single LED backlight with a current of up to 5 mA. Soft-start current limiting and short-circuit protection make the new device ideal for use in equipment powered by coin cell batteries. Packaged in a 16-lead TQFN package measuring just 3 mm x 3 mm x 0.8 mm high, the CAT3661 provides a valuable solution for engineers working on new designs where available board space is limited. The quad-mode charge pump supports a wide range of input voltages from 2.0 V to 5.5 V and also helps the CAT3661 achieve peak efficiency levels of up to 92 percent - up to 10 percent higher than traditional high efficiency 1.5x tri-mode charge pumps. Pricing for the device is $0.86 per unit in 10,000 unit quantities. GreenPoint® Interactive Online Design Simulation Tool ON Semiconductor has developed an innovative GreenPoint® tool environment that provides an interactive online design and verification experience accelerating the design of solid state lighting solutions. Based on a user's design requirements - such as LED configuration, voltage, current or switching frequency - the GreenPoint Tool automatically calculates optimum circuit configuration and selects appropriate values for inductors and capacitors. The resulting design is displayed as an interactive online schematic. The GreenPoint Design Tool essentially represents a virtual test bed, providing a variety of analyses, which allows engineers to test the performance of the solution. Once the design has been verified, the GreenPoint Simulation Tool generates a Bill of Materials and a comprehensive design report including simulation results, schematic and design data. ON Semiconductor's e-commerce tools are integrated with the GreenPoint Design Tool, which allows users to pick and choose vendor parts for a qualified bill of materials. Designs can be saved and shared for future reference and further modification in the user's secure and private workspace. www.onsemi.com