In today's information-driven business landscape, enterprises across the globe have become increasingly dependent on data centers as the foundation for successful operations. For mission critical environments, peak operating efficiency and reliability are necessities; if the data center falters, the business suffers as a result.
Maintaining data center uptime is more vital to businesses today than ever before, and operators need to monitor every piece of power-drawing equipment in the data center with high accuracy and preciseness. For enterprise and multi-tenant data centers alike, the ability to stay up and running requires advanced rack power distribution units (PDUs) that can monitor every aspect of power and enable the management of power distribution (see Figure 1). Without these technologies, data centers are at risk of being unable to keep up with the ever-expanding business requirements.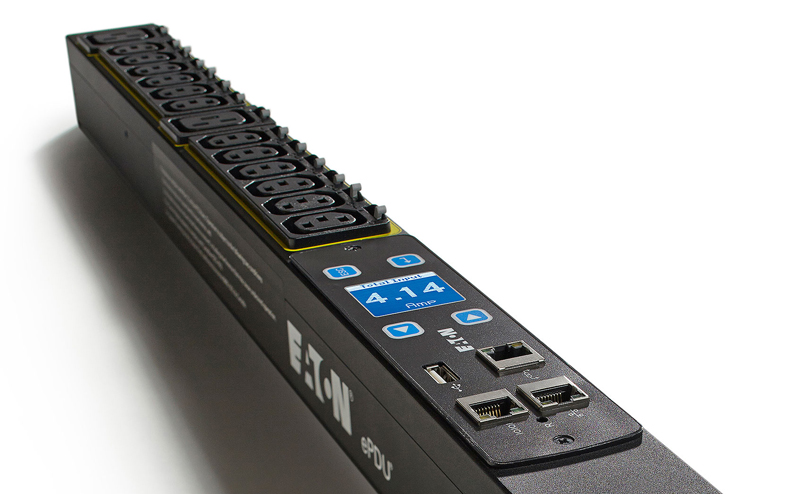 Click image to enlarge
Figure 1: Advanced rack power distribution units (PDUs) can monitor every aspect of power
What Influences Modern Data Centers?
Today's data center is under intense pressure in many regards. While information is increasingly important to organizations across every industry, which is reflected by an exponential growth in data volume, data center operating budgets aren't keeping pace. With more demands and stagnant budgets, data centers must operate more efficiently. In this environment, data centers face the burden of operating with energy efficiency and reducing downtime as much as possible.
At the same time, virtualization – with its promise to deliver better utilization – is creating a heightened need for flexibility throughout and among data centers. This requirement is further reinforced by the rising use of cloud-based solutions and co-located data centers, which in turn is driving the need for higher accuracy in billing – often down to the single-outlet level in a rack.
In addition, data centers are increasingly implementing converged infrastructure environments, which include integrated storage, server and networking technologies all made possible by virtualization. With converged infrastructure platforms, data centers are equipped to meet the on-demand computing challenges of today's businesses – providing they can manage the fluctuating power distribution requirements that such challenges entail. Altogether, these demands are motivating data centers to closely manage every facet of operations to ensure efficiency.
In effect, today's data centers function much like utilities, providing computing capacity in response to changing demands. Certainly, high-level power distribution strategies are needed for peak efficiency, yet data centers must go beyond a big-picture view of operations. Facilities that are contending with a variety of pressure-inducing factors must keep a watchful eye on all aspects of power distribution. A new generation of advanced rack PDUs – devices with monitoring and management capabilities – offer data centers comprehensive functionality that addresses their most pressing operational needs.
How to Plan for Capacity
The process of selecting a rack PDU should begin with the power rating of the unit and the technologies the data center requires. When designing a data center, operators typically take into account the planned capacity of the rack to calculate power and cooling requirements. Rack capacity is then used to select the appropriate input plug for the rack PDU (see Figure 2).
Click image to enlarge
Figure 2: Rack capacity is used to select the appropriate input plug for the rack PDU
Data centers today often want a unit capable of carrying the full power load as well as accommodating the possibility for expansion, so they allow for extra capacity. When such future-proofing is pursued, any excess capacity that is being provisioned can be handled seamlessly by simply implementing a larger capacity PDU.
On a high level, data centers can also implement environmental technologies such as airflow management solutions, including aisle containment doors and ceilings, blanking panels and data center cages for secure partitioning. Additionally, data centers can deploy UPS solutions to improve efficiency and reduce power costs without compromising protection. Busways with plug-in configurations can flexibly connect power to server cabinets with the capacity to meet high power demands as well.
Evaluating Advanced Technologies
Once the power rating and capacity of the unit is considered, data centers should next assess technology and applications. Typically, rack PDUs come in three categories: basic distribution, metered distribution and managed or switched distribution. Moving up the stack from basic to metered will allow data centers the ability to locally measure current and load balance – not to mention the capability to remotely monitor branch circuits and facilitate capacity planning.
With advanced meters, data centers gain the capability to meter power at the outlet level. Outlet-level metering also provides a level of detail in reporting power usage that is often required in multi-tenant racks at co-located data centers. In addition, managed PDUs facilitate outlet switching, an ideal capability for lights-out data centers or in situations where fast response to remotely cycle power in the rack is needed.
With outlet switching, data centers can also turn off outlets when not in use, thereby preventing accidental overloading of the rack PDU. Finally, outlet switching enables data centers to sequence power up and perform load shedding – both innovative features that can be important elements of an overall power strategy.
Data center operators can further enhance power distribution with the use of cables and accessories that deliver outlet and section current information, thereby improving both management and troubleshooting. With the addition of power management software, data centers can keep operations efficiently running with comprehensive services that include technical expertise for all products that are designed to improve costs, uptime, reliability, power quality and an expansive, 24 /7 support network.
As computing demands continue to increase, modern data center mangers must examine power distribution at a granular level with enhanced capabilities in mind. With virtualization and converged infrastructure, computing capacity is dynamic – workloads, applications and storage are moved around both within and among data centers as business needs dictate.
Advanced rack PDUs have the features and reliability today's data centers need to maintain their own operations, but more importantly to support the changing and accelerating demands of the business. Businesses would be wise to develop their power strategy by understanding the current rack environment and workload demands, followed by choosing an optimized rack PDU.
­