Electricity is the crux of modern society. Without it we couldn't power our factories, charge our gadgets, keep our medical equipment running or even keep food from spoiling. From lighting, communication, heating, cooling, motor control, and more, the fact of the matter is our world runs on electricity.
While the breadth of the United States' massive electric grid is impressive, its aging infrastructure requires extensive upgrades to meet the nation's growing energy demands. In fact, the U.S. Department of Energy (DOE) recently invested nearly $4.5 billion to modernize and enhance the reliability of the nation's electrical framework. The funding has been used to deploy a wide range of advanced devices, including more than 10,000 automated capacitors, over 7,000 automated feeder switches and approximately 15.5 million smart meters as part of the Recovery Act, according to smartgrid.gov.
It's clear that the stakes are high when it comes to maintaining the high output of power and electricity in the U.S. and globally. However, with such a vast network of users, applications, and operating conditions, failures can occur almost anywhere – from the factory floor to the power generators on a cruise ship. Trouble can start froman equipment failure, physical damage, human error, or even environmental factors, and the results can be as minor as a power outage or as deadly as an electrical fire or explosion. While it's unlikely that electric failures can be completely eliminated, there are some ways to help prevent them, such as monitoring the equipment and systems, adding protection devices, and regular maintenance. However, the best way to avoid problems is to start at the design phase, through the strategic selection of reliable components and switches that power today's electrical equipment.
Why Power Protection Matters
Two critical requirements for any individual piece of electrical equipment or overall power system are safe operation under many diverse conditions, and the ability to energize and de-energize the equipment being used. Electrical motors, generators, transformers, and switchgear require various amounts of electrical power to operate properly. These components can be impacted by changes in electrical power supplied to the equipment, such as under/over voltage, loss of phase, or by downstream faults, like short circuits or overload conditions. This can be caused by variations in the nature of work being performed by the equipment, damage to wiring or electrical components, and other factors.
Overload conditions can cause equipment to draw more power to work properly, which in turn, generates additional amounts of heat. If unchecked, excessive amounts of heat over a certain time period can damage the equipment or even cause a fire. Short circuits happen quickly and can result in equipment damage or even loss of life. In addition, technicians and maintenance personnel also need a way to energize and de-energize equipment for maintenance or modifications.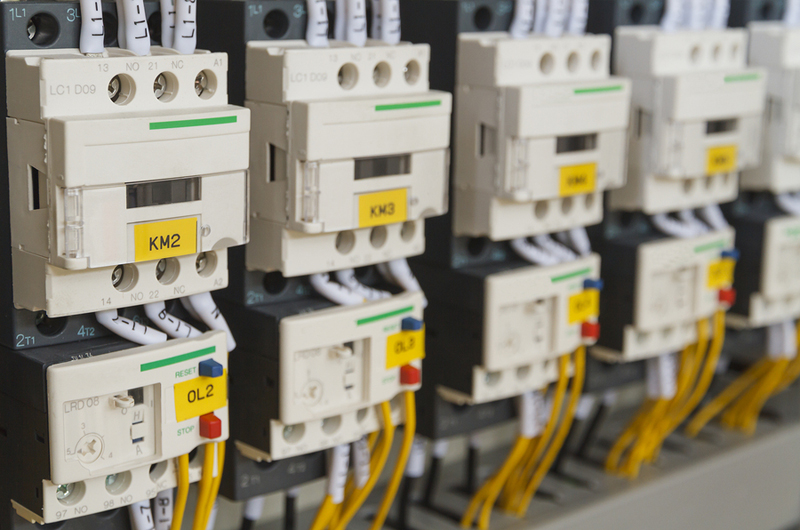 Click image to enlarge
In addition to maintaining safe conditions, it's also important to consider the financial implications of improper power protection, which can stem from failure to safeguard expensive equipment, the cost of unscheduled downtime, and constant maintenance or troubleshooting. In order to protect and control different types of electrical equipment within a factory or building, various types of circuit protection devices are used. Depending on the end equipment requirements and the amount of power being used, these devices can include motor protection relays and contactors, motor starters, molded case circuit breakers, and air circuit breakers.
Protecting Electrical Equipment, Small and Large
With over 50 percent of the work in a modern factory being completed by electric motors, it's important that these devices have protection from electrical faults. Motor circuit breakers and overload relays are used at the electrical control cabinet level to protect single and three-phase motors from overload, locked rotor, and short circuit conditions, as well as de-energize equipment for maintenance reasons. These devices are used in applications with lower power motors, such as pumps, fans, conveyers, and machinery. Circuit breakers in general are designed to protect electrical circuits from damage caused by excess current and automatically interrupt current flow after a fault is detected so problems can be addressed and service can resume quickly. Overload relays protect a motor by sensing the current going to the motor. Older products often used bi-metallic elements that reacted to heat from increasing current levels, however newer electronic relays monitor motor conditions using current transformers and internal circuitry. These products typically use rotary switches to adjust trip settings such as current and time delays.
Moving up to higher power requirements, molded case circuit breakers (MCCB) are used to protect large motors, generators, and welding equipment, as well as to protect and de-energize feeder circuits and main electrical panels for large machinery. An MCCB provides both overload and short circuit protection by combining a temperature sensitive device with a current sensitive electromagnetic device, to guard against conditions such as thermal overloads, short circuits and ground faults. Modern devices also have the capability to monitor energy usage and communicate remotely with control systems or enterprise level IT networks.
Moving up to even higher power applications, air circuit breakers are used to protect transformers, generators, and building and plant-level switchgear and power distribution systems. These devices are generally rated up to 690 VAC, can monitor energy usage, and have internal load shedding logic which enables them to manage different loads within the facility. Air circuit breakers are also used to de-energize power to equipment when maintenance needs to be performed. Similar to MCCBs, these devices also use rotary switches to adjust trip settings and internal snap acting switches to monitor trip status.
Switch Selection for Power Protection Devices
To keep the aforementioned power systems working safely and efficiently, selecting the appropriate switches is vital to their success. Because they need to last a long time, like the electrical infrastructure of buildings and factories, a long life-cycle and durability are two big considerations for design engineers when creating power protection products.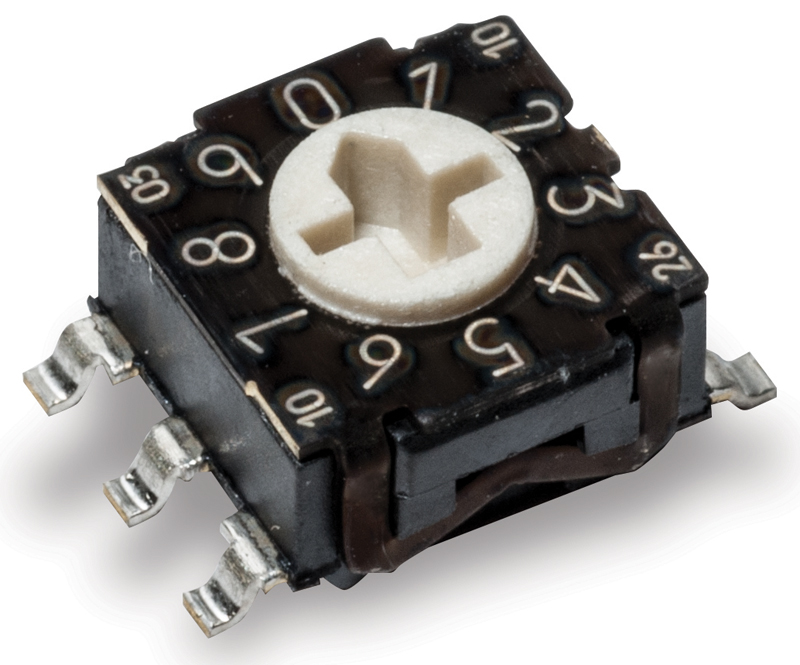 Click image to enlarge
DIP and snap acting switches are two components commonly found on most power protection devices. Both standard and rotary style DIP switches are used on trip adjustment units to adjust current, ground fault, and time settings on both molded case and air circuit breakers. Rotary switches are also commonly used on motor overload relays to adjust the trip current. Internal snap acting switches are also used on many molded case and air circuit breakers to monitor and communicate the status of various features of the breaker such as whether the contacts are open or closed.
C&K's RTE series coded rotary DIP switch is a common choice for trip control units on circuit breakers as well as for trip current adjustment on protection relays. It can withstand aging tests of 3000 hours at 150°C, or the equivalent of 20-years of use. The RTE Series switches have a small footprint, are available with four, ten, or sixteen positions and feature a variety of coding options and actuator styles to increase versatility and flexibility in the design of the end product.
Part of the DIP switch family, C&K's SDA Series switches, are another option for adjusting the trip parameters on MCCBs. This low-profile switch comes in either a surface mount or through hole package and offers from one to twelve positions. The SDA series was designed with a contact system to resist corrosion and work reliably even under harsh environmental conditions.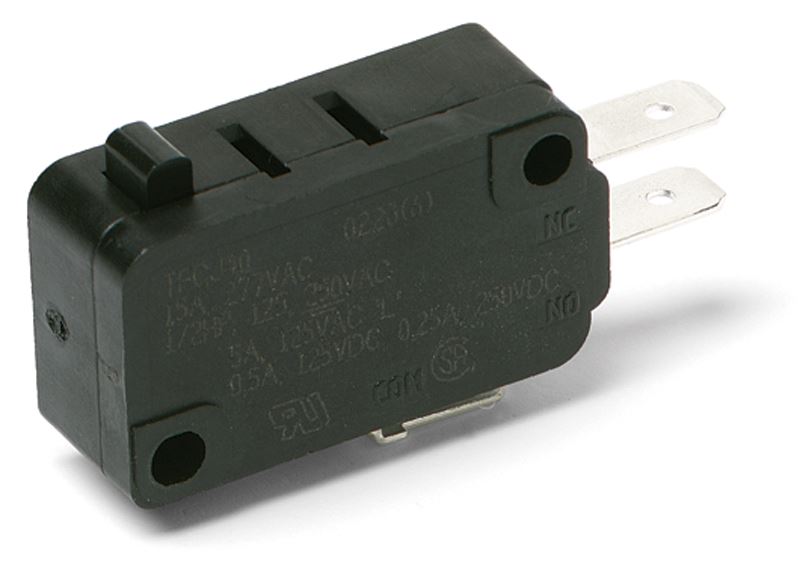 Click image to enlarge
When snap acting switches are needed to monitor trip status in molded case or air circuit breakers, C&K's TF Series is an optimal choice. Current ratings from low level up to 21 amps give designers flexibility to choose a switch which meets the exact power needs of their application. The switch is also rated to perform reliably for hundreds of thousands of cycles under harsh conditions. For reduced assembly time and ease of maintenance, C&K can also design this switch into a custom module which can easily snap into the circuit breaker housing.
Power protection is crucial to keeping our electrically-powered lives running smoothly and safely, and the best way to accomplish this is to select the right hardware and design in high performance and reliable components from the beginning.