ACS Motion Control has launched a unique multi-axis motion controller that includes a high-speed EtherCAT-to-EtherCAT bridge to address the needs of highly demanding modern equipment. The SPiiPlusES combines ACS' powerful motion controller capabilities with an external EtherCAT network master controller. The SPiiPlusES is used both as a node in any EtherCAT Automation Controller network, and as a EtherCAT Master controlling up to 64 axes and thousands of I/O.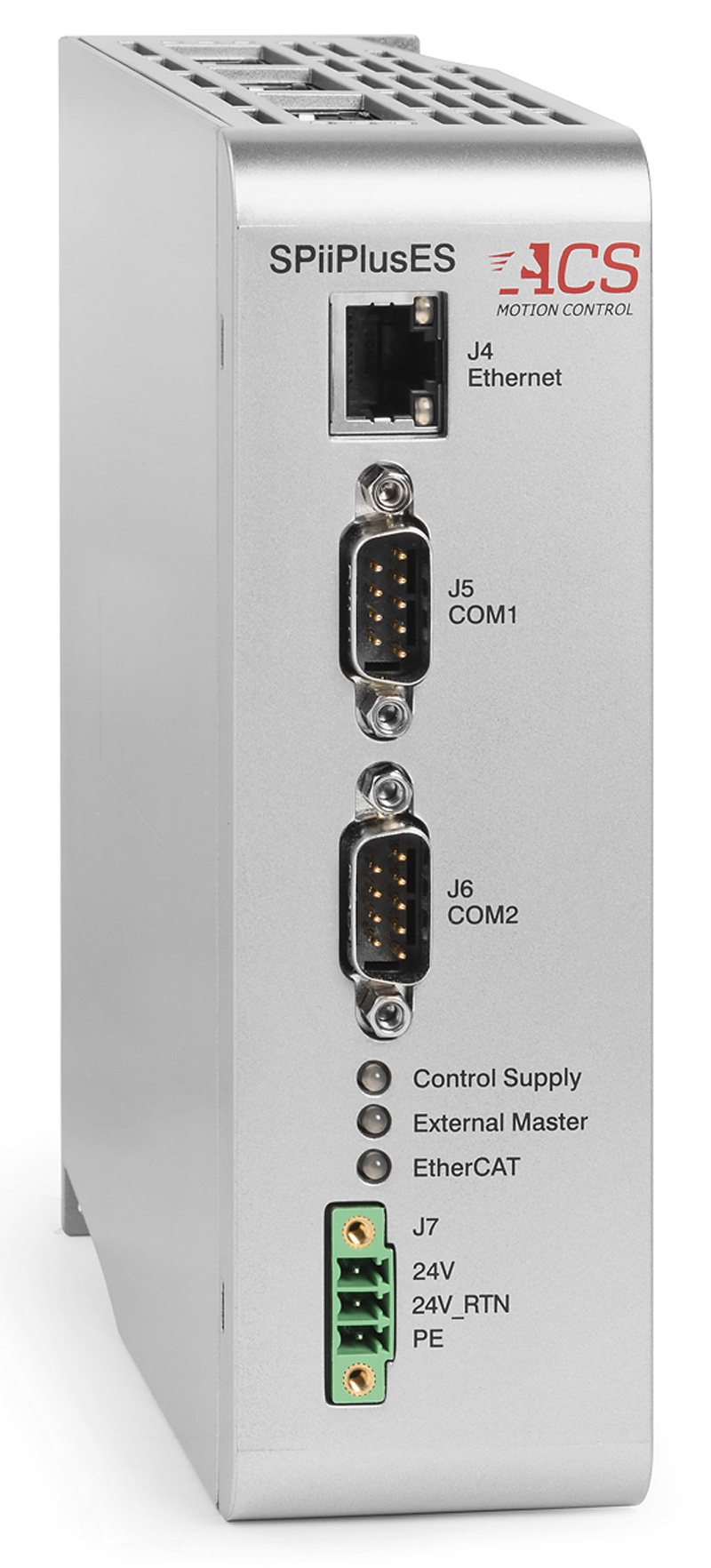 Click image to enlarge
Multi-Axis Controller Improves Motion Control Performance of any EtherCAT Based Automation Network
Acting as an EtherCAT node, the SPiiPlusES supports the standard DS402 drive protocol as well as manufacturer specific commands.

As an EtherCAT Master Controller, the SPiiPlusES also controls up to 64 fully synchronized axes with an EtherCAT cycle rate up to 5KHz. The network can be comprised of any ACS Universal Drive Modules, NanoPWM Drive Modules, I/O modules, as well as third party EtherCAT modules.

Any application that uses an EtherCAT automation controller, such as semiconductor processing, laser micro-machining, electronics manufacturing and digital printing, can benefit from the unique and advanced capabilities of ACS motion controller and drives to enhance accuracy and throughput.

"The SPiiPlusES delivers high performance motion control capabilities such as advanced profile generation, faster EtherCAT cycle rates, and network redundancy to enhance performance, reliability and machine uptime," said Jason Goerges, Product Marketing Manager. "The SPiiPlusES significantly expands the motion performance and capabilities of multi axes machines controlled by EtherCAT based automation controllers and PLCs."