The EN54 specification applies to fire detection and fire alarm systems to ensure that these critical systems have a standardized list of requirements, testing and performance criteria. It is designed to streamline the specification and manufacturing processes, but the definition of component parts, in particular the power supply, means that manufacturers could face a lengthy and expensive approval process. Stadium Power has addressed these concerns with a range of PSUs that meet the requirements of EN54-4 and can be integrated into equipment to meet changing needs and regulations with minimal delay.
On July 2013, the Construction Product Regulation (CPR) replaced the Construction Products Directive (CPD) and fire alarm systems have needed to be certified under EN54 to receive a Construction Product Regulation (CPR) directive compliance for CE marking, the conformity marking assuring safety and performance requirements for products sold within the EU). Products can no longer be "self-certified" but have to be tested by an independent notified body.
There are over 30 parts to the EN54 standard, each covering particular aspects of fire detection and alarm systems. The standard specifies requirements and laboratory testing for every component of fire detection and fire alarm systems. Parts are dedicated to standardizing various aspects of fire detection and alarm systems, for example, components used for smoke and heat detection (parts 5 to 9), cabling and interconnection of a system (part 14) to power supply equipment (part 4) and planning, design, installation, use and maintenance of voice alarm systems (part 32). EN54-23 applies to fire alarm devices and visual alarms.
What EN54-23 requires
In March 2013, EN54-23 was adopted by Europe but didn't become mandatory in the UK until December 2013 due to the coexistence of another standard. The standard introduced a consistency to Visual Alarm Devices (VADs) that was lacking up to that point. Before EN54-23 was finalized, there was no standard for light output or installation requirements for VADs or fire alarm devices.
Since the Disability Discrimination Act in 1995, VADs have been a mandatory component of a fire alarm system. They provide a visual aid for the deaf or hard of hearing in sleeping and sanitation areas in nursing homes, hospitals, public assembly buildings, broadcast studios, or for people working in noisy workplace environments, for example workers wearing noise defenders on a busy factory floor.
Before the introduction of EN54-23, there was no standardized legislation for the light output, performance criteria and the installation requirements for VADs. EN54-23 harmonizes technical standards for the manufacture and placing of VADs across Europe, avoiding confusion and inconsistency in a safety-critical system.
Regulation and standardization
This part of the standard specifies the requirements of VADs, as well as the required test method and performance criteria. Previously, manufacturers presented product performance information in terms of Joules, Watts and Candela to specify a VAD's performance. Apart from confusion of mixed measurements, the data did not take into account the light signal output over a given area, rendering it meaningless to determine VAD installation points.
EN54-23 specifies the light output requirements and light coverage for three categories of VADs: ceiling mounted, wall mounted and a third, open class category. It introduces greater light output requirements than are generally used in the marketplace to ensure visibility.
To comply, the manufacturer must specify a device's coverage volume. An EU-certified, or notified, body assesses light output coverage based the distance at which the required 0.4lux, or 0.4lm/m² is met. Ceiling mounted devices must radiate light in a 6m-diameter cylinder form below the mounting point. Wall VADs must be placed at least 2.4m above the ground and cover an area below its mounting height. The open class category VAD has a manufacture-specified coverage shape and volume with no mounting height restrictions and have different light distribution patterns, but the minimum luminance remains 0.4lm/m².
The higher luminance required by EN54-23 increases current consumption in fire alarm systems, as either high output devices are required, or a greater number of units to meet the light coverage, increasing the number of nodes on an alarm circuit. Another headache for alarm installers is that red beacons are commonly used as VADs, and they consume more power than white beacons to realize 0.4lm/m² in order to comply with EN54-23.
Power requirements for EN54 compliance
Any part of an alarm system that requires power to operate requires a power supply and a battery back up to ensure operation in the event of a mains power failure. The power supply has to comply with EN54-4, the part of the standard covering power supply equipment. Furthermore, to comply with EN54-4, clause 6.4, there has to be two, independent supply paths between the power supply unit (PSU) and the control panel.
Although not specified directly in the standard, EN54-4 does state that the alarm system's power supply should meet the EN54-4 standard.
A PSU has to be assessed for compliance to EN54-4 as part of a system, NOT as a component power supply. For example, a fire control panel or Control and Indicating Equipment (CIE) must be approved to EN54-2 (for the CIE) and also with EN54-4, for the power supply and battery. The only exception to this is when Power Supply Equipment (PSE) is used. PSE is a power supply in a cabinet, or case, which includes a battery and signalling. The final PSE assembly must be approved to EN54-4.
For new installations, EN54-23 standardises the performance of VADs, but a panel manufacturer may have to upgrade ancillary equipment, perhaps to meet new specifications for audible or visual indicators. In this case, the power supply may also need to change to meet the increased power demands. There may also be changes to the battery size, which will need to be accommodated by a compliant power supply. However, the cabinet size may not alter, so the new, increased power requirements have to be accommodated in the same form factor.
Stadium power supplies are component parts and as such cannot be approved to EN54-4, but they can be tested to the relevant parts of the EN54-4 standard. This position has been verified by both the BSI (British Standards Institution), BRE (Building Research Establishment) and ITS (Intertek Testing Services) the notified bodies approved to test fire alarm systems in the UK.
The role of component power supplies in the approval process
To meet CPR, the component power supplies must meet the common parts of EN60950 (Safety of Information Technology Equipment) and EN54-4. Self-certification is no longer an option. A notified body must test all new fire alarms. Although there are many companies manufacturing PSEs and CIEs that meet EN54, some have not been approved. Approval is an expensive procedure; costing £10,000s and can pose a huge hurdle for both small and large companies. Large companies may face staggering costs if they produce many products to be approved. It is not unknown for small companies to buy an approved product and re-label it.
To help meet the need for a component power supply that meets the requirements of EN54-4, Stadium Power will be introducing a range of PSE that includes cabinet, battery and Stadium Power's SBC-EN54 power supply, which will be submitted for approval to EN54-4 in conjunction with distributor Future Electronics. This will not only give OEMs confidence but also offers a wide range of power supplies that are fit, form, and function-compatible with Stadium Power's existing range. Using a component power supply that complies with EN54-4 means that the PSE or CIE manufacturer has only to test the final product, reducing cost and time to market.
SBC-EN54 power supplies
The Stadium Power SBC-EN54 power supplies are designed to provide a battery backed-up supply that will provide power in the event of a disconnection or mains failure. In the event of a mains failure, the battery will automatically connect and provide power until the mains is restarted for continuous alarm operation. If the battery has reached its disconnect voltage, the unit will automatically disconnect preventing deep discharge damage to the battery in equipment in the alarm system.
All SBC-EN54 PSUs include battery impedance test and high efficiency operation.
EN54-4 requires a loss of mains indication within 30 minutes, loss of battery indication within 15 minutes, loss of charger indication within 30 minutes, battery impedance testing within four hours and a failsafe common fault output. It also requires that failure in either the PSU or battery must not stop power delivery to the load. A further requirement is that the battery must be charged to 80% in 24 hours and fully charged in 48 hours and must not discharge through the charger if the charger output falls below the battery terminal voltage.
The SBC-EN54 range meets and exceeds all of these requirements. The SBC-EN54 range includes a single output DC supply and an independent, current limited battery charger with temperature compensation. There is also an isolated common fault relay (see Figure 1).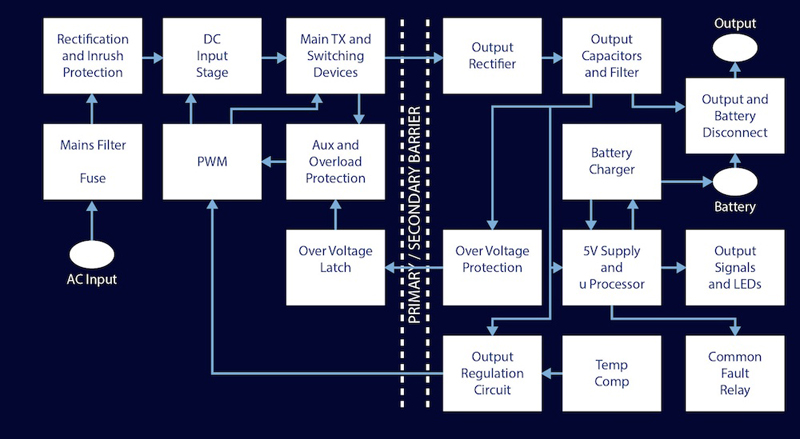 Click image to enlarge
Figure 1: Block diagram of a typical PSU in the SBC-EN54 range
PSU signals indicate mains fail, battery low, battery open circuit – where the battery is not connected or the battery voltage is below the set level, charge loss and battery HiZ – to signal a high impedance battery. Disconnect, HiZ, charger, current and output voltage points can all be factory-modified. A common fault signal or 'on' signal is also offered as an option. Both can be factory-reprogrammed to give inverted or new signals, to allow the PSU to interface to existing systems (see Figure 2).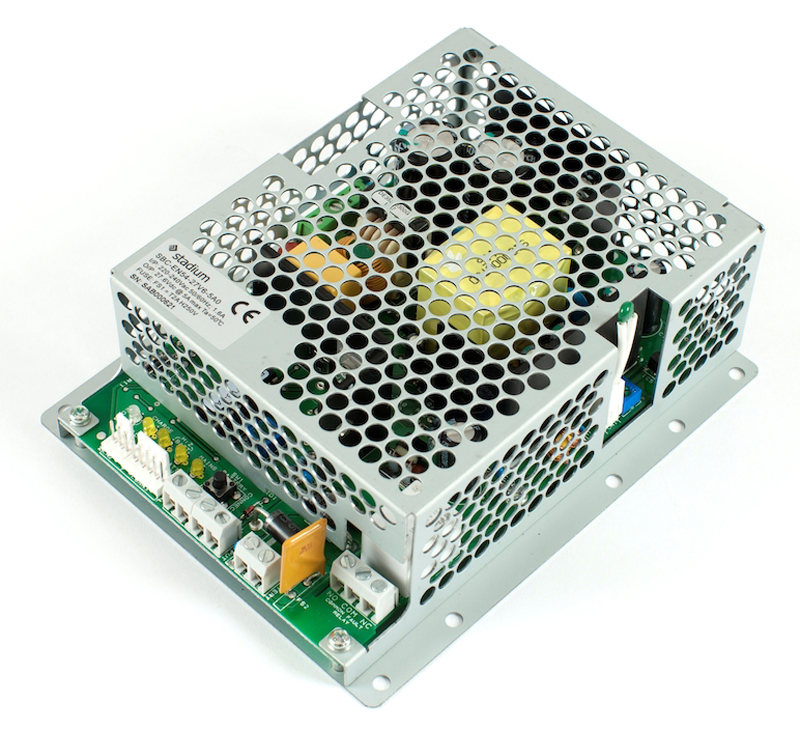 Click image to enlarge
Figure 2: The SBC-EN54-27V6-5A0 is the 27.6Vdc output PSU, part of the SBC-EN54 range from Stadium Power
Additionally, the SBC-EN54 range have a battery connect switch which allows the unit to be started from the battery without the mains being on. An automatic resettable battery fuse and reverse battery indicator are also safety features. A reverse-connected battery will not adversely affect the power supply.
Other features are a deep discharge disconnection point and an intelligent battery charger, which will not allow connection to an inappropriate (high or low) battery. The PSU will trickle charge a low battery until it reaches the connection point.
There are eight models in the SBC-EN54 range, offering outputs of 13.8V or 27.6Vdc and load current of 0.4A to 8A and charge currents from 0.1A to 2ASBC-EN54-27V6-0A5, 1.2A SBC-EN54-27V6-1A5,SBC-EN54-27V6-3A0,SBC-EN54-27V6-5A0,SBC-EN54-13V8-3A0,SBC-EN54-13V8-5A0,SBC-EN54-13V8-7A0, SBC-EN54-13V8-10A0 depending on the model (see Figure 3).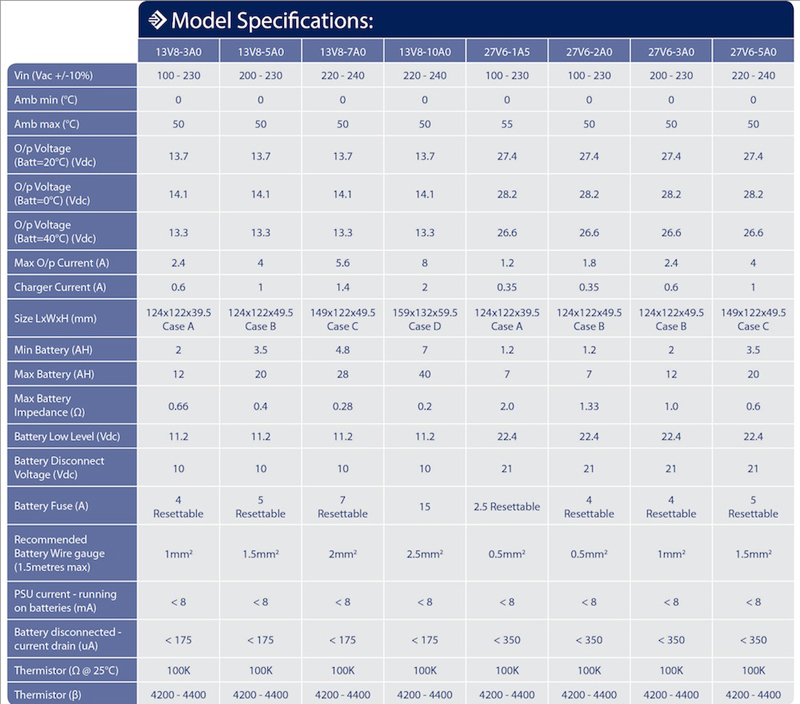 Click image to enlarge
Figure 3: Table of SBC-EN54 PSU range specifications
Customized signals and custom units up to 10A add flexibility to meet most new installations' and upgrades' needs. The PSUs can also be used in EN54-2 and in EN54-25 compliant designs. These are parts of the EN54 specifying CIE and components using radio links and system requirements respectively.
As well as in EN54 alarm systems, the SBC-EN54 PSUs can be used wherever a battery backed system and charger are required. Possible applications include access control, intruder alarm systems and automatic barriers, which, presently use self-certification for CE marking.
As the industry marches away from self-certification and towards approval by notified bodies, it is essential for manufacturers to reduce test and approval time scales. The use of certified component parts can ensure that appropriate fire detection and alarm systems reach the market in a timely, cost-effective manner.