Service robots – complexity in design, simplicity to the end-user
Innovations in robotics have been accelerated as their use cases span a wide range of different markets. In general, robotic systems can be categorized into four categories: industrial robots, collaborative robots (cobots), service robots, and automatic guided vehicles (AGVs); and further divided into subcategories based on activity fields, functionality, and market demands. Service robots aim at better everyday life and can be proven valuable across various industries such as hospitality, agriculture, clinical, and many more. Service robots are a rapidly growing area of research, innovation, and deployment and certainly a growing part of our future world.
Service robots are gaining much more sophisticated sensor interfaces to the environment around them. Accordingly, an essential design requirement for developers of such robotic systems is to add robust and reliable wireless connectivity. This kind of connectivity has to enable a host of different functions, including, among others, environmental sensor data that are being tracked over time in a cloud dashboard and alerts sent to mobiles.
Developing a robotic system – whether it is an intelligent lawnmower to take care of your backyard or a vacuum to clean your house, or an industrial robot building part of an electric vehicle – is extremely complex to design and get into production. Implementing wireless technology in itself is no easy task either, adding extra complexity to the RF design, certifications, complex networking software, and communicating with host processors.
Infineon intimately understands the design challenges that developers are facing and, with its high-quality standards and industry expertise, provides connectivity solutions that allow robotic systems developers to focus on their product differentiation.
Connectivity for control and monitoring
WiFi is the most common and pervasive way to connect non-fixed electronic devices (such as robots) to the Internet. Billions of WiFi nodes have been installed and being carried by nearly everyone in the world. WiFi is by far the most pervasive connectivity topology in history and is ideal for connecting robots to the 'outside world.' Its unique characteristics make it a natural choice for control and monitoring. WiFi + Bluetooth® combo connectivity solutions are becoming more and more popular to allow provisioning of robotic systems with mobile apps via Bluetooth® LE (low energy) wireless connectivity as well as transmission of simple state telemetry data. Now let's look at the available highlight technologies that enable connectivity at the hardware and the software sides.
Silicon connectivity solutions
Infineon's AIROC™ WiFi & Combos portfolio includes a broad family of secure, robust solutions that enable designers to bring their unique products to market faster. It integrates IEEE 802.11a/b/g/n/ac/ax Wi-Fi and Bluetooth® 5.2 in a single-chip solution to enable small-form-factor IoT designs. Combo, standalone WiFi, and WiFi SoCs with embedded MCU and on-chip networking capabilities are offered in 1x1 SISO and 2x2 MIMO configurations. WiFi and combo solutions can be coupled with external flexible, low-power, and secure PSoC™ 6 MCUs from Infineon and others for RTOS and Linux on application processors to implement a complete WiFi + Bluetooth®/Bluetooth® energy (BLE) system.
AIROC™ WiFi SoCs include on-chip MCUs, memory, and the networking protocols required for customers to create their cloud-connected applications easily. There is a wide range of solutions at different price-performance points, from the economical WiFi 4 CYW43439 to higher-performance WiFi 5 CYW4373, to the new state-of-the-art WiFi 6 CYW55573. This range of compatible solutions nicely fits the requirements of all robotic designs.
Software support
WiFi devices are only a part of the necessary configuration. Being a system solution provider, Infineon provides – besides the hardware - full supporting software both for Linux®/Android™ and RTOS (real-time operating system) hosts to assist in a seamless integration into robotic systems.
Infineon's ModusToolbox™ Software and Tools provides code examples and development support for WiFi SoCs or adding Infineon's secure and low-power PSoC™ 6 MCUs and XENSIV™ Sensors to IoT applications. Infineon also supports its customers through its global network of IoT partners using production-ready, fully-certified AIROC™ WiFi & Combo modules based on both Linux® and RTOS-based platforms.
Infineon developed ModusToolbox™ to help designers get started with IoT. It is a collection of easy-to-use software and tools that enable the rapid development of Infineon MCUs, covering applications from embedded sense and control to wireless and cloud-connected systems using AIROC™ WiFi, AIROC™ Bluetooth®, and AIROC™ WiFi and Combo devices. ModusToolbox™ is the "best of both worlds" platform that delivers an excellent development experience, increased productivity, and feature-rich, bullet-proof applications.
Additionally, for more complex CPU-based robotic systems, wireless Linux® and Android drivers are available for several AIROC™ WiFi products. A live Developer Community is also available for Linux support.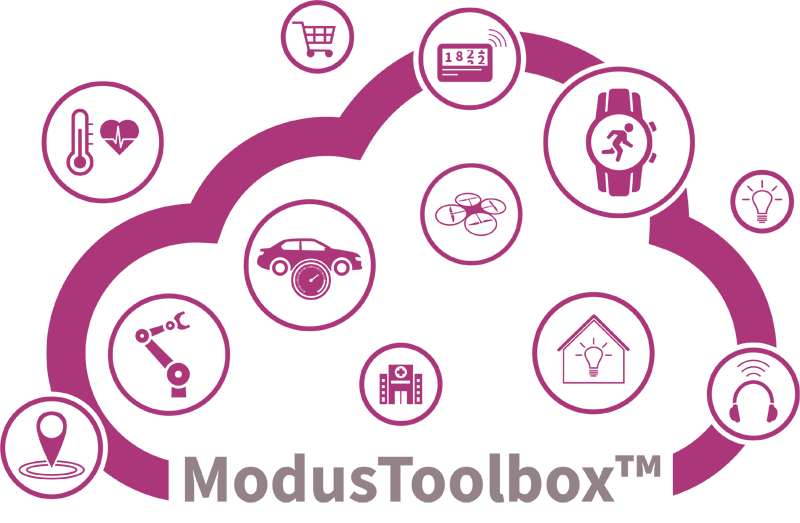 Click image to enlarge
Figure 2. Infineon's ModusToolbox™ software and tools aiming to help designers get started with the IoT
RF design module offerings
One challenge for robotics architects is the high complexity of the RF design, which must be developed carefully to perform as required. WiFi is a regulated technology and must be certified for use in all geographies by regulatory bodies such as the FCC, CE, and TELEC. Few robotics designers have the experience, expertise, or time to create a complete RF design from scratch. For that reason, commercial wireless modules - available from specialist electronics suppliers such as Infineon's Wireless Module Partner, Murata Electronics - provide an ideal solution to integrate WiFi quickly and easily into robotics designs.
With state-of-the-art packaging technology, Murata's WiFi + Bluetooth modules based on Infineon's AIROC™ Wireless are extremely small, minimizing the necessary footprint. Metal coat shielding technology eliminates the need for metal can shielding while also minimizes cost and size. When space is at a premium, it can be kept small without sacrificing WiFi/Bluetooth® features or power.
Such a module can cover the RF design for the robotic system, eliminating any need to hassle with a high-frequency analog design. At the same time, these certified modules are much more manageable since FCC/IC/CE/TELEC are already tested. Also, embedded MCU modules can offer the most straightforward solutions in the smallest area. On-board antenna or reference antenna designs are also provided.
Additionally, designers can rely upon a Linux® solution for MPU, an RTOS solution for MCU, and cloud partner solutions.
With a solid RF design, one can keep using a higher data rate in a longer range. With a lower data rate, the communication distance can be much longer. Infineon's solutions offer the essential tools to create an RF design for robotics systems that fulfill high throughput demands, low current consumption demands, and time-to-market demands. Its modules are well-tuned for the best RF performance. Infineon's wireless module partner vendors, such as Murata, also support antenna design and matching for a simplified design experience.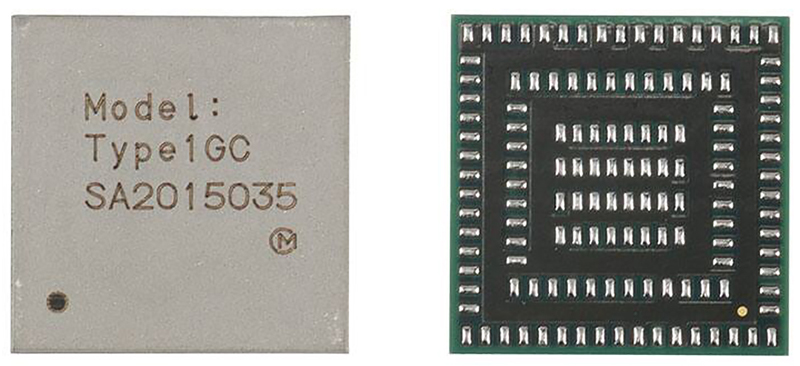 Click image to enlarge
Figure 3. An ideal RF design solution to integrate WiFi quickly and efficiently into the robotics designs
In conclusion
WiFi is the ideal solution for connecting robots of all types and complexities to the Internet. It provides significant advantages in controlling and monitoring the robot from portable devices, anywhere in the world, safely and securely.
Infineon offers a wide range of leading WiFi solutions, including semiconductors, supporting software and tools, as well as 3rd-party modules for ease of use. There is no easier or straightforward interface option for the robotics designer to deploy quickly, simply, and safely.
To find out more about Infineon's complete system solution portfolio for connectivity, please visit our Service Robots related web page and our Wireless Connectivity related web page.