– Silego Technology announces the introduction of SLG46580, further expanding the GreenPAKTM (GPAK) family of Programmable Mixedsignal Integrated Circuits (CMICs). This newest GPAK is targeted to support power systems in wearable and handheld market segments. This device is both highly integrated and highly flexible, and can provide a rich set of features, including voltage monitoring, power sequencing, reset functions and low drop-out regulators (LDOs), that are configurable in settings and interconnect. This device is the second in the series of parts designed to create "Flexible Power Islands" (FPI).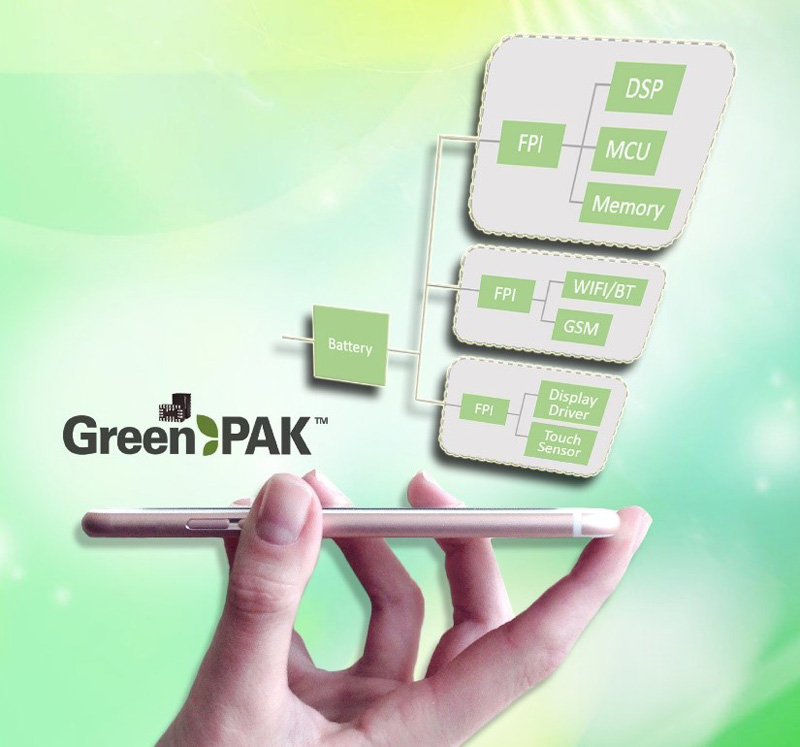 Click image to enlarge
Silego Introduces Next "Flexible Power Islands" Device with Low Drop-out Regulators
Power system design in the age of mobile devices, and especially wearable devices, is more challenging than it has ever been. The end users of these devices want smaller and lighter devices, while at the longer battery life. These opposing goals, and the need to reduce both cost and the size of the circuit boards, are just a few of the challenges facing the power system designer. To overcome these challenges, Silego has developed the concept of FPIs. Using FPIs, designers can divide their complex power system into some number of local power regions, or islands, each of which includes the power control, power sequencing and power regulation needed to support loads in the immediate vicinity. Silego believes this technique results in higher performance and a more efficient solution that can be flexibly tailored to the requirements of each individual system.
With the SLG46580, Silego has captured many of these necessary power system functions (power monitoring, sequencing, reset and power switching) in a tiny 2.0 x 3.0 mm 20 pin fully encapsulated plastic package. Using Silego's easy-to-use Graphic User Interface (GUI) based GPAK Designer™ Software, and GPAK development hardware, designers can quickly and easily implement their unique configuration of the device, thereby customizing the functions to match their unique power requirements. The SLG46580 has four LDOs, each with a maximum output current of 150 mAs. Each of the LDOs has a programmable output voltage level that can be set to one of thirty-two different values from 0.9 V to 4.35 V, and also have programmable options for slew-rate selection and fault detection.
"Power system designers want more flexibility than is offered in PMIC devices, and higher integration than can be achieved using discrete devices. FPIs provide a unique combination of flexibility and integration that addresses the challenges in developing power systems for mobile devices," states Nathan John, Director of Marketing. "The flexibility provided is very close to a full-custom integrated circuit design, and the very small size allows the design engineer to place them close to critical loads for maximum efficiency. We believe this is yet another example of how Silego's CMIC strategy provides value to customers."
Since the introduction of the CMIC platform, Silego has developed five generations of CMIC silicon and design tools. Each generation has added functionality and enhanced the design experience. As a result, hundreds of designs incorporating CMICs by Silego customers have gone into production in almost every end market:
Handheld Devices
Wearable Electronics
Computing & Storage
Consumer Electronics
Smart Home
Networking & Communications
Medical & Industrial