Lighting is important to us – a fact borne out by an estimate from the US Energy Information Administration that we use the same amount of energy to light our homes (129 Billion kWh – 9% of total consumption) as the total amount we use to wash and dry our clothes, use our computers and cook.
However, much of this energy is wasted, as incandescent light bulbs are notoriously inefficient, converting around just 5% of their output to light with the remainder becoming heat. By implementing more efficient solutions based around LED lighting technologies that are closer to 50% efficient, it is estimated that the electricity used for lighting could be reduced by around 40% by 2030.
Smart LED lighting is the way to reduce energy consumption and closely match lighting provision and configuration to real requirements for both medium and high power applications in offices, factories and public buildings.
While falling LED prices are key to stimulating adoption, there are increasingly stringent regulations for standby power and efficiency in lighting being imposed by governments as the environmental impact of not addressing the historical inefficiencies and wastefulness of traditional lighting are widely recognized.
LED lighting offers fundamental improvements versus incandescent lighting in terms of using less power and outputting that power as light as opposed to heat. However, it is now important to couple solid-state lighting technology with innovative driver solutions to meet regulatory demands and deliver effective power management and features such as dimming.
The market for LED lighting
The growth of construction is a significant driver for the growth of LED lighting and, while this represents the major portion of the market according to research firm Research and Markets, retrofit is also a significant driver. Indeed, they believe that retrofit will be the fastest growing portion until 2023.
Indoor lighting (including homes, factories, public buildings and offices) is the largest revenue sector of the market but outdoor lighting will be the fastest growing with the biggest driver being the improvement of lighting on roads as local authorities seek to improve visibility and control costs at the same time.
LEDinside, a division of TrendForce, estimated the LED lighting market to be worth US $33.1 billion in 2017 with the penetration rate of LED lighting reaching 52%. According to LEDinside, LED lighting accounts for 23% of all lighting in Europe, which is the highest for any region. The USA and China were second and third respectively and Asia-Pacific is expected to be the fastest growing region, presumably due to the significant number of infrastructure projects.
Smart solutions for frugal lighting
Unlike incandescent bulbs which can just be connected to a mains supply, LEDs are low voltage devices that require a power supply that can provide either a constant voltage (CV) or constant current (CC) supply. These power supplies have a material impact on the overall efficiency of the lighting solution and are, therefore, coming under as much scrutiny as the LEDs themselves – especially with regard to standby power.
While a very significant proportion of the market for LEDs is to facilitate (or replace) traditional lighting, the versatility and relatively small size of LEDs is allowing them to be used in places where it was just not possible to implement incandescent solutions. However, fitting the LEDs and associated power supply into these small, tight spaces demands highly efficient, compact power supply designs.
One challenge with LEDs has been to deliver dimming capabilities across the whole brightness range while maintaining a good quality of light. Many solutions introduce 'flicker' which can cause challenges, especially in environments where cameras are used for sensing, such as factories and, soon, the in-vehicle systems on our roads.
Not only are designers being challenged to deliver highly efficient, widely dimmable, compact and flicker-free lighting solutions, consumers and installers are expecting to see similar price reductions in the power supplies as they are currently seeing with the LEDs themselves.
The 25-100W sector is one of the most common power points for LED lighting solutions. Here, a common approach is to use a two-stage conversion with an initial reduction and regulation of the mains voltage using a Power Factor Correction (PFC) stage that provides a constant voltage as well as control signals (including dimming control) to a microcontroller (MCU). The second stage converts the regulated voltage to supply current to the LEDs, taking into account any dimming requirement from the MCU.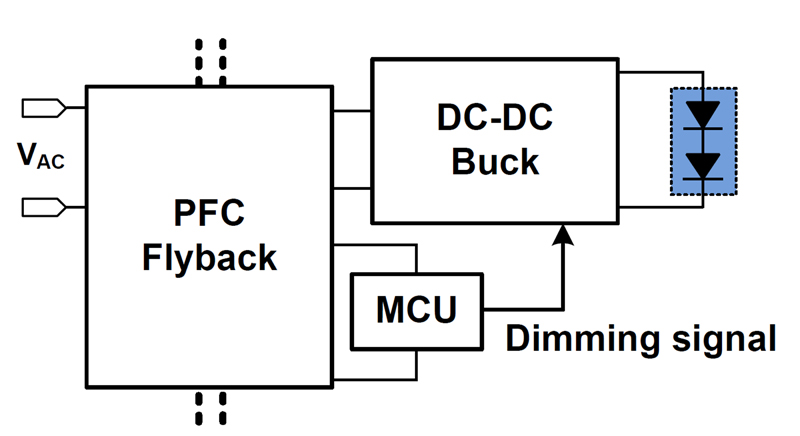 Click image to enlarge
Figure 2. A two-stage conversion is the most common approach in mid-power lighting solutions
However, in order to meet these relatively complex requirements for modern LED lighting, innovative semiconductor control solutions are required. ON Semiconductor has leveraged its knowledge in developing energy efficient power solutions to deliver a pair of ICs that make a material step forward in enabling frugal lighting solutions that meet the needs of today's competitive market.
Our FL7740 (primary side regulation and PFC) and FL7760 (DC-DC Buck) deliver a simplified topology and reduced size and cost through a constrained BOM. Used together, they provide precise, CV/CC regulation and support for both analog and PWM dimming.
The FL7740 requires few external components and consumes less than 0.15W in standby mode, which is a critical specification for smart lighting, allowing regulations such as Energy Star to be met with ease.
The FL7760 offers a wide analog dimming range of 5 to 100% which, for the first time, makes the use of analog dimming a viable option for solid-state lighting designers. It also supports PWM dimming from 0 to 100%, though inherent issues of flicker and audible noise make this somewhat less desirable. However, the FL7760 is unique in its ability to seamlessly combine analog and PWM dimming to cover the 0 to 100% range without flicker or audible noise – a major step forward.
With advanced semiconductor technologies such as these making LED-based smart lighting not only viable, but straightforward to implement, more efficient, smaller and lower cost, the potential to improve working and living environments whilst saving tens of billions of kWh is a relatively near-term reality.
On Semiconductor