Europe has a rich heritage in the space and aerospace industries, with organisations such as Marconi Space and Science Lab (MSSL), IKI RAN and Centre National d'Etudes Spatiales (CNES) known all over the world. Many factors exist for the on-going success of firms such as these, but a key one is undoubtedly the ability to deploy the best materials, equipment and parts in the design and manufacturing processes.
Sometimes these parts are available in Europe, at other times European aerospace firms have to look further afield. This is very much the case when it comes to DC/DC converters, with the leading qualified suppliers nearly all being based in America. Often getting hold of the industry's best DC-DC converters for aerospace has been an arduous process.
However, recent changes to US Export Administration Regulations (EAR) mean that European aerospace firms now have much easier access to radiation hardened, space qualified electronics parts, without ITAR (International Traffic in Arms Regulations) export restrictions.
The importance of reliability
It almost goes without saying that reliability is of paramount importance in aerospace. There have been several recent examples in Russia of satellite missions that have failed due to the use of components that were not designed for space. In matters of such importance, it is wrong to use components that are simply the most affordable or most readily available, rather than those that are specifically made to function in space environments.
The best components are worth designing in, irrespective of where in the world they originate, but how is level of quality and reliability determined? DC/DC converters, point of load converters, EMI filters and other power modules are all offered by a number of manufacturers, with many claiming high reliability. But, high reliability for space must meet certain standards for electrical and environmental performance as well as defined quality requirements. For example, VPT's SVR Series of DC/DC converters deliver a qualified power solution for LEO, MEO, GEO, deep space, and launch programs (see Figure 1).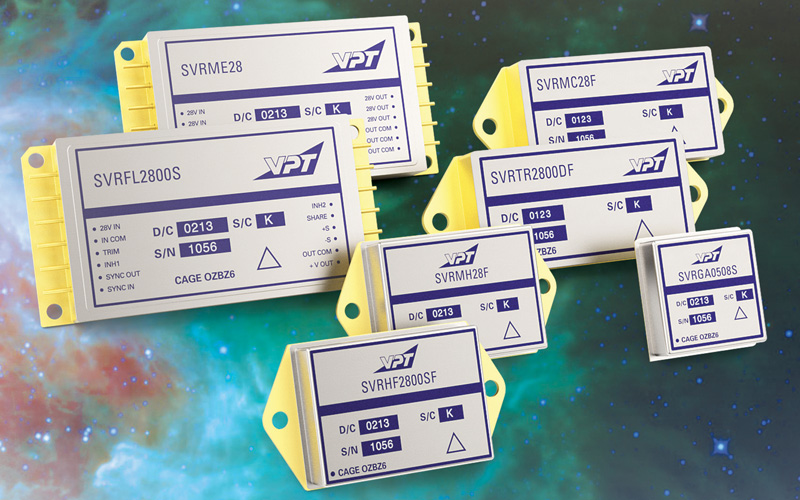 Click image to enlarge
Figure 1: VPT's SVR Series of DC/DC converters deliver a qualified power solution for your next LEO, MEO, GEO, deep space, and launch programs.
The differences between reliability grades can be subtle and can be concealed with clever marketing from the suppliers. Product literature must be reviewed carefully, and specific questions must be asked to determine exactly what the product is, and, equally important, what it is not. Basic elements to investigate are: temperature rating, hermeticity, military specification compliance and rigorous environmental qualifications.
Depending on the purpose of the program, organizations must look for different levels of component qualifications. Components proven to be radiation tolerant or radiation hardened must be considered. For low earth orbits or where the DC-DC converter is adequately shielded, a 30 krad(Si) rating is often sufficient. For higher orbits or longer missions, a 100 krad(Si) rating is likely necessary. TID (total ionizing dose) performance should be verified by the manufacturer with component test data, worst case analysis, and test data on the complete converter.
Space level hybrid DC-DC Converters, whether radiation tolerant or radiation hardened, are governed by the U.S. DLA (Defense Logistics Agency) MIL-PRF-38534. The manufacturer should have a radiation hardness assurance plan certified by DLA to MIL-PRF-38534 Appendix G. Space level DC-DC converters are available on SMDs (standard microcircuit drawings) and are typically procured to Class K.
Buying DC/DC converters from the US
Although there are European DC-DC converter manufacturers, these products are generally used more in industrial applications. The ultimate test of reliability for space-level components is official qualification and certification by the US Department of Defense. The US is the dominant player in the high-reliability DC-DC converters market. In the past, buying these had not always been straight forward, because of ITAR and EAR, two US export control laws that impact on the manufacturing, sales and distribution of various items of technology.
ITAR and EAR both aim to control access to specific types of technology, with the intention of preventing the disclosure or transfer of any potentially sensitive information to a country outside of the US. ITAR holds a list of restricted articles and services, while EAR contains a Commerce Control List (CCL) of regulated commercial items, including items that have both commercial and military applications.
To be ITAR or EAR compliant, manufacturers or exporters of products that appear on either list have to register with the US State Department's Directorate of Defense Trade Controls (DDTC). It also meant that buying these products from abroad could be a slow process, due to the necessary processes and paperwork.
But ITAR and EAR restrictions remain in place from the Cold War era and are much less relevant in today's world. It was perceived that they were harming US exports and as part of the President's Export Control Reform Initiative, Export Control Reform was launched. This was intended to increase the competitiveness of certain US manufacturing and technology sectors by focusing controls on actual current threats. Changes were made based on exhaustive technical and policy reviews and developed in close consultation with Congress and the private sector.
As a result, both 30krad and 100krad converters are now much more easily available to aerospace firms based outside of the US. 30krad products that were previously controlled through ITAR are now classified as EAR99 and eligible for export without an export license. Additionally, 100krad products are now assigned under the Export Control Classification Number 9A515e. With few exceptions, this classification allows for export to 36 countries including France, Canada, the United Kingdom, Spain, Germany, and Japan without an export license (EAR §742.6).
What does this mean for European aerospace?
This easier access to 30krad and 100krad converters will be an important step for the space industry in Europe. There is now a significant reduction in the lead-time required to get proven DC/DC converters specifically designed for space, especially the first samples for a project. Previously, just to get a license to import converters, it would have taken several months. Because these licenses were given only once a month, if a request was made just following the latest license, the buyer had to wait until the following month for the request to be addressed.
The export law changes mean that European aerospace firms can obtain the best DC/DC converters, much more quickly and without the tedious processes previously necessary. This in turn will mean that European space projects will have the extra security and confidence of utilizing the components that are suited for their needs, which are proven to operate in space.
Of course, there are multiple factors to consider for European aerospace firms when purchasing equipment of any type. Price and ease of sale is always front of mind, but quality of product cannot be ignored. To secure the success of your program, it's ideal to consider only those component manufacturers with long-term proven heritage in successful space programs that offer components meeting your program's criteria.
Ultimately, these changes in the US export regulations enable a major impact to aerospace industry success in Europe, as organizations can now select components based on overall quality and intended use rather than just availability.