Our busy lives are increasingly being made easier and managed by technology with new devices entering the market on a regular basis. As we become more health conscious, personal fitness devices are proliferating, yet to provide full functionality these devices require the ability to sense position. However, providing this functionality has been challenging in terms of battery usage. In this technical article, u-blox will look at the issues surrounding this challenge and examine some of the latest energy efficient technology.
Personal tracking devices are small devices that use GNSS (Global Navigation Satellite System) to provide the location of the device, which may be attached to a person or object, such as a package, or anything that needs to be tracked. According to the European GNSS Agency (GSA), personal location-tracking devices are the 'next big thing' within the lucrative Location Based Services (LBS) market. GSA estimate a CAGR of 17.9% between 2016 and 2025, with an estimated 14.1 million devices to be shipped in 2020, making personal tracking devices the fastest growing sector within the LBS market.
The ability to track position is finding many applications in our busy modern lives. The ability to track can help us protect what we care about such as elderly relatives, new teenage drivers or even pets. Commercially, tracking technology is being used to keep tabs on both physical assets and also employee movements – especially delivery drivers. Even farmers are increasingly using the technology to locate livestock. In order to calculate how far (and how fast) we have walked, run or cycled, fitness trackers need to constantly know location.
Combining the position data from the tracking device with a relatively simple app that can be on a smartphone, tablet or laptop brings real value. Users are able to record their exercise and build a picture of what has been achieved over time. Businesses are able to analyze and improve the efficiency of many aspects of their operations, especially their delivery routes. Associated with this, geofencing is one particularly useful tool where the user defines a pre-set 'safe zone' on a map and, should the tracker move outside this area, an alarm is triggered. This has a multitude of uses including tracking elderly relatives with medical conditions such as Alzheimer, tracking infants and toddlers, tracking livestock and also valuable business assets.
However, the very GNSS functionality that provides the all-important tracking ability also creates significant challenges for designers due to its power consumption.
While many millions of these devices are sold every year, it is also true that many of them are only used for a short while before being put in a drawer and forgotten about. The main reason for this is that they did not meet the user's expectations in some way and inadequate battery capacity is one of the most often cited reasons.
The challenge to deliver more functionality applies to every small device. While adding a larger battery is an obvious solution, users are demanding ever-smaller devices, with increased functionality. This means that the only viable way to address this challenge is to find more efficient solutions and techniques. For example, many sensors do not need to be operating constantly. If measuring something such as ambient temperature, then taking readings every few milliseconds will simply create a lot of relatively meaningless data and drain the battery quickly. In this case, the sensor can be switched on for a very short period to take a reading and then be powered down again. Using this technique, even relatively power hungry sensors can be used in portable devices without a significant impact on battery life.
However, for position trackers where the core functionality is monitoring position, turning off the GNSS unit to deliver more efficient operation is not a viable option. One technique that has been used with geofencing applications is to reduce the rate of updates while the tracker remains within the 'safe zone' and then increase the frequency as soon as the tracker moves outside that area.
While this goes some way towards compensating for inefficient GNSS units, there is the risk that if the device moves outside the safe zone when the battery is low, the increased frequency of updates will quickly exhaust the battery, meaning that all contact could be lost at the most critical time.
In reality, the only viable solution is to increase the efficiency of the GNSS unit so that the required functionality and update rate can be delivered while still using a battery of an acceptable size.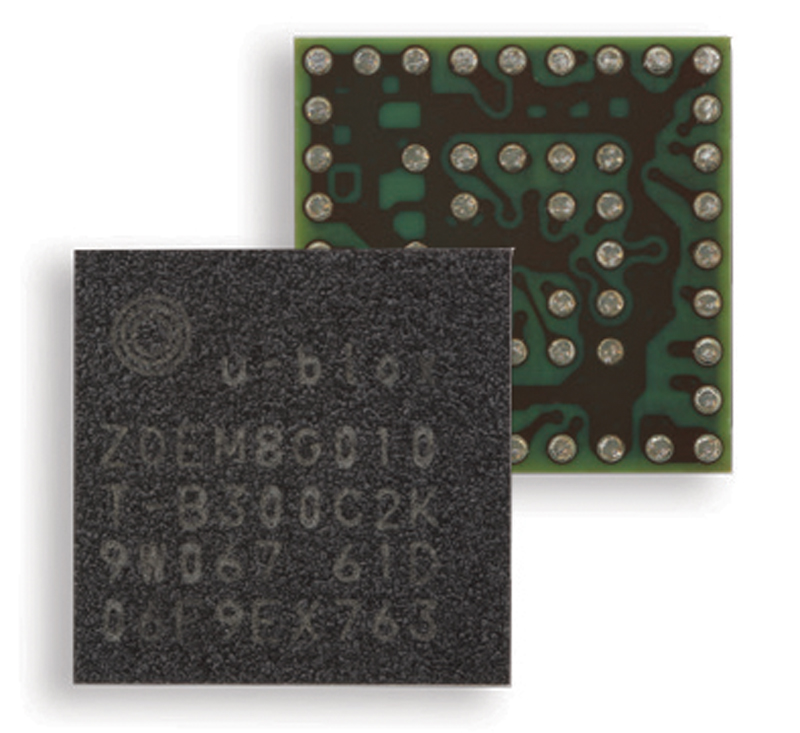 Click image to enlarge
Figure 1: The ZOE-M8B GNSS System in Package
One of the latest devices to reach the market is u-blox's ZOE-M8 series and, not surprisingly, this is also one of the most power efficient. The ZOE-M8B variant is u-blox's ultra small, ultra low power highly integrated GNSS SiP (System in Package) module that measures just 4.5 x 4.5 x 1.0 mm. It is housed in an advanced S-LGA (Soldered Land Grid Array) package that enables easy and reliable soldering. The ZOE-M8B is fully tested and qualified according to the JESD47/ISO 16750 standard.
Making use of the integrated Super-Efficient (Super-E) mode, the ZOE-M8B offers an ideal balance between miniature size, ultra low power consumption and good GNSS performance. Consuming up to 2.5 times less power than the popular pin-to-in compatible ZOE-M8G (running in 1 Hz full power mode), the ZOE-M8B continues to maintain good positioning and speed accuracy. In fact, average power consumption over a typical 30-minute track will be as low as 25 mW, even when using an industrial antenna design with moderate-to-low signal levels.
Super-E mode has a default performance setting that delivers the best balance between power and performance. It also offers a power save setting for additional power savings in applications where reduced performance can be accepted.
The TCXO-based ZOE-M8B integrates a front-end SAW filter and an additional front-end LNA for easier antenna integration. A passive antenna can be used to provide a highly integrated system solution with a minimal eBOM.
Incorporating ZOE-M8B into advanced designs is simple and straightforward due to the fully integrated design, single 1.8 V voltage supply, simple interface, and sophisticated interference suppression, which ensures maximum performance even in environments that are challenging for GNSS. In addition, the ZOE-M8B provides an SQI interface for optional external flash, continuous data logging, and improved A-GNSS performance.
ZOE-M8B is based on the high performance u-blox M8 concurrent GNSS engine, which supports GPS/GLONASS/BeiDou/ Galileo, including message integrity protection, anti-jamming, and anti-spoofing. All of these features together provide reliable positioning in difficult environmental conditions.
Further simplifying the design task, u-blox also offers a range of evaluation kits to evaluate u-blox M8 positioning technology. A built-in USB interface provides both power and high-speed data transfer. The kits can be used with a PDA, notebook or PC, allowing them to be used in R&D laboratories of on location. The comprehensive kits include all USB drivers needed within their software package.
Summary
Personal tracking is the fastest growing area within the LBS market but has suffered from the need for relatively high power levels, limiting the convenience of early designs. With the release of u-blox's ZOE-M8B with inbuilt Super-E mode the game has changed and now always-on GNSS positioning can be delivered in small, wearable, form factors.
Not only is the ZOE-M8B small and low power, its ability to use a passive antenna, its simple interface and comprehensive evaluation kit make the design task easy for experienced designers and those executing their first GNSS-based design.
u-blox