Markets and Markets predicts that real-time location systems will grow to 10.3 billion units by 2025 at a rate of 24.8%. By their nature, these smart sensors need to be small and co-located with the asset themselves. This inherently needs the use of low-power integrated circuits to provide the intelligence and wireless technology to provide the necessary network communication. There are several complementary technologies also being used in asset monitoring today including GPS for location detection and RFID for asset identification. However, these technologies face technical challenges for asset monitoring applications since GPS is power intensive while RFID is extremely short range and requires a costly reader while both do not easily allow dynamic transmission or environmental information necessary to adequately track the asset.
When talking about the reader itself, the wireless backhaul may be implemented using a wide range of standard local area networking technologies including Wi-Fi technology, Bluetooth Low Energy and proprietary RF protocols. Ultra-wideband is a relatively new technology that may also become popular here over time, while cellular connectivity provides wide area networking.
Each of these technologies offers its own advantages yet finding the right mix between data rates, wireless transport range, and battery life expectancy can be a difficult task. One technology that balances all these needs is Bluetooth Low Energy. This is largely thanks to its ubiquitous adoption, leading to widespread client options that includes smartphones and tablets. Many of these clients even support multiple radio interfaces, meaning they can be used as a cloud gateway. We already realize such benefits with features like the Find Me Profile (FMP), which is part of Bluetooth Low Energy Generic Attributes Profile (GATT). This has real-world benefits, such as initiating an alert such as a tone to be emitted by the asset so it can be located.
Major trends driving asset management
What makes Bluetooth Low Energy even more compelling for asset monitoring is that it supports devices that are inherently portable and not connected to line power. Thanks to ultra-low-power solutions, coin- cell batteries and even energy harvesting are now popular power sources for smart asset tracking sensors based on Bluetooth Low Energy. A key challenge that the designers of these edge nodes face is that these devices need to operate reliably, continuously and for extended periods of time, gathering and transmitting data. The truth of the matter is that these devices cannot shut down!
In general, an asset monitoring solution needs to maximize battery longevity, support sensor interfacing to monitor the asset, enable a friendly development environment to minimize time to market, and also be affordable.
When considering all four focus requirements for asset tracking solutions, the RSL10Bluetooth Low Energy SoC from ON Semiconductor is the industry's lowest power Bluetooth Low Energy radio, consuming as little as 62.5 nW when in its deepest sleep mode. This low power operation means it is ideal for low duty cycle asset tracking applications, where the device remains in a deep sleep mode for most of the time.
The RSL10 is configurable, so its functionality can be optimized for different application requirements. This may involve optimizing for transmit power, RAM retention, or support for different connection modes. In typical applications, the RSL10 can operate for up to 10 years on a single CR2032 battery, more than enough for any asset tracking solution.
Click image to enlarge
Figure 2. RSL10 Block Diagram
The RSL10 also integrates a comprehensive array of analog and digital interfaces (ADCs, GPIOs, I2C, SPI, and PCM). This allows it to connect with and control the most accurate sensors used in beacon and asset solutions. While the wireless radio is important to the transmission of data, sensors need to read the environmental conditions surrounding the asset tracker. The RSL10's versatility accommodates individualized asset trackers using a standard Bluetooth Low Energy stack as well as interconnected nodes through Bluetooth mesh networking, making it suitable for any asset tracking challenge.
Bluetooth Low Energy sensor solution
The RSL10 also includes two programmable cores useful for decision making and configuration selection. The Arm Cortex-M3 processor can be configured to monitor sensor data, control connectivity, and manage the power modes, ensuring the system works as efficiently as possible at all times. This involves finding the right balance between power consumption and sensor response rate. The Arm Cortex-M3 processor manages the digital interfaces to read data continuously or periodically, using timers and interrupts, or using level detection. The second core – the LPDSP32 processor – can run algorithms to process the sensor data, possibly using lightweight artificial intelligence, to make real-time signal processing decisions without the need to send data to the cloud. System security is also covered by the inclusion of an AES-128 encryption engine and software layering.
Click image to enlarge
Figure 3. RSL10 Asset Management Ecosystem
Asset management development ecosystem
With so many possibilities within asset management, ON Semiconductor offers a complete development ecosystem allowing for flexibility when designing RSL10-based ultra-low-power asset tracking or monitoring applications.
The RSL10 is supported by a comprehensive set of tools and platforms to ease development so solutions can reach the market quickly. These development tools enable rapid software development through a CMSIS-Pack paradigm, with sample projects to get developers going quickly. This includes support for Firmware-Over-The-Air (FOTA) updates, mobile (Android and IOS) apps, and support for various development environments including Eclipse IDE, IAR Embedded Workbench IDE, and Arm Keil embedded development tool.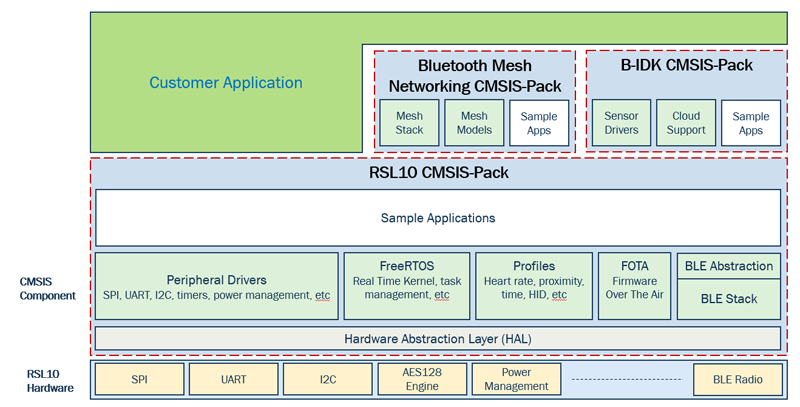 Click image to enlarge
Figure 4. RSL10 CMSIS-Pack Architecture
RSL10-based platforms and development hardware act as launch-pads for various application scenarios, including:
· General purpose evaluation using Arduino form-factor boards (QFNand SIPpackages)
· Systems for mesh networking (RSL10 Mesh Platform)
· Sensor development (RSL10 Sensor Development Kit, Bluetooth Low Energy IoT Development Kit, and Temperature Sensor Beacon)
· Energy harvesting (RSL10 Solar Cell Multi-sensor platform, Energy Harvesting Bluetooth Low Energy Switch).
For turnkey solutions, ON Semiconductor technology partners have developed a complete portfolio of highly customizable, low-power beacons and tags modeled off our RSL10 sensor development kits. These solutions offer enriched and innovative features, including a variety of environmental sensors, security enhancements and localization. These supported features can be implemented together or separately in the hardware platform.
Click image to enlarge
Figure 5: RSL10-based Tags and Beacons from Tatwah Technology
Higher integration leads to lower BoM costs
When it comes to determining the commercial viability of any product, the approach typically focuses on the total cost of individual components in the Bill of Materials (BoM), and the direct cost of building/testing/shipping. The outcome is often the same; the lower the BoM and assembly costs, the higher the potential profitability. While this approach certainly has merit, it is not without its pitfalls.
A more holistic approach also considers less tangible aspects. In the context of asset tracking solutions, battery longevity has benefits to the bottom line by minimizing cost of replacement, system downtime, service and maintenance. Longer operational lifetime also increases the service time of an asset over a defined period of time, which positively impacts the return-on-investment.
Just as importantly today, a long battery life supports social responsibility, by taking measures to minimize the environmental impact of using primary batteries that need to be replaced frequently. Energy harvesting takes this to the next level, as there is no battery waste at all. The RSL10's features make it a key enabler of these benefits, meaning it is far more than just a Bluetooth Low Energy radio. Its dual-core, multi-protocol architecture with highly configurable digital interfaces that can support various sensors and transducers means a single device can replace many of the components needed to make an asset tracker. Using a single device consolidates production costs, while the extensive development support provided minimizes the design costs needed to bring asset management solutions to market.