The counterfeiting of well-known brands and products is a growing problem, estimated to be five to seven percent of world trade. Among those well-known brands are consumer safety and critical electrical products, which can have threatening implications for workers and facilities.
The cost of counterfeiting
In 2013, more than $270 million worth of consumer safety and critical technology was seized by U.S. Customs and Border Control, an 85 percent increase from 2012. This is the third year in a row this percentage has increased by more than half. Furthermore, the International Anti-Counterfeiting Coalition (IACC) estimates that the counterfeiting of distinguished brands costs industries $600 billion each year worldwide and may result in as many as 750,000 lost jobs every year in the U.S.
The economic consequences of counterfeiting are more than enough to alarm professionals in the electrical industry. However, professionals should also be aware of the health and safety risks that counterfeit electrical products present.
Safety risks
Counterfeit electrical products can pose tremendous safety threats to work environments. By definition, a counterfeit is a product that uses, without authorization, the trademark, service mark or copyright of another intended to deceive prospective customers into believing that the product is genuine. Even the trusted marks of independent certifications have been counterfeited.
Counterfeit electrical products, many of which are intended to serve as protective devices, are unsafe lookalikes. Such counterfeit products, including circuit breakers, ground fault and arc-fault interrupters, and surge protectors, are often made without regard for electrical safety or even meeting minimal performance specifications.
Using counterfeit electrical products can result in a higher risk for failure or malfunction. These failures may result in electrical shock, overheating or short circuits, leading to equipment failure, fires or explosions that can cost workers their lives and cause considerable property damage.
According to the National Fire Protection Association (NFPA), electrical failure or malfunction was responsible for 47,700 home structure fires and 16,400 non-home structure fires in 2011, representing 13 percent of total home structure fires and 13 percent of total non-home structure fires that year.
Current counterfeit awareness
Manufacturers of counterfeits rely on deception and prices that are below market level to find their way into the workplace. Detecting the difference between a counterfeit and an authentic product can be difficult, especially as counterfeiters become more sophisticated.
In fact, Eaton has shown industry professionals, from facility managers to independent electrical resellers, two seeming identical breakers with one major difference – one is counterfeit – and asked each professional to pick out the counterfeit breaker (see Figure 1). After inspecting the breakers for everything from recognizable certifications and brand stickers to noticeable defects or missing parts, each professional leads to a common realization, "I never would have thought it to be counterfeit – I didn't know."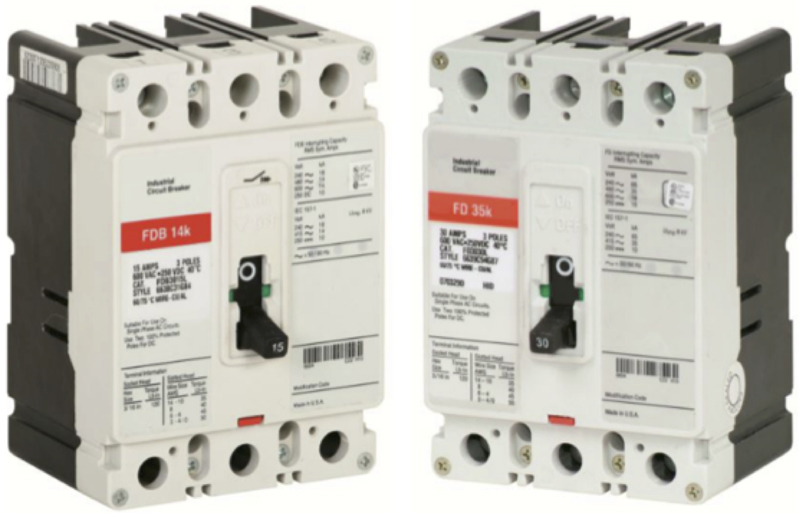 Click image to enlarge
Figure 1: While the physical differences between these two circuit breakers are nearly undetectable, the circuit breaker on the left is counterfeit
While it is difficult to identify the difference between a counterfeit product and a genuine product, industry professionals are moving in the right direction when it comes to recognizing and understanding the dangers of counterfeits.
To identify the current state of awareness around counterfeit electrical products, Eaton teamed up with the Independent Electrical Contractors (IEC), a national trade association for merit shop electrical and systems contractors, to survey IEC members on their knowledge of the dangers of counterfeits.
Survey results (see Figure 2) indicate that educational campaigns are helping to increase awareness of the dangers of counterfeit products and are providing the tools needed to make informed purchasing decisions, key knowledge that will help increase electrical safety.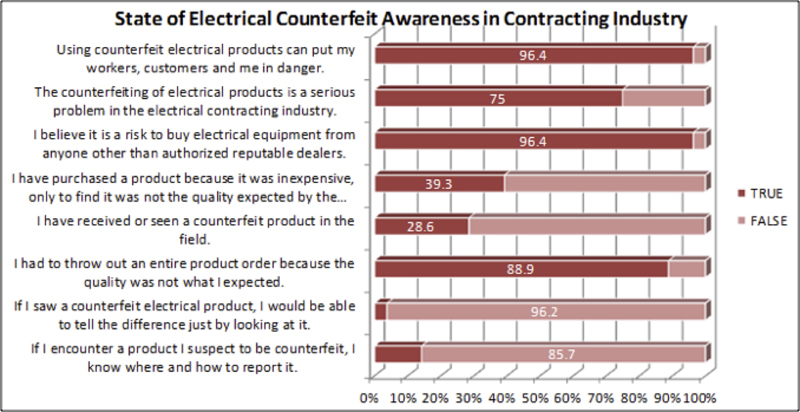 Click image to enlarge
Figure 2: Complete results of survey on the state of awareness around counterfeit electrical products of IEC members
Surveyed IEC members understood the potential safety hazards of counterfeit products, the sophistication of counterfeiters that makes it difficult to identify a counterfeit electrical product, and how to avoid such products by purchasing directly from the manufacturer's authorized distributors or resellers. However, the survey also reveals that more work is needed to share best practices and encourage collaboration in order to thwart counterfeiting.
While IEC members are educated on the dangers of counterfeit electrical products, survey responses disclosed that such products continue to be found in the field and, when found, a vast majority of respondents do not know where and how to report the fakes.
An industry-wide survey conducted by the Electric Safety Foundation International (ESFi) backed up this finding. An overwhelming 96 percent of its respondents believe that counterfeits are at least a moderate threat to safety, yet only half reported a counterfeit electrical product upon discovery. Further, a strong majority of respondents reported that they do not have a process in place to report a counterfeit product.
Continued education is needed to raise awareness among those who could potentially identify a counterfeit, encouraging them to contact the brand owner. This will allow authentication of suspect products and ensure that potentially unsafe products are removed from the market place. To report a suspected counterfeit product, contact Eaton at report_fakes@eaton.com.
Identifying and avoiding counterfeits
While recognizing a counterfeit product is difficult at first glance, there are several ways to detect and avoid them prior to making an actual purchase. The following are the top tips for avoiding and identifying counterfeit electrical products:
Buy Authentic. The best way to avoid counterfeit electrical products is to purchase products from the manufacturer's authorized distributors or resellers. There is a higher risk of counterfeits if you cannot trace the path of commerce to the original manufacturer.
Scrutinize labels and packaging. Labels and packaging can also be used to detect counterfeit products. Be leery of poor-quality labels with legacy branding, missing date codes, and extraneous markings or labeling not applied by the original manufacturers. Eaton uses branded packaging on nearly all component products for easier identification.
Currently, Eaton is furthering its anti-counterfeiting initiatives with new laser-etched labels for its molded case circuit breakers (MCCBs). These high-quality permanent markings of critical product information require more sophisticated technology to manufacture and are designed to be more tamper-resistant, helping to authenticate each circuit breaker throughout its life cycle.
Question Bargains. In addition, professionals should also be cautious of "bargains" when purchasing electrical products. It helps to compare the price of products to similar products at a different retailer. If the price seems too good to be true, the odds are it is.
Verify Authenticity. When possible, use tools provided by the original manufacturer or certification organizations, such as Eaton's Circuit Breaker Authentication (CBA) tool, to verify that electrical products are authentic. With information included on the label, customers will be able to authenticate the breaker using Eaton's CBA tool (See figure 3), designed to allow customers to detect if Eaton's MCCBs, up to 400 amperes, are counterfeit.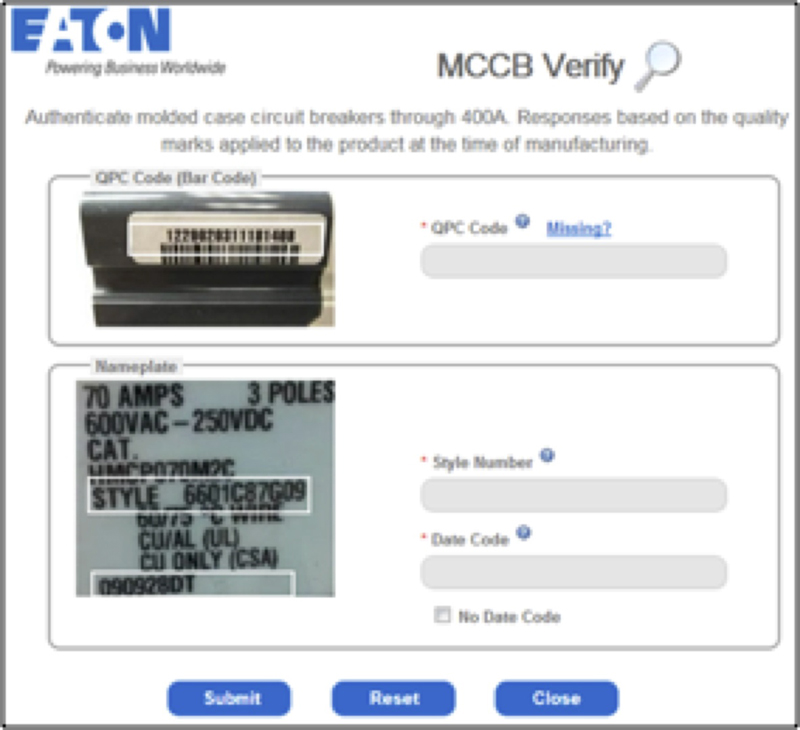 Click image to enlarge
Figure 3: By entering the bar code, part number and date code found on the circuit breaker, the CBA tool is intended to immediately assist in verifying authentication (www.eaton.com/counterfeit)
If you suspect a product to be counterfeit, contact the original manufacturer. This will allow authentication of the suspect product and ensure that the potentially unsafe product is removed from the market place.
Collaboration is key
In order to address the problem of counterfeit electrical products, awareness and collaboration among industry organizations, manufacturers, customers and government bodies is needed. It is only through collaboration that we may be able to enact measures that will lead to more effective detection and reporting of counterfeit electrical products.
Many companies are leading efforts to protect public health and safety by collaborating with industry partners to prevent these dangerous counterfeit products from causing harm to people and property. For example, Eaton operates with a zero-tolerance policy for counterfeiting and is committed to anti-counterfeiting technologies and initiatives. Reducing the spread of counterfeit electrical products can help to ensure maximum electrical safety protection.
Stopping the sale of counterfeit products is everyone's responsibility. If every individual along a product's supply chain played an active role in stopping counterfeit products from being bought and sold, the demand for counterfeit electrical products would decrease. It is crucial to continue to work together to prevent these unsafe counterfeit products from causing harm to people and property.