Analog Devices products and technologies have made a significant contribution in healthcare designs - helping shape the future of diagnostics and monitoring equipment, as well as health and wellness devices. At ADI's Munich launch, Rich Murphy, Business Development Manager for Analog Devices' Processors-DSPs Core Products and Technologies Group, presented the company's new, lowest cost DSP including the vital evaluation kit and emulator which fits a broad range of cost-sensitive applications where performance cannot be compromised. For over 40 years, Analog Devices has defined innovation and excellence in signal processing technologies. The company's comprehensive portfolio of linear, mixed signal, MEMS and digital processing technologies set industry standards and are backed by comprehensive design tools, applications support, and systems expertise. A true systems approach to functional integration and collaboration with customers has created real differentiation in the marketplace.
Analog Devices, Inc. introduced the Blackfin ADSP-BF592 DSP with 800 MMACs/400MHz of performance for just $3 (10K quantities). Featuring active power draw as low as 88mW and a tiny 9mm x 9mm 64 lead LFCSP package, the Blackfin BF592 now makes integrating high-performance DSP (digital signal processing) practical for many power-constrained and small form-factor applications in the industrial, medical, video, audio and general-purpose markets. To download the datasheet, visit the company's website.

Rich explained, "The low-cost, high-performance BF592 opens up many product possibilities for current and new Blackfin customers. Customers can now add very high-performance DSP to products that, due to cost and/or power constrictions, they were unable to before. Having an affordable 800MMACs of DSP allows designers to incorporate sophisticated signal processing previously only feasible for higher-priced end products." The ADSP-BF592 processor is a member of the Blackfin® family of products, incorporating the Analog Devices/Intel Micro Signal Architecture (MSA). Blackfin processors combine a dual MAC state-of-the-art signal processing engine, the advantages of a clean, orthogonal RISC-like microprocessor instruction set, and single-instruction, multiple-data (SIMD) multimedia capabilities into a single instruction-set architecture. This processor is completely code compatible with other Blackfin processors and offers performance up to 400MHz and reduced static power consumption. By integrating a rich set of industry-leading system peripherals and memory, Blackfin processors are the platform of choice for next-generation applications that require RISC-like programmability, multimedia support, and leading-edge signal processing in one integrated package. Portable Low-Power Architecture Blackfin processors are produced with a low-power and low-voltage design methodology and feature on-chip dynamic power management, which provides the ability to vary both the voltage and frequency of operation to significantly lower overall power consumption. This capability can result in a substantial reduction in power consumption, compared with just varying the frequency of operation. This allows longer battery life for portable appliances. System Integration The ADSP-BF592 processor is a highly integrated system-on-a-chip solution for the next generation of portable medical, digital communication and consumer multimedia applications. By combining industry- standard interfaces with a high-performance signal processing core, cost-effective applications can be developed quickly, without the need for costly external components. The system peripherals include a watchdog timer; three 32-bit timers/ counters with PWM support; two dual-channel, full-duplex synchronous serial ports (SPORTs); two serial peripheral interface (SPI) compatible ports; one UART® with IrDA support; a parallel peripheral interface (PPI); and a two-wire interface (TWI) controller. Processor Peripherals The ADSP-BF592 processor contains a rich set of peripherals connected to the core via several high-bandwidth buses, providing flexibility in system configuration as well as excellent overall system performance (see Figure 1). The processor also contain dedicated communication modules and high-speed serial and parallel ports, an interrupt controller for flexible management of interrupts from the on-chip peripherals or external sources, and power management control functions to tailor the performance and power characteristics of the processor and system to many application scenarios.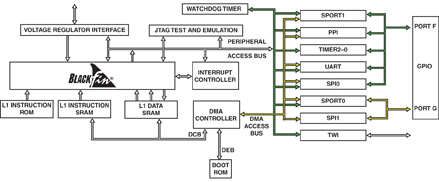 The SPORTs, SPIs, UART, and PPI peripherals are supported by a flexible DMA structure. There are also separate memory DMA channels dedicated to data transfers between the processor's various memory spaces, including boot ROM. Multiple on-chip buses running at up to 100MHz provide enough bandwidth to keep the processor core running along with activity on all of the on-chip and external peripherals. The ADSP-BF592 processor includes an interface to an off-chip voltage regulator in support of the processor's dynamic power management capability. Target applications for the BF592 include portable medical products; audio devices; imaging products, such as CMOS-sensor-based 2D barcode scanners and smart metering products in smart grid applications. "Analog Devices is pushing the DSP cost/performance envelope to make it easier for designers to differentiate their price- and power-constrained products," said Tony Massimini, chief of technology, Semico Research Corp. "The Blackfin BF592 offers performance and lower power consumption at competitive pricing. These are important factors for designs in high-growth consumer markets, especially portable applications." Blackfin BF592 Highlights
The highest pure DSP performance for its price point - At 800 MMACs or 400MHz clock speed, the Blackfin BF592 provides developers the ability to run more sophisticated algorithms for more system-level advantages.
The lowest power in ADI's Blackfin portfolio - The BF592 consumes 80 percent less power than comparable solutions. A low active power draw of just 88mW at 300MHz and low standby power of less than 1mW extends battery life.
Smaller footprint - With a 9mm x 9mm footprint, the industry's smallest 800MMAC device allows designers to pack a tremendous amount of performance into space-constrained designs.
Optimized for multiple applications - With a peripheral set including two SPORTs, a PPI, two SPI's, four general purpose counters and a factory-programmed instruction ROM block containing the VDK RTOS and C-runtime libraries, the BF592 is feature- and cost-optimized for compute-intensive applications that operate without the need for external memory or executable flash.
The BF592 is offered in commercial and industrial temperature grades and is automotive qualified. Low-cost development platform An EZ-KIT Lite® evaluation kit for the Blackfin BF592 DSP is available for only $199, and includes an evaluation suite of ADI's VisualDSP++ development environment with the C/C++ compiler, assembler and linker. ADI also offers a $150 Blackfin emulator (ADZS-ICE-100B), which provides designers with a comprehensive development platform that lowers the cost of entry to the Blackfin BF592 DSP. In addition, a complementary selection of ADI's power ICs, data converters, sensors, signal conditioning ICs are available for optimizing processor and overall signal chain performance.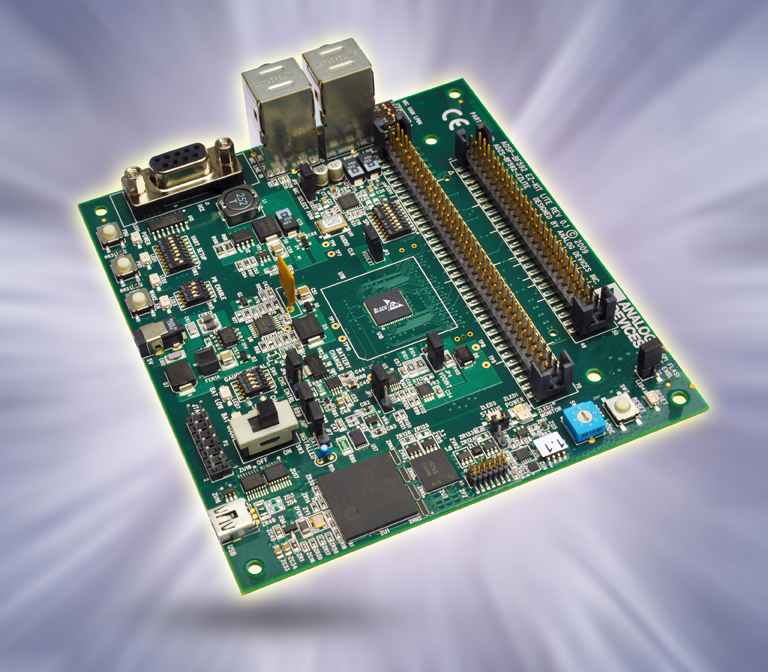 Innovative Design Demands Blackfin-Class Processing Analog Devices' Blackfin 16/32-bit processors enable engineers to advance the intelligence, functionality and connectivity of any application that benefits from a convergence of digital signal processing and control processing in a unified architecture. Delivering exceptional price/performance and energy efficiency, and complemented by a rich ecosystem of development tools, applications and third-party support, Blackfin is the processor of choice for a wide range of innovative applications including industrial, medical, automotive, security, digital home entertainment and portable devices. Pricing and Availability The Blackfin ADSP-BF592 is priced at $3.00 per unit based on 10,000-unit quantities. The processor is sampling today. EZ-KIT Lite evaluation kits (ADSZ-BF592-EZLITE) for the Blackfin BF592 processor are available now from ADI's authorized distributors and are priced at $199. www.analog.com