The creation of cost-efficient and compact industrial slave devices that can connect to any Real-Time Ethernet network is now simplified through the combination of the STM32™ ecosystem with the multi-protocol flexibility of Hilscher's netX control ICs.
The results of this collaboration are the I-NUCLEO-NETX expansion board for use with any STM32 Nucleo-64 or STM32 Nucleo-144 development board, and the I-CUBE-NETX, an STM32Cube software expansion for combining Hilscher's netX 52 network controllers with a host microcontroller (MCU) from ST's extensive STM32 family.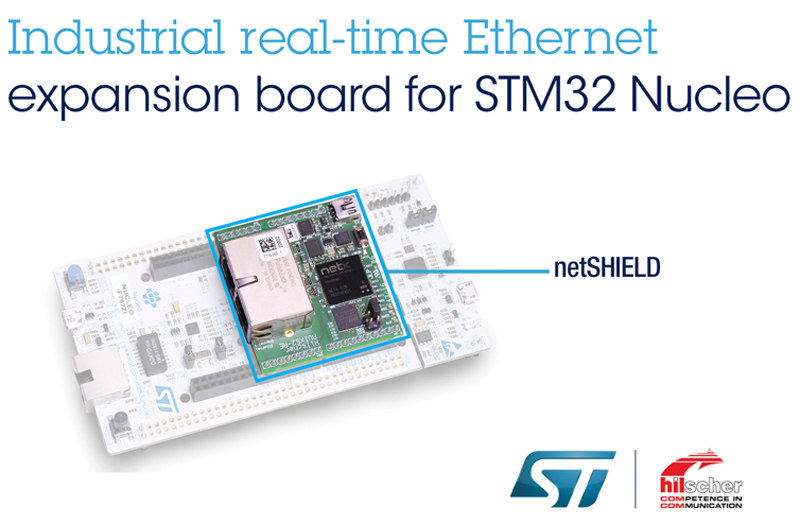 Click image to enlarge
I-NUCLEO-NETX expansion board
The I-NUCLEO-NETX contains a netX 52 network controller IC with integrated Real-Time Ethernet switch, and has two RJ45 ports for line and ring topologies. netX 52 supports all Real-Time Ethernet protocol specifications and evolutions, including EtherCAT, PROFINET, EtherNet, Ethernet/IP, POWERLINK, CC-Link IE, Modbus TCP, and SERCOS III. It can also support Fieldbus standards like CANopen and emerging standards such as Time-Sensitive Networking (TSN), as well as OPC-UA and MQTT for Cloud data exchanges, making it ready for the Industrial Internet of Things (IIoT).
The I-CUBE-NETX software package comes with a loadable pre-certified firmware for free evaluation of EtherCAT, PROFINET, and EtherNet/IP protocols. The package also includes the Hilscher cifX API and cifX Toolkit that allow all Real-Time Ethernet protocols to be used in the STM32 ecosystem and minimize software effort when porting from one protocol to another. Application examples help users get the I-NUCLEO-NETX expansion shield running and evaluate the free protocols.
Combining the strengths of netX with the extensive STM32 family – which ranges from entry-level STM32F0 MCUs to the very high-performing STM32F7 series and STM32H7 series -- creates a flexible, stable, and scalable platform for building products from simple I/O systems to complex, high-end drives and controls. Products for various worldwide markets can be based on common hardware, to cater efficiently for the popularity of different protocols, such as PROFINET in Europe, EtherNet/IP in the US, CC-Link IE in Japan, and EtherCAT in Europe and Asia.
The I-NUCLEO-NETX expansion board is available for purchase now from Amazon. The I-CUBE-NETX expansion software including evaluation versions of the EtherCAT, PROFINET, and EtherNet/IP protocols can be downloaded free of charge from www.st.com/i-cube-netx.