The marketplace adoption of GaN has come tremendously quickly. In under a decade, the wide bandgap material has gone from an expensive niche product that was difficult to design into systems, to an almost commodity product. The problem about commodity products is that they are available from many manufacturers, almost making cost the main deciding factor for purchasers. GaN has replaced silicon in many applications, particularly in the consumer market, but it still has a further opportunity to replace silicon and SiC in more specialized and higher power applications. Manufacturers are now looking to add value to their GaN offerings by differentiating from generic devices to meet demands from new applications. Navitas has now brought one of those designs to market, targetted at demanding, high-power applications in data centres, renewable storage and EV applications. The company's GaNSafe 4th-generation GaN technology offers efficiency and power density combined with robust and reliable operation.
Devices for high power applications in difficult environments must handle a large amount of power while being mechanically strong. For example, the devices could be used in a solar panel that is intended to operate for 20 years in widely differing temperatures, or in high humidity of automotive applications. They would also need to be capable of handling electrical variation, including voltage spikes. Designers of products for these applications do not want large or over-complex solutions, which often happens when moving to higher power capabilities.
To meet those mechanical restrictions, Navitas has housed the GaNSafe family in a 10 x 10 mm TOLL (Transistor Outline Lead-Less) package that is certified to IPC-9701 for long mechanical lifetime. The package has a large copper slug on the bottom that is two and a half times the thickness of the company's previous packages for better power handling and thermal management. Some of the package's pins have been fused together to further help with heat spreading. This means that despite being fully featured it only has four active pins.
Inside the package are a number of safety measures including, 2 kV ESD protection diodes, which also can be utilized to program the slope to survive high speed switching and prevent EMI problems. Internal current measurements and logic prevent the circuit becoming unsafe. If they detect a problem, such as a short circuit, then the device can be turned off in under 50 ns, around 4 times faster than a discrete system. A Miller Clamp is included so that no negative gate biasing is required.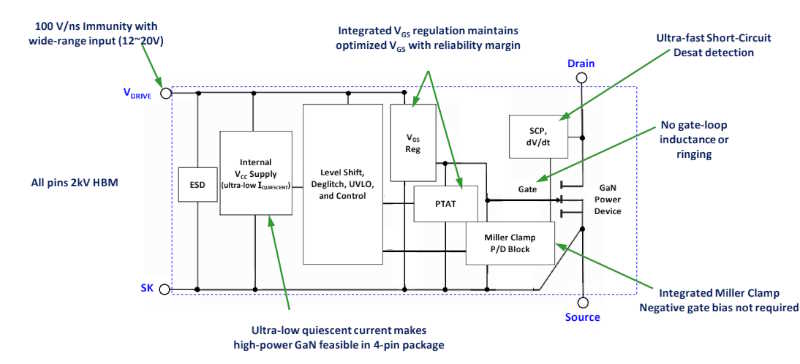 Stephen Oliver, VP Corporate Marketing & Investor Relations at Navitas said of the GaNSafe devices, "With all the safety and quality-of-life features, we've produced a really rugged little device that can also make the rest of the system more reliable. The package handles a lot of power and enhances the device's reliability. When those features are combined, it allows us to break through the glass ceiling for GaN into higher power markets".
He further expanded, "For example, data centres have certain fixed form factors for power systems, one of which is 185 millimeters long. We can put 3.2 kW in that form factor, with additional headroom, which can deliver the power needed across the whole AC input voltage range. That 3.2 kW is also delivered very efficiently, exceeding the 96% efficiency rating mandated by the EU. The device's high speed operation allows us to shrink the transformer, capacitors and filters, leaving space for 40% more hold-up capacitors. That's around 100 watts per cubic inch, using fewer small components. In terms of system cost, our customers have told us that they think our design is cheaper than even using silicon in a bigger size box".
The first members of the 650/800 V GaNSafe portfolio feature a range of RDS(ON) from 35 to 98 mΩ to address applications from 1 kW to 22 kW. They are manufactured in Hsinchu, by TSMC.
The main features of the devices are:
Protected, regulated, integrated gate-drive control, with zero gate-source loop inductance for reliable high-speed 2 MHz switching capability to maximize application power density.

High-speed short-circuit protection, with autonomous 'detect and protect' within 50 ns – 4x faster than competing discrete solutions.

Electrostatic discharge (ESD) protection of 2 kV, compared to zero for discrete GaN transistors.

650 V continuous, and 800 V transient voltage capability to aid survival during extraordinary application conditions.

Easy-to-use, complete, high-power, high-reliability, high-performance power IC with only 4 pins, to accelerate customer designs.

Programmable turn-on and turn-off speeds (dV/dt) to simplify EMI regulatory requirements.
System platforms enabled by GaNSafe technology include complete design collateral with fully-tested hardware, embedded software, schematics, bill-of-materials, layout, simulation and hardware test results. Examples include:
CRPS185 data center power platform, that delivers a full 3,200 W of power in only 1U (40 mm) x 73.5mm x 185 mm (544 cc), achieving 5.9 W/cc, or almost 100 W/in3 power density - a 40% size reduction vs, the equivalent legacy silicon approach. Over 96.5% efficiency at 30% load, and over 96% stretching from 20% to 60% load.

6.6 kW 3-in-1 bi-directional EV on-board charger (OBC) with 3 kW DC-DC. The 96%+ efficient unit has over 50% higher power density, and with efficiency over 95%, delivering up to 16% energy savings over competing solutions.
The GaNSafe portfolio is available immediately to qualified customers with mass production expected to begin in Q4 2023. Navitas has been sampling GaNSafe devices for around ten months with 40 customer projects in progress in data centre, solar, energy storage and EV applications.