MTU Onsite Energy's state-of-the-art generators power the Tower of Rush University Medical Center's new 14-story hospital (see Figure 1), the cornerstone of the Rush Transformation, an ongoing effort to build new facilities, renovate existing buildings and adopt new technology. The Tower houses acute and critical care patients and will be powered by a custom-designed MTU Onsite Energy power plant (see Figure 2). Within 10 years, the plant will provide backup power to 16 of the 18 Rush buildings.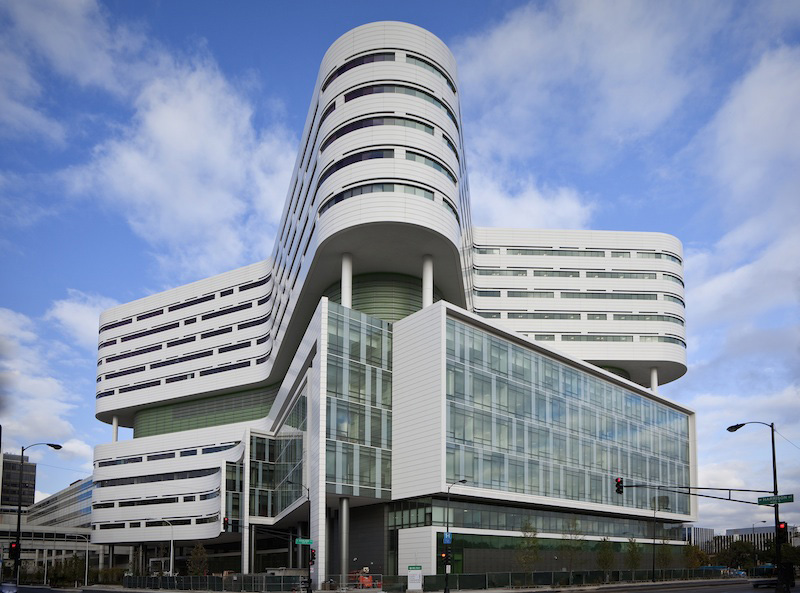 Click image to enlarge
Figure 1: The Rush University Medical Center Tower
"We need a backup power source to ensure that the operating rooms, life-support systems, monitoring equipment and anything else that keeps patients alive and safe will operate if utility power is lost," said Mike Craig, electrical and electronics manager at the Rush University Medical Center.
Rush collaborated with MTU Onsite Energy distributor, Inland Power Group, and engineering firm, Environmental Systems Design, to design a custom central energy plant power system that met both Illinois code and EPA Tier 2 emissions requirements.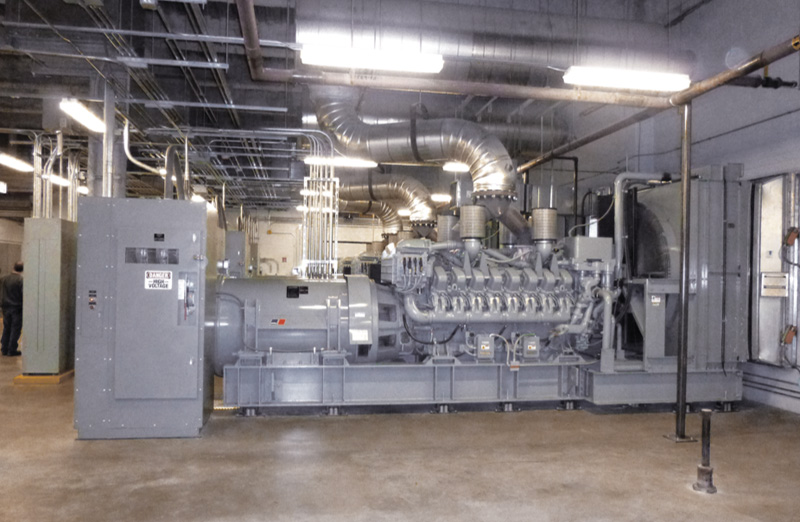 Click image to enlarge
Figure 2: The MTU Onsite Energy generator sets meet EPA Tier 2 emissions requirements
The Rush transformation
Over the years, Rush University Medical Center has expanded many times to meet the needs of a steadily growing patient population. Along with each new floor or building came one or more new generators to supply the necessary backup power. Finally, in the mid-1990s, small expansion steps gave way to a master plan for a major renovation of the Rush campus. The master plan called for the construction of the Tower, Rush's new 14-story hospital, as well as a number of other medical treatment facilities, an office building and a parking garage.
First, though, Rush would build a central energy plant to house the major equipment that would supply backup power to all of the new facilities within 10 seconds of a utility outage to meet code requirements. This would be no easy task. In some cases, power from the plant would have to reach life-saving safety equipment in buildings up to four blocks away. Today, however, the plant is delivering critical power in time wherever it's needed, thanks in part to state-of-the-art generators, controllers and transfer switches from MTU Onsite Energy.
Backup system put in place
Much of the backup power equipment in the central energy plant was supplied by MTU Onsite Energy distributor, Inland Power Group. Key Inland-supplied components of the standby power system include six 2,000-kilowatt (kW) generator sets that operate at 12 kilovolts (kV). Each of these three-phase units is equipped with a DGC-2020 digital controller that relays start and stop commands from the switchgear to the generator (see Figure 3). Inland also supplied the paralleling and transfer switchgear, all housed in the central plant. Outside the central plant, automatic transfer switches from MTU Onsite Energy help to distribute backup power to loads within in the buildings on the campus. Rush's electric power is provided by Commonwealth Edison Co. (Com Ed). Illinois code requires at least two utility feeds into each hospital building, according to Craig. Some buildings on the campus have as many as five Com Ed feeds.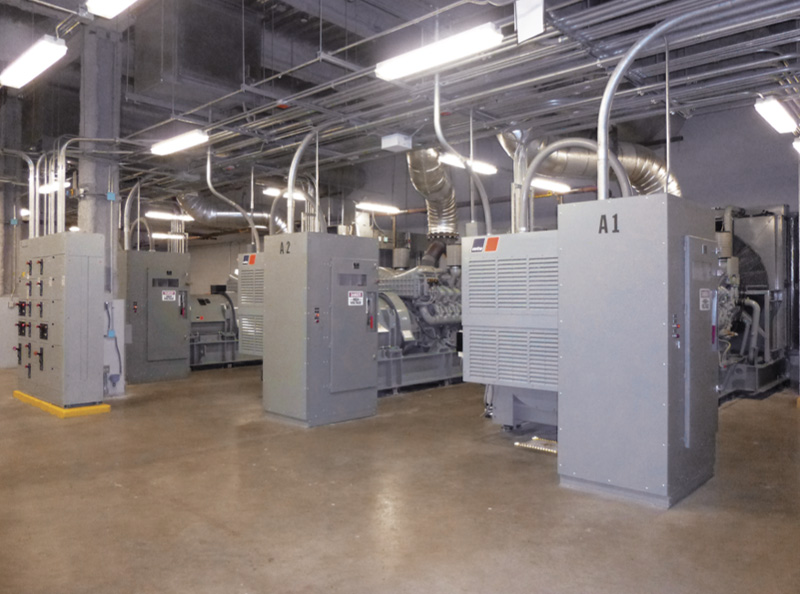 Click image to enlarge
Figure 3: The medical center's emergency power system includes six 2,000 kW generator sets from MTU Onsite Energy
Rush chooses equipment, supplier
Following a competitive bid, MTU Onsite Energy was selected to supply emergency standby power to the Rush campus. At the time of the bid, there were no MTU Onsite Energy generators on campus, however Craig and his colleagues selected the leading producer of diesel-powered generator sets. "When we looked at cost and reliability of the generator sets, and at the companies themselves, MTU won out," Craig said.
One reason for the decision was ever-changing EPA emissions requirements. The generators specified by one company under consideration couldn't meet the more stringent emissions requirements of an anticipated EPA ruling. "We wanted to make sure that once a new rule was put in place, the gensets would be compliant," Craig said. The MTU Onsite Energy units chosen for the job meet EPA Tier 2 emissions requirements, according to Scott Sell, an Inland product support manager. In addition, Craig and his colleagues were swayed by their comfort level with the equipment suppliers. "Knowing Inland and what we were going to get in terms of support, gave us a good feeling to go down that road," Craig said.
Designing with distribution in mind
Craig worked on the design of the standby power system with Environmental Systems Design Inc. In the process, one of his main goals was to come up with a fully redundant system. "One thing I've learned in my career is that the biggest issue is always distribution," he said. "You can put as much power in as you want, but without the proper distribution there's going to be a problem."
To prevent major power-distribution problems, the Rush system has separate A and B feeds going into each building. "If someone is digging in a parking lot and knocks out my A side, I still have power on my B side," Craig noted.
Each of the two sides of the system includes three generator sets and its own paralleling switchgear. Both sides feed 16, 12 kV substations scattered throughout the campus, which in turn supply power to the buildings via two separate feeds. This ensures that the equipment in each building will be powered by at least one of the two sides of the system.
However, the buses for the two separate sides are also connected, Craig noted. Instead of two buses with three generators feeding each one, this allows the creation of a single bus with six generators. "If one of the generators goes down, I'm not down to two on one side. I have five standby generators feeding the bus to supply what I need," Craig explained.
According to Craig, tying the two buses together improves the stability of the power and frequency going out to the 16 substations on campus. It also helps Rush meet code requirements for rapid and reliable startup of critical equipment following a utility power failure.
Steps for system upkeep
Due to its importance, the emergency standby power system must be exercised regularly. Rush personnel run the generators for about an hour each week to meet Chicago and Illinois code requirements.
In addition, Inland does a system test of all six generators on a yearly basis, using a load-bank instead of the actual building loads to make sure the units are in good working order and capable of operating at full power. While the generators are running, technicians check them for any problems.
While performing maintenance on the generators, service technicians use the DGC-2020 controllers. Among other things, the controllers start and stop the generators, reset parameters, and provide data readouts to the technicians. The controllers give service personnel detailed information about generator operation.
Meeting the needs of a changing campus
Inland personnel handled the startup and commissioning. As the first of the new buildings to be constructed as part of Rush's multi-year renovation project, the plant also supplies steam and chilled water to other campus facilities.
In addition to providing backup power for its own operations, the new plant will soon be serving seven other buildings, with a total load of approximately 4.5-megawatts. These buildings include the new 376-bed East Tower hospital, which opened in January 2012. The old hospital building will be used for a different purpose once all of its functions are transferred to the new facility.
Over time, the old hospital building and most of the others on campus will be added to the list of facilities served by the central energy plant. As the transition unfolds, new automatic transfer switches will be added to the backup power system and most of the old standby generators scattered across the Rush campus will be decommissioned.
Capable of a maximum power output of 12 MW, the central energy plant can greatly expand its reach as it's presently equipped. In addition, there's room in the plant for four more generators of the same size as its current units, giving it a total future capacity of 20 MW. "When we've had minor utility outages, it has worked flawlessly," said Craig. "It does exactly what it's supposed to do, and we get exactly what we need."