There are several parking garages in the downtown area of almost every German city, many of which are heavily frequented – in winter more than in the summer. Naturally, lighting these buildings, which are generally several floors high, consumes a great deal of energy, incurring high costs in the process. Gerald Stuible, proprietor of a parking garage in Nuremberg, was therefore keen to leverage this particular cost parameter and introduce energy-efficient lighting. As part of a pilot project, he arranged for the existing fluorescent lamps in the parking garage at Jakobsmarkt in Nuremberg to be exchanged for intelligent LED luminaires of the IPL series from SchahlLED Lighting (see Figure 1). Modules with Duris E 3 light-emitting diodes (LEDs) from Osram Opto Semiconductors are installed in each luminaire. Additionally, an integrated presence detector only switches the illumination from the default basic illumination to maximum output where this is actually required.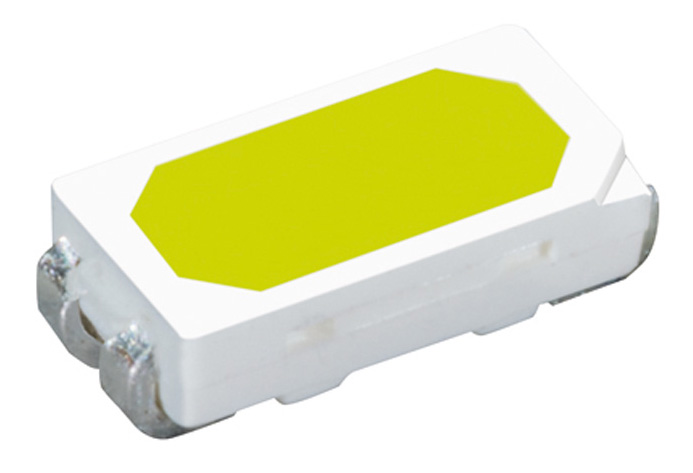 Click image to enlarge
Figure 1: Energy-efficient lighting with Duris E 3-LEDs from Osram Opto Semiconductors.
Modern LED luminaires from SchahlLED Lighting's IPL series have been illuminating the five-level Nuremberg parking garage at Jakobsmarkt since November 2012, replacing the fluorescent lamps previously used (see Figure 2). The LED luminaires were specially designed for applications in low-ceilinged spaces such as parking garages or warehouses. The lower part of the housing is made from light gray polycarbonate. The highly flexible, shatterproof cover is opalescent so that some of the light is reflected back to the ceiling while a high degree of light diffusion completely eliminates glare for the users of the parking garage. The luminaires are mounted on the ceiling by means of threaded bars or suspension devices. Measuring 1572 x 110 x 145 mm, the luminaires are in the safety class IP-65 (dust-tight and protected against water jets), as recommended for light systems in outdoor applications.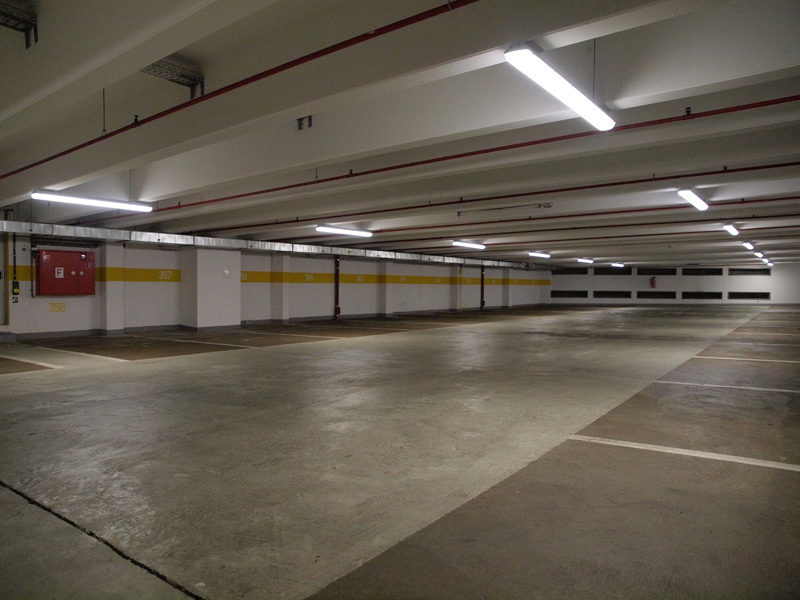 Click image to enlarge
Figure 2: The intelligent luminaires from SchahlLED Lighting with installed Osram LEDs save around 70 percent on energy.
Impressive illumination
Each luminaire has five modules, each fitted 120 Duris E 3 LEDs from Osram Opto Semiconductors. The modules can be replaced without tools and provide high-quality, energy-efficient light. Due to the impressive 50,000-hour service life of the Osram LEDs (when operated at their full load of 50 W), the luminaires probably will not need to be replaced for decades if operated at a typical load of just 35 W or 15 W in dimmed mode. That also minimizes the maintenance costs of the lighting system, making this a very sustainable investment compared with fluorescent lamps or LED tubes. The Duris E 3s can be arranged very close together, thanks to their small dimensions of 3 x 1.4 mm. A wide beam angle of 120 degrees ensures that the light cones overlap when arranged in close formation so that the light is distributed very evenly. The Duris E 3s are thus ideal for applications requiring homogenous illumination combined with high efficiency and low acquisition costs. They are mainly intended for lighting applications in open-plan offices, production plants, warehouses, or, as in this case, parking garages which have hitherto been fitted with T5 and T8 luminaires. With a brightness of 4,500 lumens and a color temperature of 4,000 Kelvin, the low-power LEDs produce excellent ceiling illumination and homogenous light.
Thanks to the new luminaires, the parking garage at Jakobsmarkt now fulfills the applicable standards requiring that an average of 75 Lux reaches the roadway and specifying a minimum illumination of 20 Lux in every other part of the parking garage. The superb lighting of the parking spaces now offers users even more safety.
Intelligent control reduces the activation period
With the new lighting solution, two parking spaces can now be illuminated by just one LED luminaire with an output of 35 W or 15 W in the basic illumination mode, rather than a fluorescent lamp with a system power draw of 75 W, as required in the past. Using a presence detector, an intelligent control system in the luminaires activates the lighting in the building, only selecting maximum output in the locations where this is currently required. Only if a vehicle is driving through the garage or a pedestrian is moving do the luminaires installed in the vicinity increase their brightness to the maximum output of 35 W. If not activated by the presence detector, they operate at a very much lower basic illumination output of 15 W, saving energy and costs.
"With the new lighting system, we have already been able to cut the activation period per parking deck to a third of the former value. And we are expecting further reductions. By the time the project had been under way for just a few months, we had already saved a great deal of energy and hence also costs – despite it being the busy winter months," said Stuible, summarizing the initial project phase. The parking garage operator and the two companies involved – SchahlLED Lighting and Osram Opto Semiconductors – expect further drops in the activation period in the summer months. The acquisition costs for the new LED lighting system will thus have paid off within as little as about three years.
Converting to LEDs: A clear reduction in costs
Luminaires in parking garages are exposed to a great deal of stress, particularly due to their continual contact with exhaust fumes. Operators must therefore plan to replace luminaires after about 30 years. In cases where new luminaires need to be installed after a lifecycle like this, it is advisable to conduct a profitability calculation on the option of installing LED luminaires (see Table 1).
Click image to enlarge
Table 1: Economic feasibility study - Parking garage with 270 installed IPL luminaires (conversion of property, excepting emergency lighting and other luminaires in continual operation)
After converting to the new intelligent lighting system, the average consumption of the lighting system in the parking garage project has fallen from 75 W to just 22 W. Calculated per parking space, this comes to around 11 W in the parking garage at Jakobsmarkt. As a result, with the connected IPL luminaires, the operator, Gerald Stuible, has been able to slash his power consumption by 70% in just 8 months since the project began. In the long term, the project partners expect that the LED luminaires will spend less than 20 percent of the time in the activated mode, on average. Depending on how the price of electricity develops, this could result in energy cost savings of between €20,000 and 25,000 per year.