Here follows a paper submitted by Yole Développement, a market research and strategy consulting company, specialised in the MEMS fields as well as compound semiconductors, power electronics and photovoltaic. Yole Développement offers a broad range of marketing research and communications services.
Toyota, the world leading car producer, has been dominant on the hybrid market up to now, but this niche market is becoming a must for car makers as the focus on car C02 emissions intensifies. Hybrid is defined in different levels: micro, mild, full, and plug in hybrid. Micro hybrid will see the highest growth due to its low cost and easy integration, specifically in Europe. Mild and full hybrid will continue their strong penetration in the US market. Plug-in hybrid is a bridge to EV technology, and uses the same high voltage battery technology and plug-to- grid for recharge. EV car business will really ramp up in 2010 with the arrival of big car makers (Mitsubishi, Renault, GM, Ford, and Daimler). Limited drive range (40 miles) and high cost are still issues. But it is expected that huge investments in new Li-Ion batteries will increase the performance/cost ratio of EVs. More than 17 million cars will be hybrid or electric in 2015 and some forecasters suggest sales will reach 50 million units in 2020, meaning half of the cars produced.
Power electronics are a key technology for hybrids and represent 20% of the material costs. It is even bigger for EV cars. HEV/EV power devices are used in DC/DC converters and DC/AC inverters. There are various configurations depending on the hybrid version and car makers' choices (see figure 3)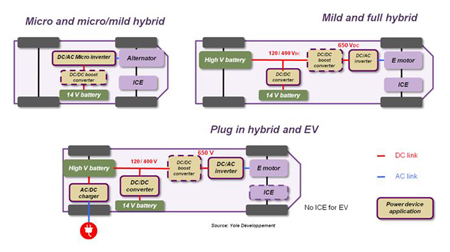 Inverters are roughly the same for full hybrid, plug in hybrid and EV cars with an average power of 50kW. This application alone represents 74% of the total power module market for HEV and EV cars in 2009. IGBT is the device of choice for such high power applications and represents 80% of the total HEV/EV power module market. Standard voltage of IGBT devices is 650V but there is a trend to increase it. It is still unknown if it will be 700/800V or directly 1.2kV which is already a standard.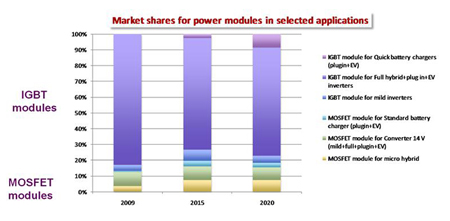 The HEV/EV power module market stands at $300M in 2009 and is expected to grow strongly until 2020 at a growth rate close to 30% to reach $5B in 2020. Today, the power module market is mainly dominated by Toyota who manufactures the module internally. With the near universal involvement of other car makers, semiconductor companies (Infineon, Fuji, Mitsubishi, STM…) will enter the market and will take a big market share in the power device pie.
Figure 5 presents the power module value (in $) for each applications. They are specific to HEV/EV. Standard ICE power devices applications are not considered (oil pump, steering, braking, HVAC…). Auxiliaries' inverters have not been considered due to low amount of power devices. As HEV and EV remain expensive, car makers and tier one suppliers want to cut the cost. Power modules represent about 50% of the inverter and converter cost so power module cost reduction is the main goal of all the market players. It is expected that the power module average cost will be reduced by more than 25% in the coming years.
Up to now, Toyota was dominating the HEV market and power module value chain. With the market growth and arrival of many players at the different levels (car makers, tier one suppliers and semi conductor companies), the landscape will change drastically. Automotive tier one suppliers invest heavily in HEV/EV powertrain and will play an important role in HEV/EV power devices value chain: Bosch, Continental, Valeo, Delphi, Denso, Hitachi…. They have the knowledge of specific automotive requirements that are very stringent for power devices. Some of them design the power modules themselves to cut the cost. At the same time, semi conductor companies try to climb the value chain by developing new power modules. Hence, it will be a hard time in the next years for power modules manufacturers to find a significant place on the HEV/EV market.
Several companies (Mitsubishi Rohm, Toyota …) have developed inverter prototype based on SiC diodes and switches that show significant size reduction up to Ľ of the size with silicon devices. SiC has clear advantages I HEV/EV applications (better power density, less losses, higher operating temperature) but cost pressure for automotive is a big challenge. To succeed, the availability of SiC switches I paramount because it would allow reduction of the cooling systems cost. At the same time, SiC devices cost would need to be significantly reduced and the passive components and packaging adapted to support high operating temperatures. If the SiC devices cost can be reduced, then SiC may be an option for HEV and EV. Maybe, it will be introduced first in EV applications that are more sensitive to losses to gain distance range. GaN is another possible option thanks to its better performance/ cost ratio compared to SiC. Toyota and many other companies evaluate this solution and consider that if SiC cost can't be reduce, it would be an affordable substrate especially for inverter application that is very cost sensitive. For more information www.yole.fr and www.i-micronews.com