IDC forecasts that this year, spending on the IoT will reach $754 billion, an increase of more than 15 per cent over 2018 – and the forecasters also expect that double-digit growth will continue, passing $1 trillion in 2022 [1] as interest proliferates in ways to leverage the benefits of IoT applications on Low Power Wide Area (LPWA) networks.
The rapid uptake of connections catalysed the standards bodies into developing open mobile standards, and Mobile IoT implementations are now multiplying as more mobile network operators and private LTE network providers become active in this space.
Mobile IoT refers specifically to LPWA technologies using licensed spectrum bands – the 3GPP standards are Narrowband IoT (NB-IoT) and Long-Term Evolution Machine Type Communications (LTE-M) technologies. Mobile IoT technology is designed to support devices that only need a limited amount of bandwidth, and which do not transmit continuously but rather send small packets of data either at regular intervals or when requested. This means a longer battery life for remotely deployed devices such as sensors and meters, lower power requirements, and reduced maintenance costs. This combination is driving mass deployment across many industries and sparking use cases that can benefit from data-driven insights.
The NB-IoT standard encompasses very low power consumption and costs, enhanced in-building coverage, and also enables support for a huge number of connected devices with very low data traffic. NB-IoT bandwidth is only 180kHz and it can utilise unused GSM carriers and LTE resource blocks or guard bands with no requirement for additional hardware. This makes it extremely flexible to deploy.
Meanwhile LTE-M is based on the standard LTE radio interface. Published by 3GPP in Release 13, LTE-M supports the IoT with simpler and lower cost chipsets and extended coverage, enabling remarkable battery life – as much as a decade or even longer.
Mobile IoT delivers exceptionally low power performance due to the 3GPP Release 13 specifications of Power Saving Mode (PSM) and Extended Discontinuous Reception (eDRX). PSM enables the device to transmit only in response to a trigger, or at pre-set times. At all other times the device is dormant in receive mode, thus reducing power requirements.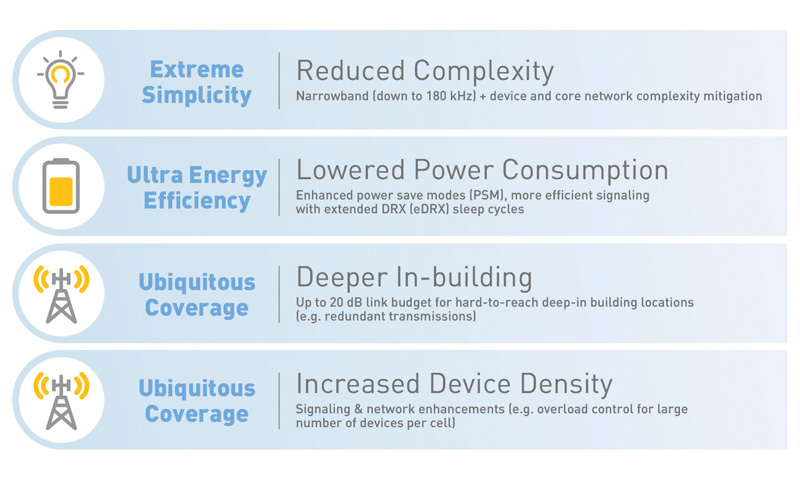 Click image to enlarge
Figure 2. Mobile IoT Benefits
eDRX is the enhancement to 3GPP's original DRX, and effectively puts the device in charge, allowing it to advise the network how long it is going dormant before becoming available. IoT designers can leverage these features to build network behaviours to suit the use case, depending on the amount and frequency of data required to be transmitted.
These battery power-saving capabilities are essential to the effective design and deployment of IoT networks for applications such as asset tracking; the connected city – including smart street lighting, traffic monitoring, parking control and waste management; manufacturing and remote maintenance; smart metering for electricity, gas and water; transport control systems; the connected home including security systems and surveillance; and wearables for personal health and fitness.
The availability of the new Qualcomm 9205 modems with support for 3GPP Release 14 LTE-M voice and NB-IoT extended coverage and delay tolerance will further catalyse the market, particularly for ultra-small modules for applications such as wearable medical devices, fitness trackers and industrial sensors. Telit is set to become one of the world's first providers of IoT modules based on the new Qualcomm chipset.
ABI Research also reports significant IoT growth in 2018, with more than 77 NB-IoT and LTE-M networks deployed globally. The pace is picking up as as the mobile world trade body, the GSMA lists some 89 Mobile IoT commercial networklaunches as of February 2019and the March 2019 GSA report also shows some 149 operators in 69 countries are now investing in one or both of the network technologies. The GSMA map of Mobile IoT deployments highlights the regional and national deployment of LTE-M and NB-IoT networks and shows how widespread coverage is becoming.
According to IDC, the top spending industries in the IoT space this year will be manufacturing, transportation and utilities, with applications that support asset management, freight and fleet monitoring, and smart grids. Consumer IoT spending is set to be the second largest segment after manufacturing, dominated by smart home, personal health and fitness, and connected vehicle infotainment. The consumer market is set to be the fastest growing industry segment overall to 2022.
Both NB-IoT and LTE-M technologies are integral to the dawning 5G era of ubiquitous broadband communications. LPWA paves the path to 5G with undisrupted information flow, and these 4G technologies are expected to continue with full support in 5G networks for many years and many Releases to come.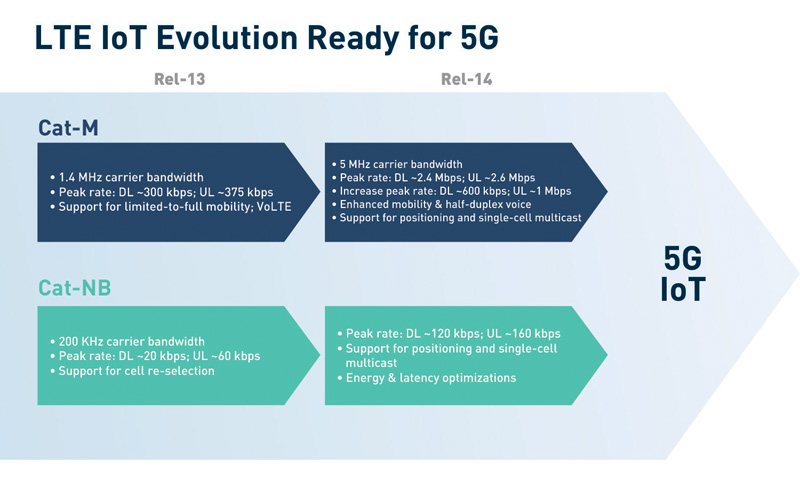 Click image to enlarge
Figure 3. LTE Ready for 5G
Whichever way you cut the figures and analyse the predictions, the IoT is a quite clearly a powerhouse of potential. The open 3GPP standards of the Mobile IoT also give the market confidence about the future-proof nature of the networks on the road to 5G. The predicted growth forecasts are therefore not surprising – after all, any market that can deliver protected investment, economies of scale, and the countless ways to innovate has a lot of – in this case low - power at its disposal.
Telit
---
[1] https://www.idc.com/getdoc.jsp?containerId=prUS44596319