Future energy challenges are due to the depletion of fossil fuel reserves and urgent climate concerns. The new Power Grid will rely heavily on PV installations and their safety The photovoltaic market is growing at a tremendous rate all around the world as indeed is renewable energy in general. To manage this trend and ensure safety around the solar technology in particular, manufacturers of solar components and equipment, designers of installations, engineers, etc., have to follow specific regulations and standards edited by international and national committees. The fact that a solar device is both a dc environment and a non-interruptible source of current whenever the sun is shining makes things pretty complicated compared to our customary ac world. Ensuring the safety of solar power generating facilities is a tricky business, because there are very specific risks inherent to this kind of electrical equipment. One of the most important safety components is the fuse. Installed in series, its purpose is to conduct normal current and to protect equipment and people from the potential effects of overcurrent, like overheating / fire / external arc / etc. A new specific standard for fuses was published in 2010: IEC 60269-6 Ed 1 Low-voltage fuses _ Part 6: Supplementary requirements for fuse-links for the protection of solar photovoltaic energy systems. This new type of fuses is currently called "gPV": general purpose fuse for photovoltaic applications. The requirements of that standard apply to fuse-links protecting PV strings and PV arrays in equipment for circuits of nominal voltage up to 1500Vdc. They define, for example, the minimum breaking capacity (mbc), rated breaking capacity, and conventional times and currents. Why a dedicated fuse? gPV Fuses are designed and tested specifically for DC applications. When a fault occurs in a DC circuit, the absence of natural voltage zero crossing makes the interruption of DC faults more difficult than the interruption of AC faults because only the arc overvoltage generated by the fuse will force the current to decrease to zero. For direct current, the correct interruption depends on three parameters:
Value of the DC voltage,
Value of the ratio L/R (time constant) of the fault path and
Magnitude of the prospective fault current.
The short circuit current depends on the number of strings and the Isc of the solar panels. The possible low level of overload to be eliminated in photovoltaic equipment is a very arduous condition for a fuse. No fuse is required for PV installations with number of strings lower than 3 because the short circuit current is too low to melt the fuse.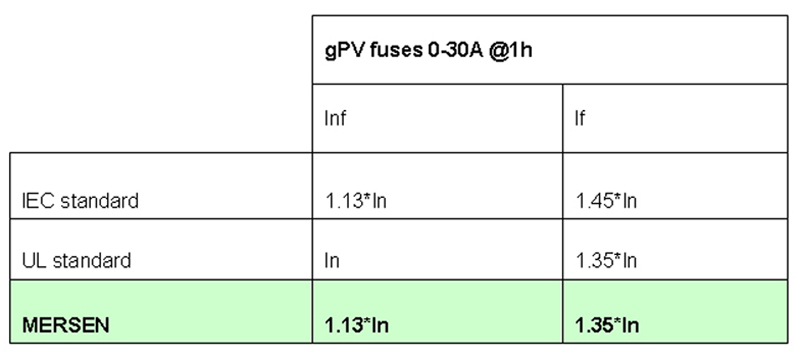 Conventional times and currents for gPV Despite globalization, there are still some differences between standards. The first example is conventional times and currents. Between an "IEC" gPV fuse and a "UL" gPV fuse, non-melting gates and melting gates are not the same: cf table. To follow our customers on all markets: Mersen's HP6M and HP10M photovoltaic (PV) fuse series were engineered and designed specifically for the protection of photovoltaic systems in compliance with both standards. Their enhanced fuse construction makes them ideal for continuous temperature and current cycling withstand, adding to system longevity. The 600VDC rated HP6M and the 1000VDC rated HP10M, designed for low minimum breaking capacity capabilities of 1.35 times the fuse's rated current value, allow for safe circuit interruption under typical low fault current conditions produced by PV arrays. Protect off-grid or on-grid PV system from unexpected ground faults and line faults using Mersen's HelioProtection fuse line. In conclusion, dedicated photovoltaic fuses have to be designed and tested in accordance with the "gPV" standards for PV applications to ensure people's safety and photovoltaic circuit protection.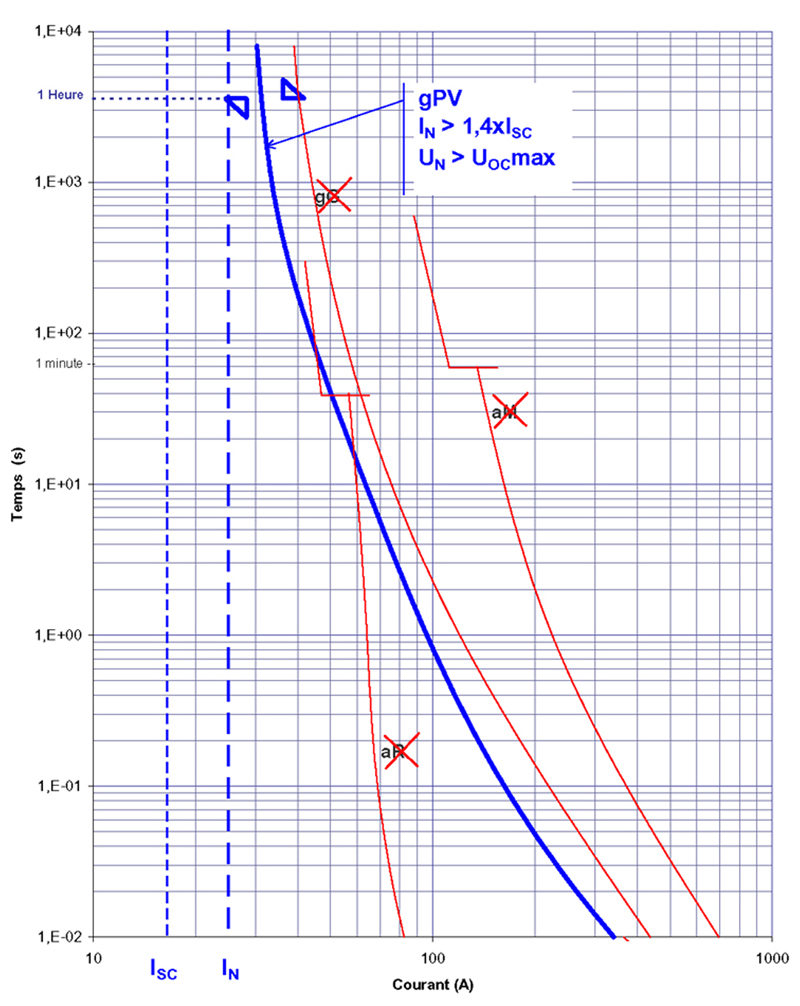 Mersen: Safety & reliability for electrical power At Mersen Safety & Reliability for Electrical Power, we integrate our product expertise into the customer's application to make it safe, reliable and profitable. Our product expertise includes: • Overcurrent protection (fuses and fuse gear) • Surge protection • Cooling of power electronics • Low voltage and high power switches • Power transfer for rail vehicles A trusted team member, Mersen invests early in the projects of customer with research and design support. Our experts offer experienced, attentive and responsive applications support in power low voltage distribution, power controls, power electronics and power transmission & distribution, from the initial design stage, through system implementation and to well after the sale. We bring our expertise to you with products designed to meet your standards. Thousands of local sales representatives & distributors, around the globe, provide experienced and attentive customer service. As a global partner, Mersen has an outstanding reputation for helping our customers do more, achieve more and grow more. At OEMs' in terms of increasing system life-time, reducing costs and improving lead times, improving electrical performance and reliability, developing technical solutions that increase the competitiveness, increasing the global capacity and seizing opportunities in emerging markets. At after market in terms of reducing system downtime, protecting electrical systems, people and investment and improving electrical performance and reliability in energy, transportation, electronics, process industries and chemical/pharmaceutical markets. www.mersen.com