The Smart Home is one of the classic examples of the Internet of Things. While more and more networked items are becoming pervasive in our everyday lives, it is clear that the network will usually be wireless and mobile devices will often play a key role. Once you are rid of the data cable, the logical question is then whether you can also do without the power cord. So wireless power supplies will become an important issue in the future, and once again it will the smartphone that will lead the trend.
The usage behavior of consumers with regard to smartphones and tablets has changed dramatically over recent years. Ever longer periods of use and higher energy requirements, mean that devices are always having to be charged. This is easy and convenient to achieve with wireless charging. Samsung and Ikea, to mention just two leading names, are attempting to make the end customer's life easier with this function. Charging options all over the house give users the possibility of charging their devices at any time. Furthermore, charging stations will also be on offer in public spaces, like on the train, at the airport, in the hotel and in restaurants.
A common standard is a prerequisite for success, of course. The Qi standard, by the Wireless Power Consortium, is an important step for ubiquitous charging options. More than 200 million wireless chargers are used safely every day, and that number is growing fast. The vast majority of these 200 million wireless chargers use the Qi standard. As the charging of smartphones is the application the WPC started with, the Qi standard covers mostly low and medium power applications – currently up to 15 Watts. In order to establish wireless power supply as part of the smart home, it will become necessary to have all power classes (1 W to 2.4 kW) available in the house. Charging spots for different devices – not only for smartphones – will be distributed all over the smart home. Information on the location and state of the devices can be reported via the charging spot to a central information center. The devices can be also controlled from here. Centralized and decentralized usage go hand in hand.
Safety is an important aspect in our houses and apartments. Today, power outlets with metallic contacts and a permanently connected voltage (110/230 V) are always a risk, especially for children. With wireless power spots, the metallic contacts can completely disappear – energy is only switched on once an appliance is connected. In the smart home, the electronics in the wireless power spot can easily be supplemented by sensors (temperature, movement, ...) to facilitate networking. The wireless power spots ("power outlets") can also be invisible, disappearing into the wall or floor. This transforms the conventional power outlet into an intelligent source of electricity that can also be linked using smart home sensors. Easy monitoring and control of the power sources is enabled by communication with the control center and can blend seamlessly into the smart home concept.
In today's bathroom, power is already transferred without contact with the "classic" electric toothbrush. Razors, beard trimmers and hairdryers could be next and this would raise safety by several orders of magnitude, especially in wet areas. Various appliances in our kitchen (power class from 200 W to 2.4 kW) are also potentially suitable for wireless power transmission. Applications such as kettles, bread makers, blenders, coffee machines or skillets could operate directly without needing rechargeable batteries. Intelligent applications, such as temperature control, could be used in kitchen appliances, for example a skillet, and fundamentally change the way we cook. All devices in use can be connected to a communication system and be controlled centrally. Flexibility in use is enhanced. Cooking can begin in the kitchen and be continued or finished off in the dining area.
Vacuum cleaners and lawn mower robots are further applications for wireless charging in domestic settings. Besides the safety aspect, in the smart home, autonomous devices can be charged at every wireless power "outlet" and do not necessarily have to return to a special charging station. Elimination of the mechanical connection to the power outlet is generally a major advantage, as other intelligent devices can also be operated autonomously from the same power source.
Wireless power supplies can also be used for vehicles. The garage could have a charging station recessed in the floor, or wall, that automatically charges the vehicle when parked appropriately. Of course, this system would also be integrated in the smart home concept.
In the smart home, the wireless power spots can be placed in walls and ceilings in areas that are invisible to viewers. They are then flexibly available for all devices and applications, require no mechanical coupling and can be controlled centrally or decentrally. This opens up combination options with energy harvesting applications, such as switches from EnOcean.
An innovation that is already being pursued by some start-ups (Energous, WITricity) is power transmission over distances on the meters scale. Here the power source can be installed in the ceiling, for example, and a wide range of devices in the room can be supplied with power simultaneously. But, there are still issues with the influence on the human body from high energy electromagnetic fields that need further research.
The Wireless Power Consortium is working on the development of further standards on various power levels, so as to offer wireless solutions at home from 1 W to 2.4 kW. This will ensure the integration of devices and infrastructure in the smart home can become reality in a few years.
The use of wireless power in the smart home has great potential, and it provides a multitude of possibilities for powering the networked house, as well as enhancing control levels. Safety, simple operation and convenience are an integral part of the smart home concept.
Wuerth Elektronik eiSos plays a leading role in the Wireless Power Consortium (WPC) and actively contributes its competence to standardization work. The company was early in recognizing the possibilities of this innovative new technology and today offers a wide range of transmitter and receiver coils for various power classes of wireless power transmission. It is a common misconception that all coils can be combined with one another arbitrarily according to the Qi inductive power standard. This is why Wuerth Elektronik eiSos provides developers with information on efficient and less efficient combinations of coils – a matrix based on extensive measurements ("mix and match tool"). The manufacturer relieves developers of performing their own initial measurements for proof of operation, as measurement curves, such as those for the permeability or thermal behavior of the coils, are available.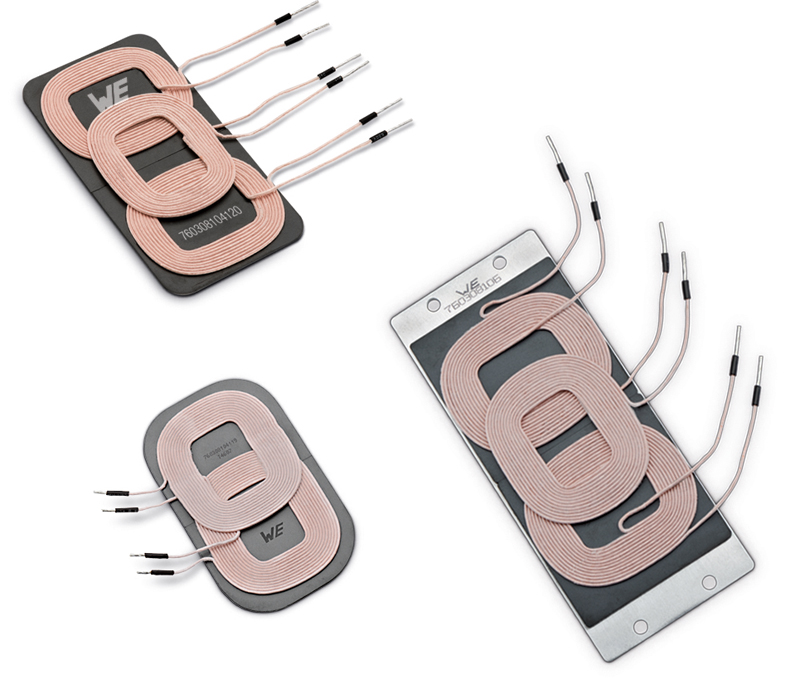 Click image to enlarge
Figure 2: Wireless Power Arrays by Wuerth Elektronik eiSos build from litz wire are highly reliable.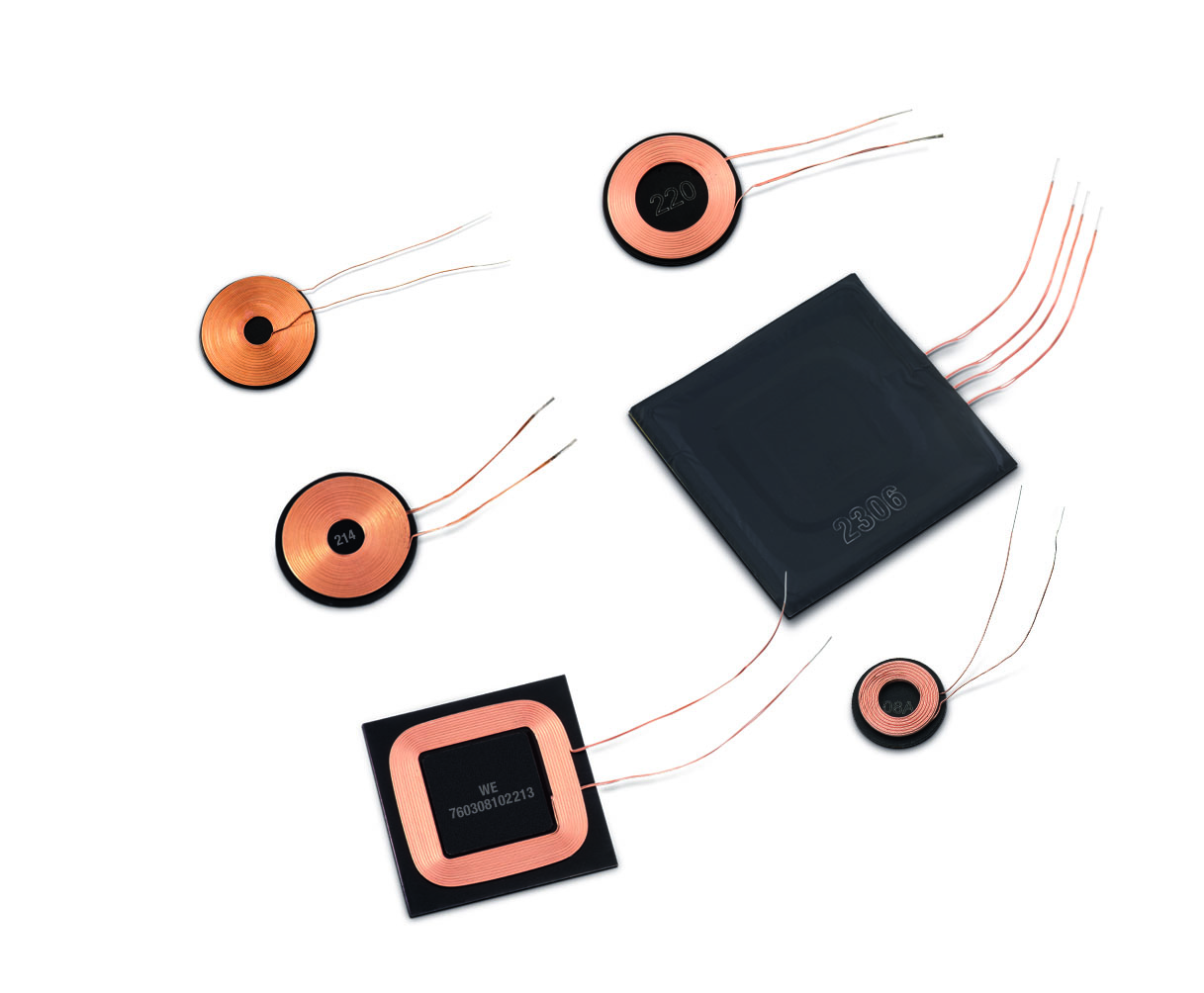 Click image to enlarge
Figure 3: WE-WPCC Wireless Power Charging Receiver Coils have the highest Q-value available on the market.